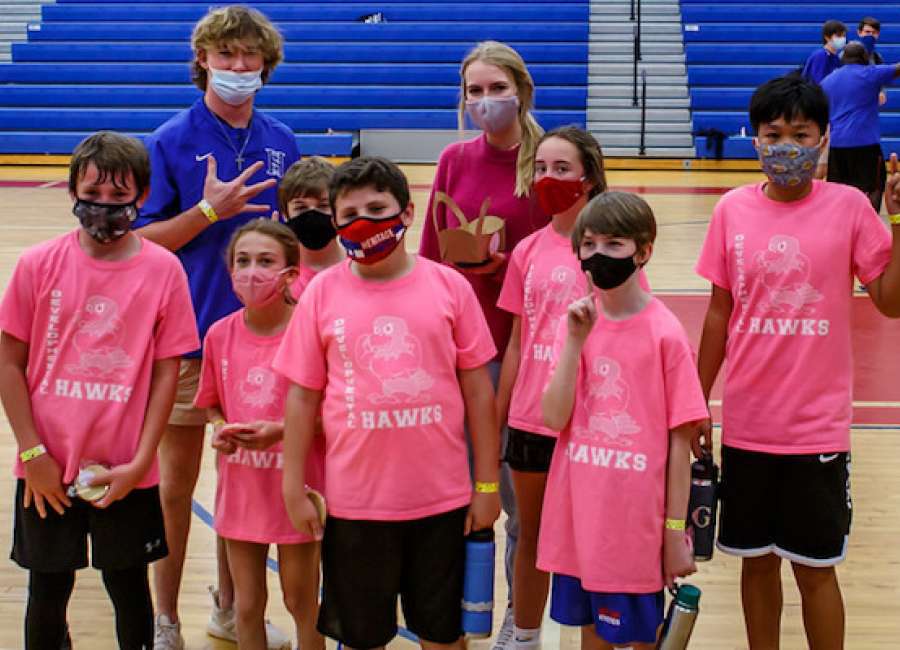 It's a tradition more than a quarter-century old, and even a global pandemic couldn't stop The Heritage School's annual developmental basketball championship.

While there was a much smaller school crowd spread out in the bleachers when the Pink Team defeated the White Team 13-12 at the buzzer Wednesday, many parents and grandparents were cheering from behind their computers as the event streamed live.
"It's something that the school looks forward to every year," said Heritage School Athletic Director Jake Copeland. "It's super competitive."
In January of each year for the past 26 years, co-ed basketball teams composed of a mix of students in grades 4-6 are drafted by athletes in Heritage's Upper School.
Typically, the players participate in a one-week training camp and practices. They are then divided into teams according to selections by the Upper School coaches, who lead their teams in pairs.
This year, teams were selected by staff members instead of student coaches.
"We put a mixture of some from each grade on each team, and equal talent," Copeland said.
For several weeks, teams played games on Saturdays until only the Pink Team and the White Team were left standing.
The Pink Team – JR Thornton, Scarlett Reynolds, John Michael Adcock, Jeremy Adcock, Georgia Tolleson, Aiden Jones and Gavin Cuaresma, coached by Ella Thornton and Michaela Mikko – emerged as champions with the buzzer-beater.
Runner-up White Team members were Steven Hannon, Aryan Dhungel, Lilly Downs, Mason Morman, Maddie Sorrow, T.J. Cilly and Lucy Downs, coached by Kiernan Skelly and Sam Wall.
Other teams included:
Red: Rudd Phillips, Braeden Jenkins, Tre Boyce, Cheney Lawson, Abby Dunlap, Mason Jenkins, Lucy Springfield and Axel Bratti, coached by Mayme Smith and Laeth Haddad.
Blue: Havier Houston-Delacruz, Sidney Varlamoff, Sam Watts, Tyson Walker, Parks Agee, Branch Hinely, Teresa Alba and Parker Bryant, coached by Lilly Arnall and Rachel Henson.
Gray: Mac Markel, Henry Drake, Vivien Morenzi, Sammy T. Voyce, Max Madonna, Harper Bear, Stafford Cooper, Caroline Beard and Blake Weaver, coached by Owen Markel and Braxton Goodwin.
The annual game is intended to help younger students develop skills, experience and confidence. For the Upper School student coaches, the game provides an opportunity to serve as leaders and role models within the Heritage School community.
"Some of these coaches were playing in this game four and five years ago," Copeland said. "They young students look up to the older ones so much. And for us at Heritage, building those relationships between our 'Littles' and 'Bigs' is so important."