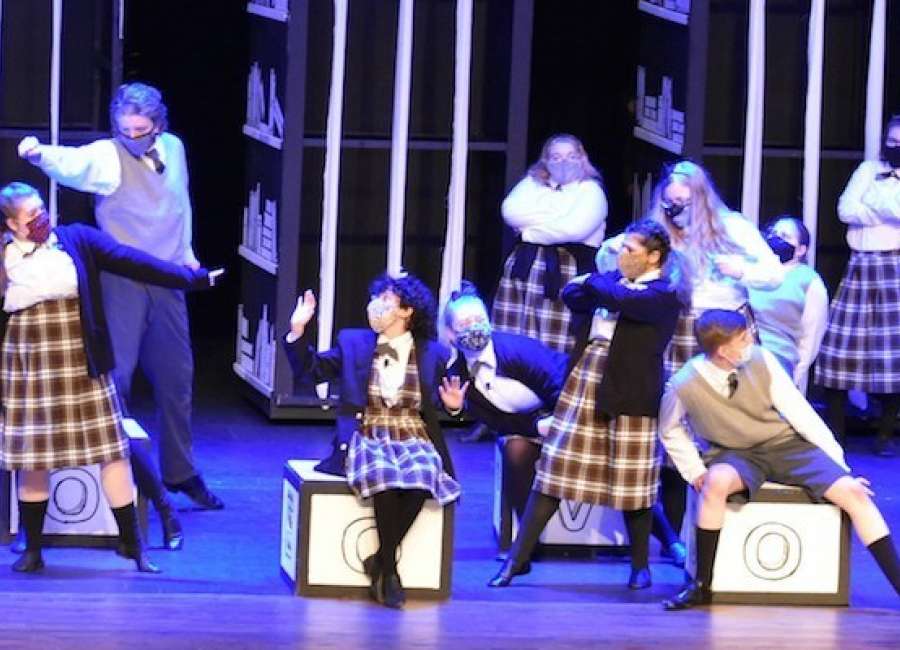 Young Matilda has special powers, and the local students who recently brought her to life on stage gave an equally magical performance.

Members of Northgate High School's theatre department danced and sang their way to a Region 2-5A One Act Play championship with "Matilda the Musical."
The cast of 25 students and crew of 10 were ecstatic, according to NGHS theatre director Cassandra Scott. In her nine years of leading the school's theatre department, Scott's students have taken home five second-place awards from region one act competitions.
This year, the Northgate students faced a mountain of changes and challenges. The Georgia High School Association pushed back its one act competition, which usually takes place in October, until after the first of the year.
The school's student population rides the line between two regions, and this year's numbers meant Northgate competed in a different region than last year. And COVID-19 restrictions made rehearsing a 55-minute musical tricky.
"We were super freaked out about quarantine," Scott said.
Auditions for "Matilda" were held in late fall, and the cast began rehearsals in full protective gear.
"They wore PPE and shields for spit, because musical," Scott said. "We purchased clear masks for them to wear during performances. We were serious about the 6-foot rule – we learned choreography individually, and we didn't do close scenes until right at the end. We spent a lot of time saying, 'Don't touch each other. Don't get near each other.'"
It was a big undertaking, but learning to sing the fast and wordy songs from "Matilda" and doing full dance numbers in masks simply helped the students build up their lung capacity and got them used to the fact that they would be performing in masks.
That is, if they got to perform at all.
"When we took it on with the kids, we all agreed that we wanted to be able to do something, even if we didn't have an end result," Scott said. "We got super lucky. But we knew even if we didn't get to perform, we were still going to learn and grow, and that's what theatre is about."
One of the first hurdles the actors had to overcome was learning to communicate differently in the midst of a global health crisis.
"Theatre has a purpose beyond just getting up on stage and acting," Scott said. "You have to be able to communicate and read people, and we're missing so much by wearing masks."
It's not just the communication that's missing, either. Coweta County schools abruptly closed just after Northgate's spring musical last year, and many performing arts programs and facilities have been shuttered or severely limited ever since.
"We did 'Annie' on March 6, 7 and 9, and on Tuesday the 10th we struck from the Nixon Centre back to Northgate," Scott said. "On the 11th we started striking my classroom, and on the 12th we went home."
The Coweta County School System did not return to in-person classes until October, and with live theatre at a premium, Scott said her students were excited to have an opportunity to not only perform in the one act competition but also to watch their competition.
And while the Northgate group was excited to bring home their first title, Scott pointed out that theatre contests like one act and the Shuler Awards aren't typical competitions.
"Theatre is so subjective, and it's incredibly hard to judge one play against another one," she said. "We're definitely going to compete, but we want to compete against ourselves. We have no expectations of winning, just having our best show. And if we walk away with the trophy, great."
This year, Northgate was the underdog in a region that included Starr's Mill, Creekside and McIntosh – all of whom have their own theatres, which is something NGHS doesn't have.
"We'd been practicing in our cafeteria. We hadn't even been on stage yet," Scott said. "McIntosh's technical elements were absolutely stunning, and we put in blackouts because we needed to literally hide set changes. Anybody who knows me knows I will do just about anything to keep from having blackouts, but we had to do it to move forward."
But the theatre community is one that is all about building relationships, Scott said, and theatre students tend to be each other's biggest cheerleaders even when they're vying for a title. Northgate, Newnan and East Coweta schedule their performances so students can support each other, and the resurrection of the Superintendent's Theatre Arts Resource summer program several years ago gives Coweta students a chance to perform together even if they go to different schools.
"Theatre is not meant to be competitive," said Scott. "The whole purpose of getting STAR back together is having close relationships with other directors and getting to build the theatre community together. Everyone should be in a position to grow."
•••
'Matilda the Musical'
Cast:
Amber Williams (Matilda)
Kiersten Williams (Ms. Trunchbull)
Claire Wathen (Miss Honey)
Cate Wathen (Mrs. Wormwood/Alice)
Kalixta Easterwood (Lavender)
Ben Mcpherson (Escapologist/Eric)
Shelby Harlan (Acrobat/Amanda)
Sydney Smith (Bruce)
Eva Vandine (Hortencia)
Maddy Zepp (Tommy)
Timothy Brandon (Nigel)
Bearre Dorsey (Mr. Wormwood)
Dean Wisenbaker (Michael)
Emily Reed (Big Kid)
Ryan McMeans (Big Kid)
Avery Sleigh (Big Kid)
Maxx Hart-Globoker (Big Kid)
Milany Easterwood (Big Kid)
Kanchan Laul (Big Kid)
Caroline Connolly (Big Kid)
NaRu Domineck (Big Kid)
Melanie Carrales (Big Kid)
Avery Huber (Big Kid)
Crew:
Carson Bullard
Nakiya Ham-Bloomquist
Amelia Davidson
Ash Woodie
Melanie Barbret
Aleesha Moore
Jacob Campbell
Peyton Lowery
Sydney Banks
Tillman Patton
Gracie Harris
Director: Cassandra Scott-Fortune
Musical Director: Erin Barksdale
Choreographer: Jamie Trial
Parent volunteers:
Mark and Leila Wathen
Sandy and Todd Wisenbaker