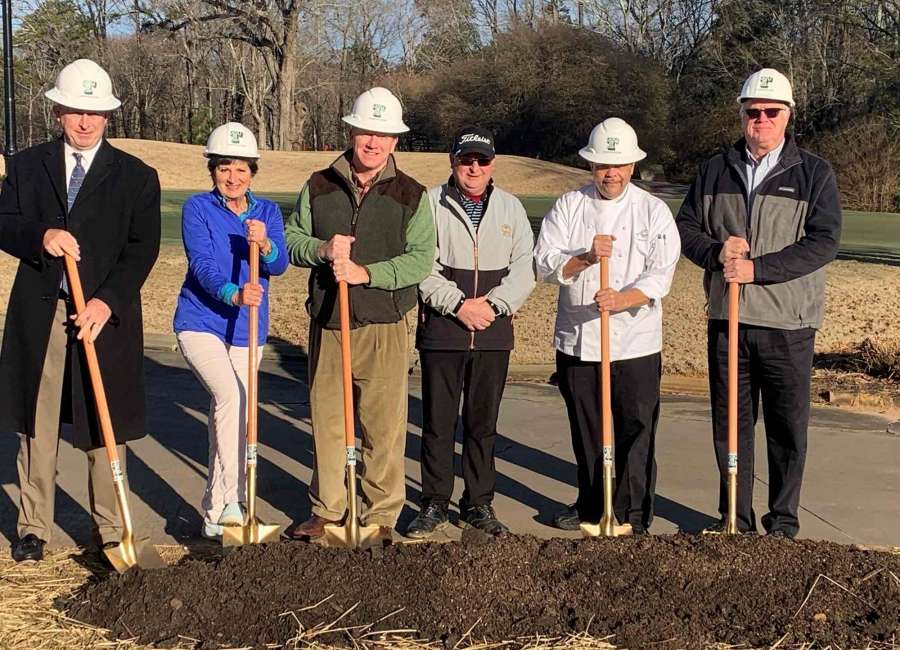 Newnan Country Club recently held a groundbreaking ceremony for clubhouse renovation and expansion, as well as golf course improvements.
Todd Browning, president of the Newnan Country Club Board of Directors, along with fellow board members Kris Pope and Nina Fanning, officially broke ground on the $1.4 million renovation project of the clubhouse.
Also present at the ceremony were general manager Nate Mather, head golf professional Dano Korytoski and executive chef Lance Jeffers.
The renovation project will encompass multiple areas at the property. The lower level of the clubhouse will be renovated and expanded to feature a redesigned Grille Room restaurant that will offer indoor and outdoor seating for up to 90 people.
The back patio design includes a fieldstone outdoor dining area and a 1,120 sq ft pavilion connecting to the Grille Room. It will feature a large wood-burning fireplace and additional seating for 93. The kitchen is a complete redesign and expansion with new, state-of-the-art equipment.
The Pro Shop will also be enlarged and redesigned to complement the Grill Room and Patio.
Tomco Construction is the general contractor, with K.A. Oldham Design, Inc. overseeing some aspects of the project, including the new fixtures, furnishings and equipment.
On the golf course, a full bunker redesign and renovation is underway for all greenside and fairway bunkers. Other golf course projects include extensive tree removal and pruning, and tee-box renovation.
During the renovation, all operations – including golf, tennis and food and beverage – will remain in service and fully available to members and their guests.
The project is scheduled for completion in June of this year.