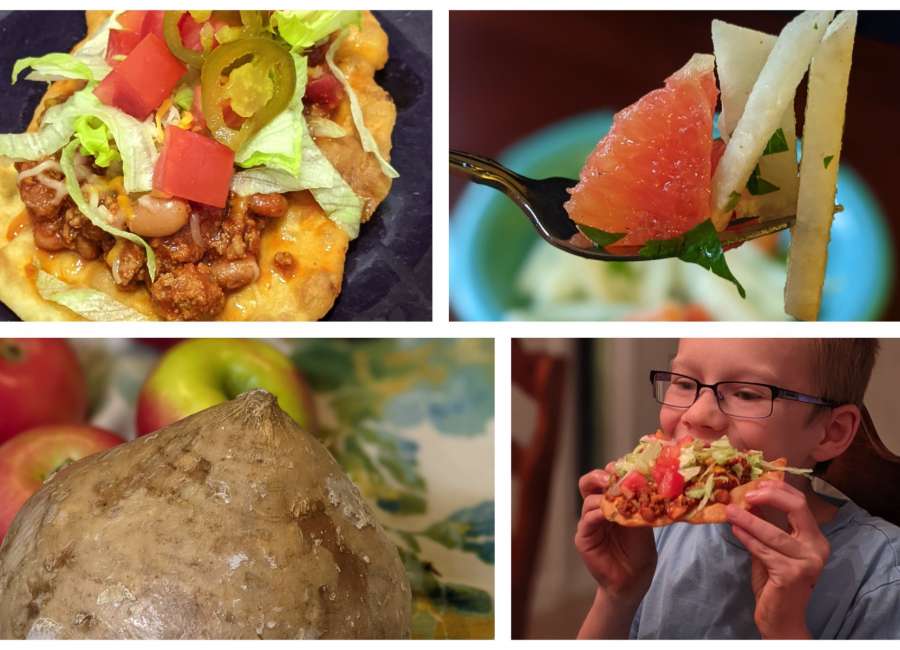 My recipe box is full of recipes that start with the name of a state, town, or region of our country: Low Country She Crab Soup, Kentucky Hot Brown Sandwich, Philly Cheese Steak Sandwich, New England Clam Chowder, Cincinnati Chili, Mississippi Pot Roast, and on it rolls.

Chasing down the thread on Facebook that reads "The Best Pie in Every State" or "The Most Popular State Sandwich" is such a time waster and, yet, I follow it to the end, wondering, "who picked these out?"
The Navajo Tacos featured here comes from an Indian reservation in New Mexico.
My friend Marilyn and I met at the base pool on Lowry Air Force Base in Denver. We both had two blonde headed little girls and became instant friends. As is with most military friendships, we went our separate ways but stayed in touch. At one point, she worked as a grant writer for an Indian tribe and bought a Navajo Taco on Fridays from a club who sold them as a fund raiser. After some persuasion, she was taught how to make fry bread and the chili topping. It didn't take much persuasion for her to share the recipe with me.
Navajo Tacos are a fun meal, complete by itself. Adding jalapenos, salsa, and guacamole makes it even better. One plate, no silverware needed, and lay out plenty of napkins. However, adding a salad to any meal is always a good idea.
Jicama ended up on my plate only a few years ago when my daughter April sent me this Citrus Jicama Salad recipe. Jicama can be found in most grocery stores and in Mexican markets, as can chili-lime seasoning. Be sure to pick ones that are hard and not blemished. Peel like a potato and cut as this recipe calls or add them to a crudite' plate. We put them on the table in a bowl and my grandsons finish them before the rest of us can sit down. This salad has the sweet crunch of the jicama, the citrus burst from the oranges, plus cilantro and the chili-lime seasoning that adds a sparkle to every bite.
PHOTOS BY April McGlothin-Eller
Citrus Jicama Salad
1 small jicama
2 oranges
1/3 cup finely chopped cilantro
1/8 teaspoon chili lime seasoning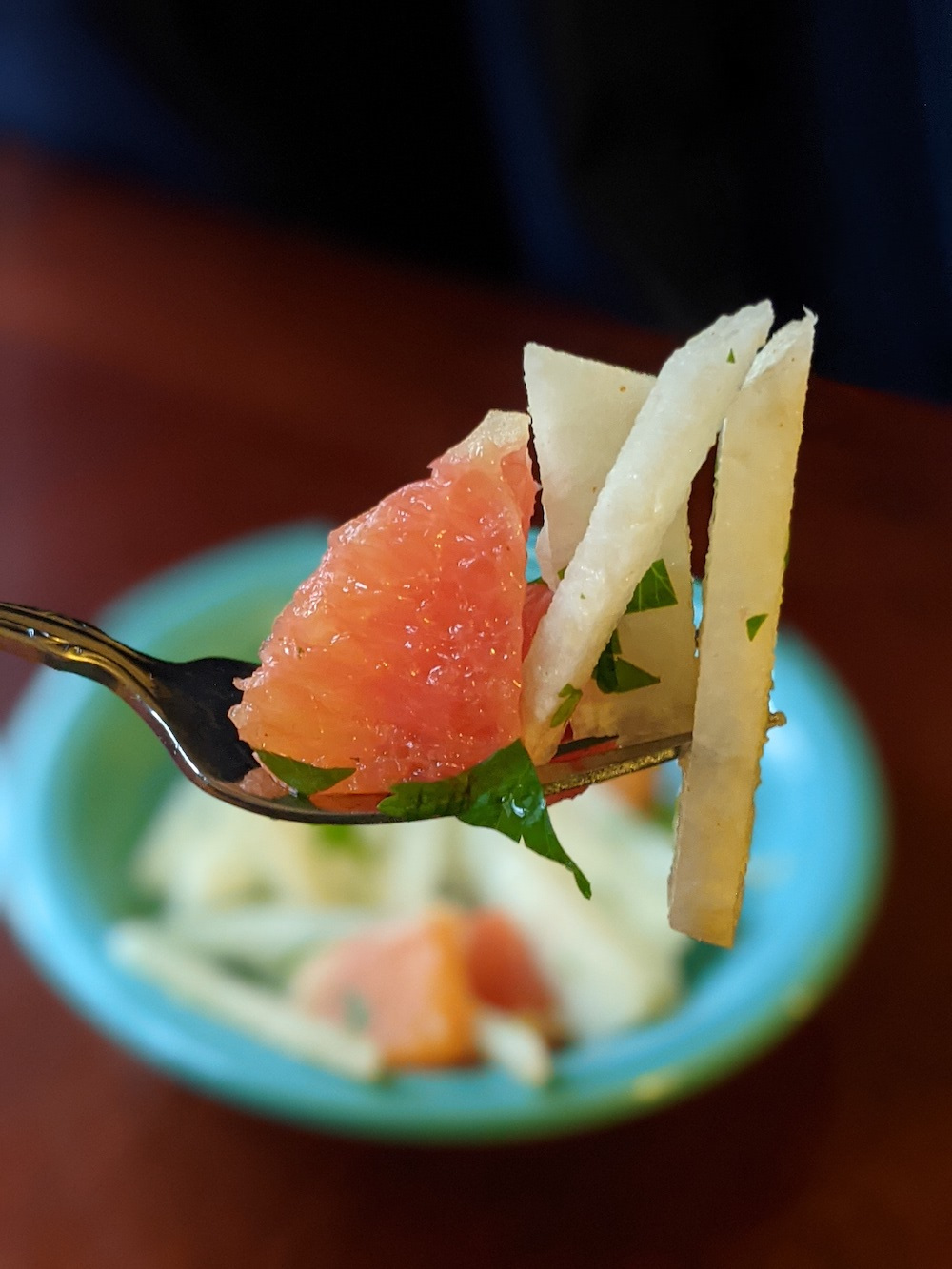 Peel the jicama and cut into matchsticks. Cut the rind off the oranges. Cut off as much of the pith as possible. Section them into bite sized pieces. Reserve the juice from the oranges. Toss jicama, oranges, and cilantro together. Pour reserved juice over the salad. Sprinkle chili-lime seasoning and toss again. Cayenne or chili powder can be substituted for the chili-lime seasoning. Chili lime seasoning can be found in the spice section of most grocery stores and is just the right flavoring to round out the salad.
Navajo Tacos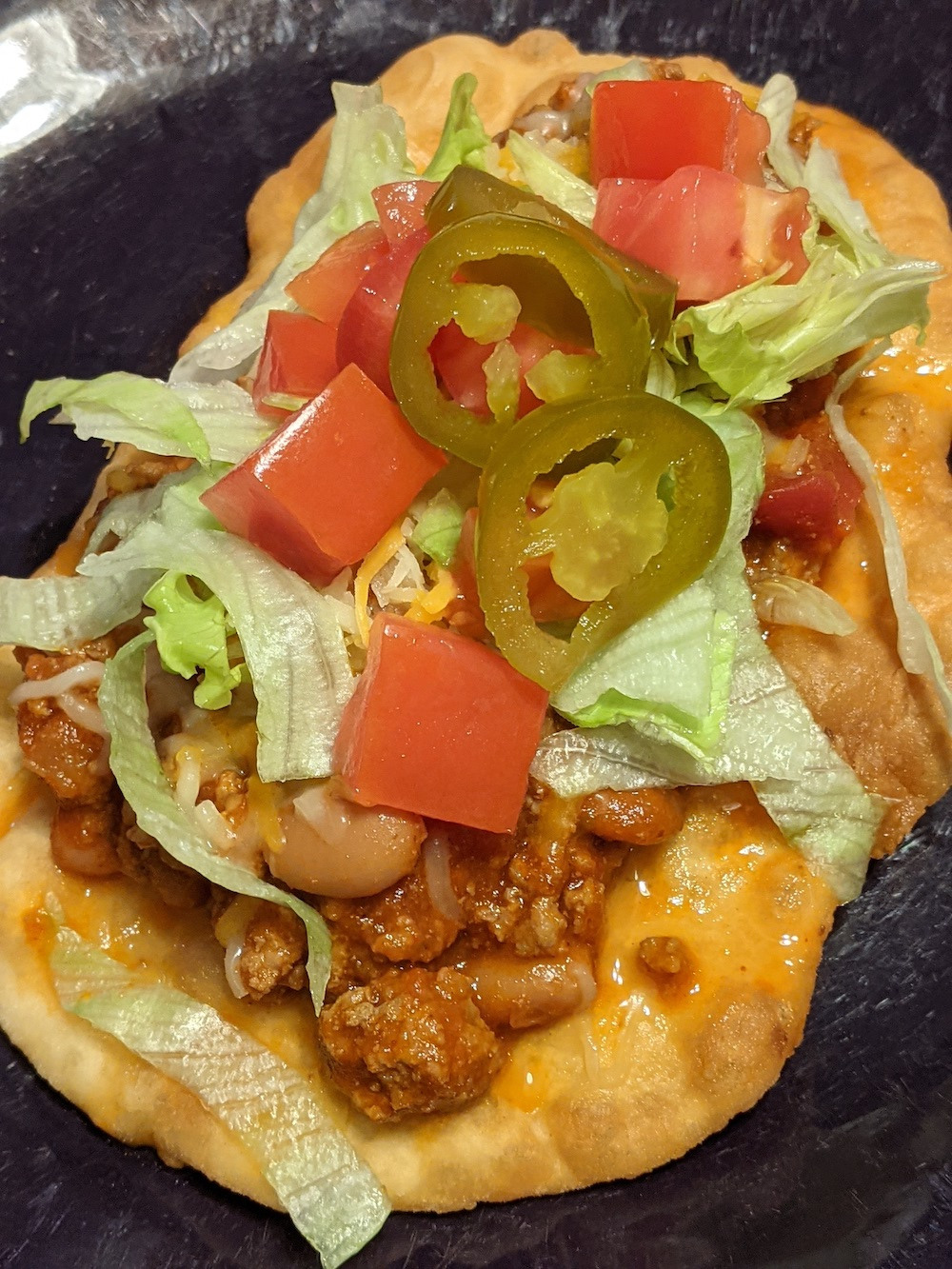 2 large onions
2 cloves garlic, minced
¼ cup oil
3 teaspoons salt
6 teaspoons chili powder
2 pounds ground beef (I use ground turkey)
15 ounce can tomato sauce
2 cans pinto beans, drained and rinsed
Shredded cheese of choice
Sauté onion and garlic in skillet with oil. Add salt and chili powder and cook 1 minute. Add beef/turkey and brown well. Stir in tomato sauce and beans. Cook over low heat 10 minutes, stirring occasionally.
Fry Bread
4 ½ cups all-purpose flour
1 tablespoon baking powder
1 teaspoon salt
2 tablespoons milk
1 ½ cups warm water
2 inches of oil in a large skillet
Mix dry ingredients together in large mixing bowl. Stir in milk and warm water. Mix and knead with hands for 5 minutes until a soft dough forms. Let stand for 30 minutes. Pinch off dough the size of a large lemon. Roll into ball. Pat into flat circle about ¾ inches thick. Pull and turn dough until it's the size of a saucer. Flip back and forth so it will be thinner. Fry in hot fat in skillet.
Top pieces of fry bread with layers of meat, lettuce, tomatoes and cheese. Makes 10.
The Rest of the Menu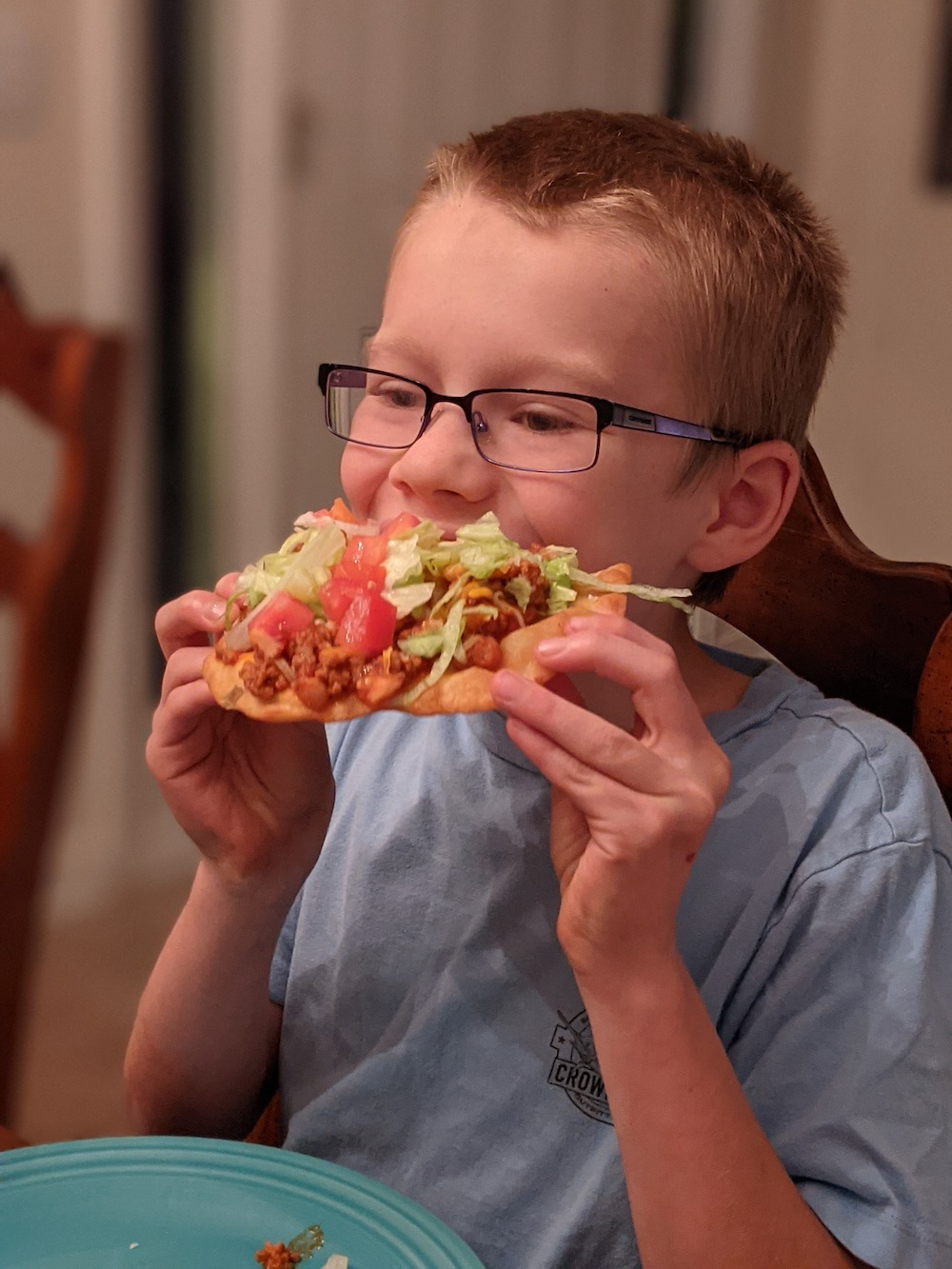 Navajo Tacos are a full meal by itself. If you want to round it out, guacamole, salsa, and chips are perfect on the table. Sliced jalapenos are nice for those who want a little more heat. A light dessert of sherbet finishes it off and cools any burning palates.
Gail McGlothin is a recent resident of Sharpsburg and an excellent cook. She is a non-profit consultant and writer specializing in grants for small to medium not-profits. April McGlothin-Eller is her daughter, food stylist, and photographer. Email Gail at gailcmcg@gmail.com if you have any questions or suggestions.