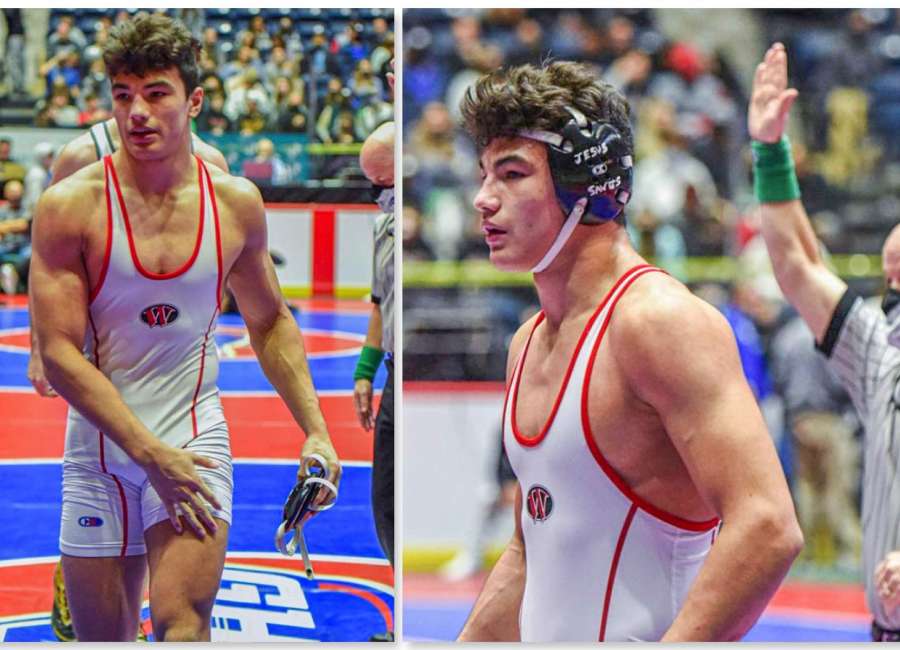 Matthew Singleton of Moreland, Georgia, a junior at Woodward Academy, won his third straight wrestling title by winning the 5A, 182-pound State Championship at the GHSA Traditional State Wrestling Championships in Macon, Georgia, last weekend.

Singleton finished his regular season undefeated with a 33-0 record. After receiving a bye in the first round, Matthew pinned Gray Davis of Wayne County in 1:16 of the first period. In round two, he pinned Jerrel Baskins of Southwest Dekalb in 3:11 of the second period.
In the semifinals, he defeated Jonathan Paramore of Walnut Grove, who was 40-0, by a 17-1 technical fall in 3:39 of the second period. In the first place match, he defeated Alexander Troy of Union Grove, who was 24-1, by a 15-0 technical fall in 4:46 of the third period. Prior to the Traditional State Championships, Matthew won the 182-pound title at the GHSA Class 5A Regional and Area tournaments. At the GHSA Regional and State Dual Wrestling Championships, he went undefeated while wrestling at the 182-pound, 195-pound and 220-pound weight classifications. At the Knockout Christmas Classic in Orlando, Florida, he went undefeated and won the 172-pound title with three pins, a 17-2 technical fall and a 7-0 decision.
At the Tyrant Armageddon National Tournament in Savannah, Georgia, he went undefeated and won the 182-pound title with a 15-2 major decision, a 16-1 technical fall and a 16-0 technical fall. On the National level in 2019, Matthew was a double finalist at the Fargo National Championships in Fargo, North Dakota. He was runner-up in the 145-pound Cadet Freestyle National Championships and runner-up in the 145lb Cadet Greco-Roman National Championships.
In 2019, he was also runner-up at the Cadet Pan-American Games Trials and runner-up at the Cadet World Team Trials. He was also awarded Team Georgia's Five Point Award for winning the Georgia Folkstyle State Championship, Georgia Freestyle State Championship, Georgia Greco-Roman State Championship, Southeast Regional Freestyle Championship and Southeast Regional Greco-Roman Championship, all in the same year. As a sophomore in 2020, Matthew won his second title by winning the GHSA 4A-160lb State Championship. He finished his sophomore regular season with a 61-2 record.
As a freshman in 2019, he won his first title by winning the GHSA 4A-138lb State Championship. He finished his freshman regular season with a 70-1 record.
As a senior next year, he will attempt to become one of Georgia's rare 4-time state champions and only the 2nd in Coweta County history. With an overall high school record of 164-3, Matthew is currently the No. 1 ranked 170-pound wrestler in the nation in the class of 2022. Matthew is the son of Isabel Singleton of Moreland, Georgia, and Wayne Singleton of Luthersville, Georgia. His father wrestled at Virginia Tech, who is currently recruiting Matthew along with dozens of other Division 1 colleges from California to New Jersey and in between.