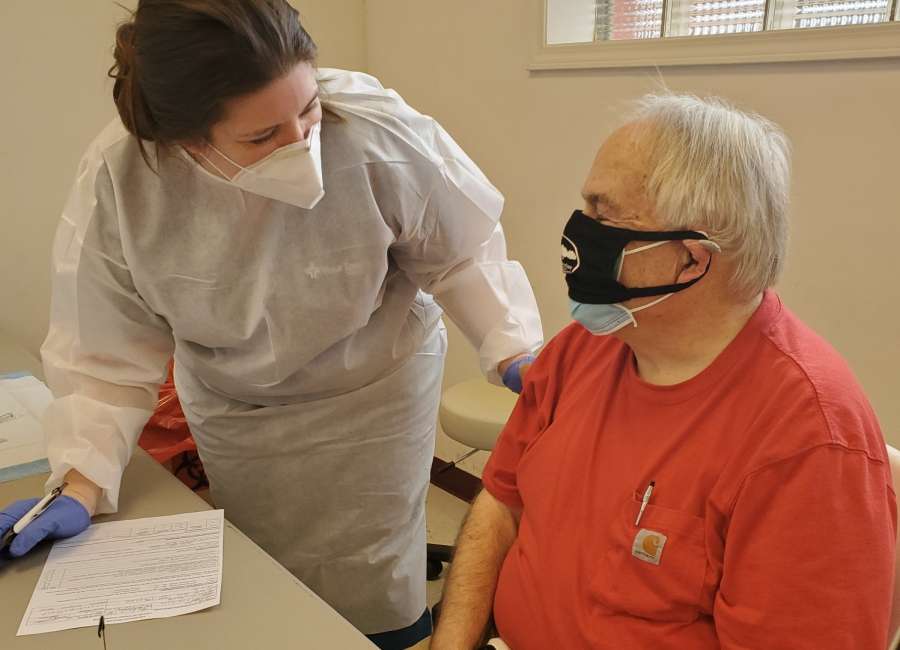 YourTown Health is partnering with several local governments to operate a mass COVID-19 vaccination clinic in Palmetto.
The vaccination site, at the Palmetto Community Center on Main Street, has been offering 180 vaccinations, two days a week. Paramedics, EMTs and first responders from the fire departments in Palmetto, Chattahoochee Hills, Fairburn and Union City volunteer to administer the vaccines.
It's an incredible partnership, said John Wollenzien, CEO of the nonprofit community health care center.
"South Fulton County was in dire need of a mass vaccination site," Jon Wollenzien said. "Fulton County backed away from providing point-of-distribution sites in the area. Since we were the only community-wide vaccinator in the vicinity, officials from surrounding cities contacted us to see if we could work together to administer vaccines."
Chief Henry Argo, the fire chief of Palmetto, and Chief Gregory Brett, the chief of fire, EMS and emergency management of Chattahoochee Hills, initially brought the idea to YourTown Health.
"This vaccination site represents a true grassroots partnership," said Brett. "Four cities are working hand-in-hand with YourTown Health to get the vaccine close to everyone in South Fulton County and quickly available. It wasn't hard to put together an operational plan with the professionals of YourTown. They had a very well-defined vision already, and it immediately synced with ours."
"The cities have all stepped up. They are doing an outstanding job," Wollenzien said. "This is a completely unique partnership. It really combines the public and cities with a private nonprofit organization to really do what is best for the citizens in the surrounding area."
Starting next week, YourTown Health will have to stop giving initial COVID-19 shots to new patients to make sure that there is enough vaccine for everyone to get their second dose, Wollenzien said.
"We do not, at this point, have enough vaccine to bring in new first doses," he said. When people get their first dose, an appointment is made for the second dose.
"We give them an exact date and time," he said.
Shipments of vaccines to the organization have been spotty. YourTown Health started off ordering 3,000 doses a week. "We thought, maybe that is scary them so let's order 1,500," Wollenzien said.
One week, they received 1,000 doses. Other weeks, it was just 100. There were a few weeks that no doses arrived.
"We're really, really hopeful that we're going to get a pretty good shipment in next week," Wollenzien said. Many providers have the same story, he said. The state of Georgia has recently started shopping more vaccine to chain pharmacies, and that is making it more difficult for organizations like YourTown Health to get doses, he said.
"That pulls it away from other people that have systems in place to vaccinate large amounts of people," he said. "We've got a great system."
Thursday evening, the state announced four mass vaccination clinics that will cumulatively be able to administer 22,000 doses per week. According to the governor's office, those sites will be able to ramp up and administer even more doses if the state receives more vaccine from the federal government.
The new sites are located in Hapeville, Macon, Albany and Clarksville.
The state will also open more vaccination sites as the state's weekly vaccine allocation increases.
At the Palmetto site, those who get their shot then wait from between 15 to 30 minutes for observation. The observation time depends on various health factors, including allergic reactions and taking blood thinners, and is determined based on a person's answer to a health questionnaire. While first responders do the actual vaccine administration, the observation is done by a member of YourTown Health's medical staff.
"The process is as smooth as silk," Wollenzien said. "People seem to be very, very pleased with how quickly they get through the whole process."
The YourTown Health clinic in Senoia is also administering vaccines. That takes place on Mondays and about 60 doses are administered each week.
YourTown Health is offering vaccines to those in the Phase 1a+ categories, of health care workers, first responders and those 65 and older. Unlike many other providers, YourTown Health is not vaccinating caregivers of those 65 and older, out of an abundance of caution. "We're checking everything to make sure whoever comes into our clinic is actually qualified to get the vaccine," Wollenzien said. Some providers have been caught giving vaccinations to those who don't qualify – and the state has reduced the amount of vaccines those providers can receive.
YourTown Health is running a waiting list, and there are currently over 20,000 people on the waiting list, Wollenzien said. However, when YourTown Health staff reaches out to people on the list to make their appointments, they sometimes find out those people have already received their vaccines.
"People are signing up for everything they can. And that is part of what slows down our process," he said. Those who are on the waiting list but have already gotten their shots elsewhere can call and let YourTown Health know. Wollenzien said they are considering sending out a mass email to ask those on the waiting list to let them know if they can be taken off the list. However, "if we do that, we're going to get another 15,000 emails back. And you create another problem," he said.
The organization is asking people not to sign up for the waiting list if they aren't in Phase 1a+.
YourTown Health also offers free COVID-19 testing.
For more information visit www.yourtownhealth.com .