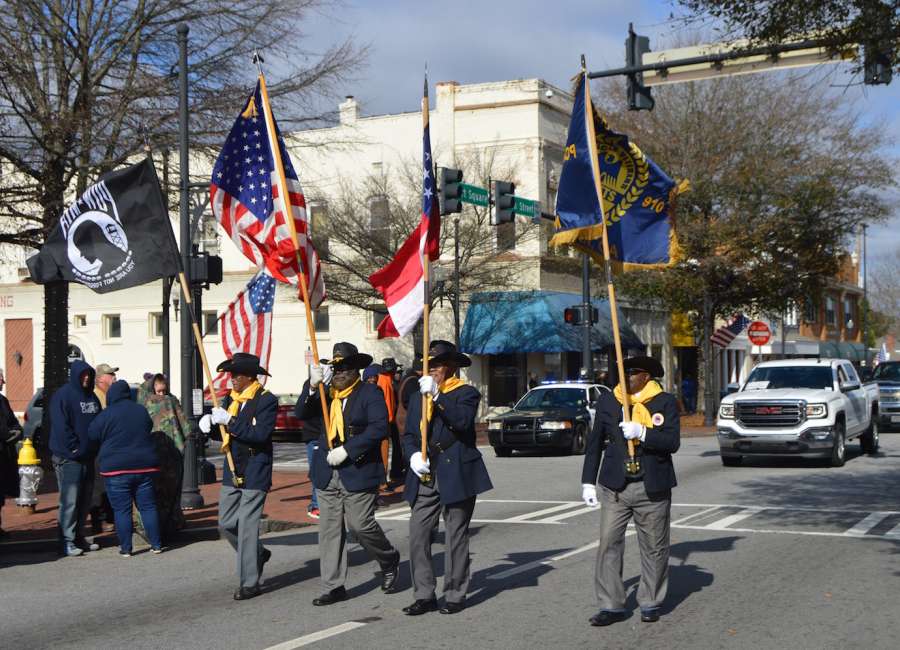 Members of the Terry Allen Jr. Buffalo Soldiers AMVETS Post can often be seen at local events, marching in parades with their distinct yellow cavalry scarves and cavalry hats.
Post 910 is named in memory of Corp. Terry Allen, a Newnan native who was killed in Vietnam in 1968.
The term Buffalo Soldier was first used to refer to Black members of the 10th Cavalry Regiment of the U.S. Army in 1866, who fought in the Indian Wars. The term has continued to be used to refer to Black soldiers.
Post member Robert Wood said that Native Americans gave the Black soldiers that name because their hair reminded them of buffalo fur. It's thought that the name also honored the tenacity and strength of the soldiers, who fought like the fierce buffalo of the Great Plains. Many soldiers also wore buffalo robes to keep warm during the harsh Great Plains winters.
The Newnan post was founded in 2007. Allen's uncle, the late Edward Stevenson, spent years working to establish the post in honor of his nephew, according to post documents.
In 1995, Stevenson had worked to charter the Colin Powell AMVETS Buffalo Soldiers post in Detroit, Michigan. He served several years in that post and brought the idea to Newnan, to form a new Buffalo Soldiers post in his nephew's honor.
Members of the post perform military graveside ceremonies for fallen veterans, including flag presentations and playing Taps. The post works with Roscoe Jenkins and Sellers Smith funeral homes. Families of local veterans using other funeral homes, who cannot get military details from Fort Benning or the National Guard, are welcome to call the Buffalo Soldiers for their military detail, said Post Commander Charles Weldon.
The group works locally to help homeless and disabled veterans and other members of the community, said member Henry Dixon, who often plays the bugle at funeral ceremonies.
Before COVID-19, "we would always go and see the veterans, and take them to the hospital," Dixon said. Often, they would just go to their homes and spend time with them. Many veterans have post traumatic stress disorder, and it helps to talk to someone who can relate, Dixon said. They also try to help with home repairs or other needs for disabled veterans. Helping other veterans is one of the things Dixon likes most about being in Post 910.
Dixon is a barber, so when he goes to visit, he'll often give a haircut as well. Before COVID-19, he would visit veterans in nursing homes and cut their hair. While the home visits have been greatly reduced since the pandemic, Dixon said sometimes he'll mask and glove up and go visit homebound veterans.
Each year, the post holds fish fry fundraisers and events for children; they're both fun community events and a way to let people know about the organization.
Member Richard Smith enjoys keeping the history of the Buffalo Soldier alive, and remembering those who have served.
Holding the graveside ceremonies is an honor, Smith said. "We want to remember them; they served their nation, their country – we're remembering them and recognizing their family," he said.
Member Robert Wood said one of the reasons he likes being in the Buffalo Soldiers group is that it "gives attention to Black veterans and soldiers who went above and beyond the call of duty."
Many of the members are older, and Weldon said they are hoping to grow the post, and bring in younger members.
He found out about the group when he saw someone with a veteran's sticker on his truck and started talking to him. It's something he still recommends as a way to meet fellow veterans in your community. "I've never met a veteran that didn't appreciate talking to another veteran or talking to somebody about one of the organizations," he said.
For more information about Terry Allen Jr. Buffalo Soldiers AMVETS Post 910, contact Weldon at 678-230-2469, Milton Allen at 706-416-9330 or Henry Dixon at 470-347-6153.