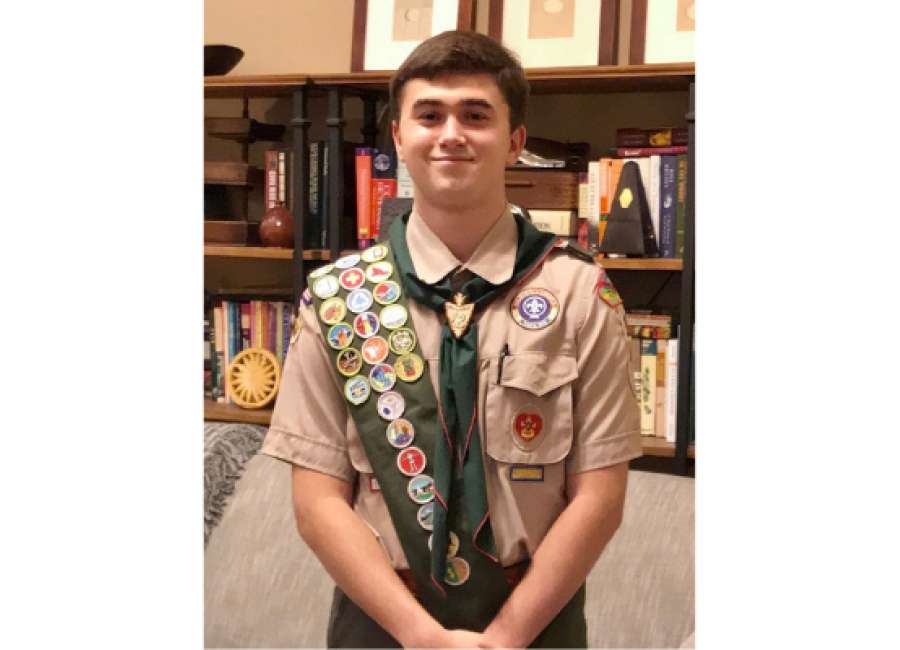 Sam Maxwell of Sharpsburg, a senior at Landmark Christian School, has been awarded the rank of Eagle Scout, the highest rank in the Scouting organization.
Since its inception in 1911, only 4 percent of Scouts have earned this rank after a lengthy review process, according to a press release from the school.
Requirements include earning at least 21 merit badges. The Eagle Scout must demonstrate Scout Spirit, an ideal attitude based upon the Scout Oath and Law, service and leadership. This includes an extensive service project that the Scout plans, organizes, leads and manages.
Maxwell joined Scouting in second grade as a Cub Scout. After crossover to Boy Scouts, he began working towards the Eagle rank when joining Troop 181 in Peachtree City in 2014.
Achieving Eagle Scout takes perseverance, skill and commitment, the release stated. After progressing through the six ranks from Scout to Life and completing 25 Merit Badges, he started his Eagle Scout project, which took approximately a year from initial planning to the final build.
His project included the construction of a Gaga Ball pit for St. Paul Lutheran School, where he attended elementary and middle school. They expressed a need for more purposeful play areas, and so together they chose the Gaga Pit.
This play option was specifically chosen for the middle school students, who had typically outgrown the existing playground. After months of planning, approvals and funding, Maxwell supervised 16 fellow Scouts and friends during the two-day build.
"It was hard work, but it was also a lot of fun," Maxwell said in the release.
After completing his project in July, he finalized his project workbook and Eagle application, which was approved by the Flint River Council. He then sat for the Board of Review, an hour-long interview that covered his Eagle project as well as various aspects of his Scouting career.
"Earning the Eagle Rank is exhilarating for many reasons," said Maxwell. "I feel a sense of accomplishment for achieving a dream I've had since second grade to which I dedicated so much time and effort. Earning Eagle has shown me that I can pursue other goals with dedication and intensity.
"Though, as much as Scouting has done for me, I am happy that it has taught me the importance of service to others and proud that much of my time as a Scout has been committed to serving the community. Without Scouting, I would not be the person I am now," Maxwell added.
He continues to attend troop meetings and participate in service activities with his troop. His desire is to help others, according to the release.
"Right now, I am enjoying being able to mentor the younger Scouts in my troop with advancement and merit badges," Maxwell said. "Having reached my goal, I'm able to focus on helping them do the same."
After graduation from Landmark in May, and receiving his private pilot's license during the summer, Maxwell will enter the Kent State aviation program as a professional pilot major.
Maxwell hopes to build on the interest and knowledge gained from his participation in the Landmark Aviation Academy and continue to serve others one day by piloting for a major airline.