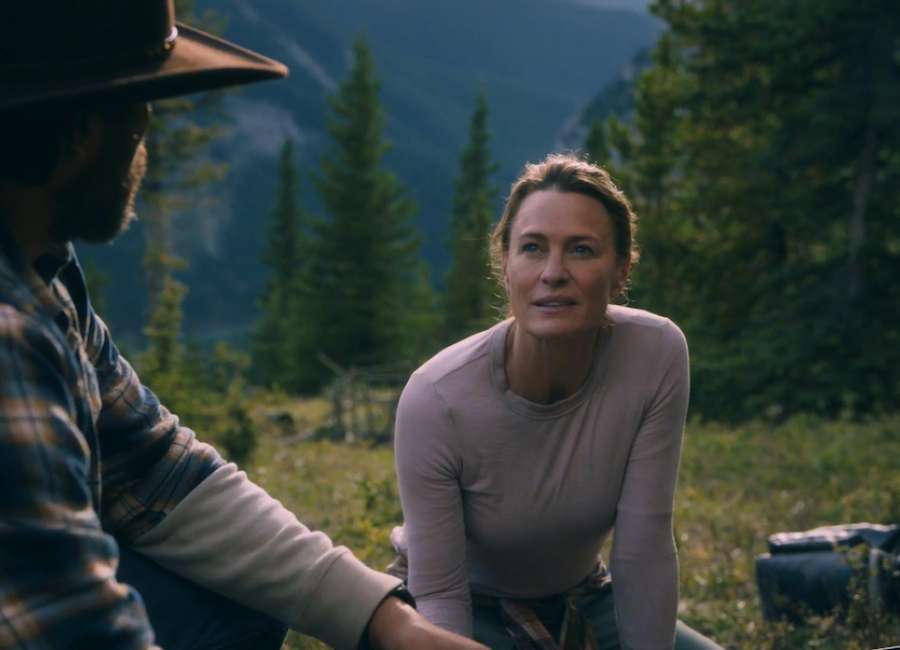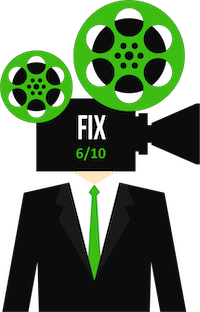 Review by Jonathan W. Hickman
Actress Robin Wright makes her feature film debut as a director with "Land."
It's a sensitively made film that doesn't quite connect. The beautiful cinematography and reliable supporting performance from Demián Bichir still make it worth a look.

After experiencing great loss, Edee (Wright) decides to erase herself from her past. She leaves the city and travels to the Wyoming wilderness. Purchasing an old cabin on a scenic piece of land, Edee takes with her enough supplies for several months. There's no electricity or plumbing in the place, and there are many much-needed repairs. Living there is a challenge, and she's cautioned by the man who sells her the property that it could be dangerous. These warnings are casually dismissed; either Edee doesn't care or has no plans on staying there very long.
As the summer months give way to winter, Edee's naivety threatens her life. After foolishly succumbing to the elements, she lingers near death. But a timely visit from a kind man named Miguel (Bichir) offers a glimmer of hope. With the assistance of a Native American nurse named Alawa (Sarah Dawn Pledge), Edee recuperates. But against the nurse's advice, she insists on staying in her cabin. What is Edee's ultimate goal? Why has she chosen this difficult path?
Miguel, a patient man, who works delivering clean water to a local indigenous reservation, continues to come around. He offers to teach her to hunt, trap, and live off the land. Miguel appears to want nothing in return. Edee accepts his help with one condition: he tells her nothing of the outside world. Miguel gladly agrees.
"Land" is a movie about secrets. We know that Edee has lost her family, but the details are murky. Edee's sister, Emma (Kim Dickens), is understandably concerned, but she can't stop Edee's plans to become a hermit. And, at first, it appears that Edee is determined to starve herself to death. But Miguel, no stranger to personal loss, sees her struggle differently in observing that there are far easier ways to die.
While there's a lot of good work on display, the script, written by Jesse Chatham and Erin Dignam, sets up a few too many convenient coincidences. An encounter with a bear feels contrived, with some of the dialogue a little too on the nose. And Edee's progress toward independence is implausibly neat and tidy, almost fantastical.
Compare the rugged depictions of off-the-grid behaviors in films like "Into the Wild," Reese Witherspoon's "Wild," or the harrowing journey of a family in Peter Weir's "The Mosquito Coast." "Land" doesn't give us the grit and grime, the dirt under the fingernails. For example, Edee recovers entirely, leaving her with little lingering problems.
While Edee's improvement may have been possible, a little more detail might have the depicted events more credible. Instead, what we get are several sequences showing Edee building a garden, trapping animals, shooting deer, and becoming wonderfully independent. It plays out almost like those "how-to" YouTube videos that, after you watch them, you think you can do something complicated and technical with ease. In reality, we all know that hunting and farming aren't clean and comfortable tasks; your hands get dirty, cut up, and rough.
Still, aside from the sanitized approach to living off-the-grid, I appreciated the tender tone of "Land." Miguel's story of redemption has some impact and explains his kindness. I wanted to see Miguel's character explored in more detail. The Native American elements are interesting and worthy of more examination.
Consistent with its protagonist, "Land" presents a guarded, ambiguous, and naive narrative. It's not a bad film, but it doesn't feel convincingly authentic, which hampers our connection to the characters and their emotional battles.
A RottenTomatoes.com Tomatometer-approved critic, Jonathan W. Hickman is also an entertainment lawyer, college professor, novelist, and filmmaker. He's a member of the Atlanta Film Critics Circle, The Southeastern Film Critics Association, and the Georgia Film Critics Association. For more information about Jonathan visit: FilmProductionLaw.com or DailyFIlmFix.com