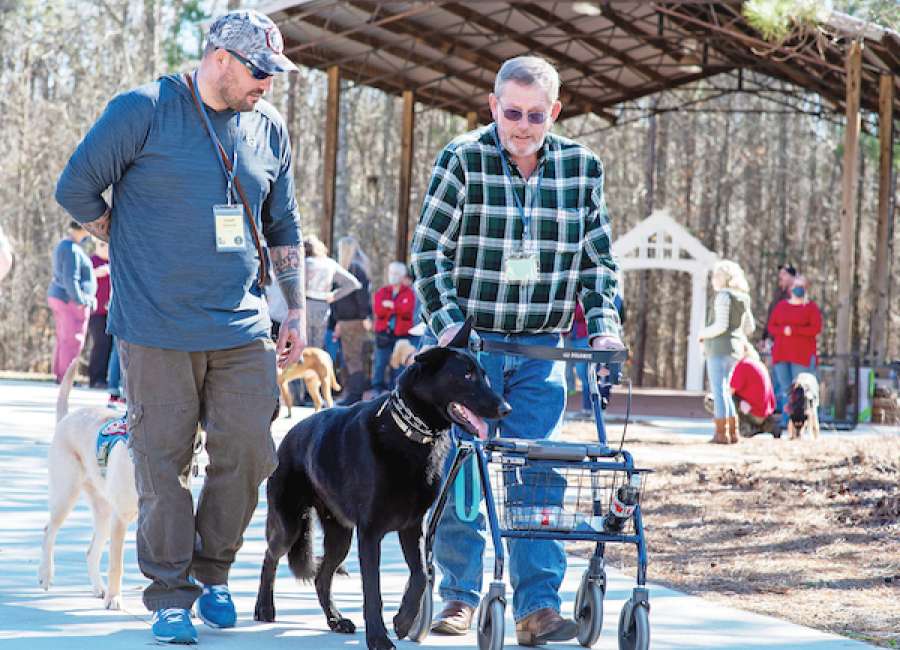 Healing4Heroes, an organization that trains service dogs for veterans, has matched 600 veterans with dogs who have been rescued.
Piper Hill, president of H4H, said they train service dogs for veterans with any disability. The retired Army officer started the nonprofit 501(c)(3) organization in 2008.
Hill said the organization is primarily made up of volunteers. GreatNonprofits lists H4H as one of the top-rated nonprofit organizations for veterans in the U.S.
She said veterans who could benefit from a service dog are matched with H4H through word of mouth, the Atlanta Veterans Association and through web searches.
Dogs are rescued from shelters in the surrounding area, including the Newnan-Coweta Humane Society. Hill said veterinarian's offices will also call her with a dog.
"We only take them if they're fully vetted," Hill said.
She said they test the dogs to see how they respond around other dogs and children.
Hill said they host a six-to seven-day training class every other month, where dogs are matched with their new owners, and the dogs and owners are trained. She said the first day of the class is a matching and training event, where participants can pick a dog that fits their lifestyle and their disability best.
In those seven days, the dogs learn seven tasks that make them a legal service dog. Hill said the dogs learn posting and blocking – which lets the owner know someone's approaching them and keeps people from getting in their space.
The dogs are also trained to lead and follow, which can help veterans with anxiety out of a crowded area.
"It's a tiny thing they can do which is phenomenal to lead a better and secure life," Hill said.
They also teach the dogs to tuck under a table and touch – such as turning on lights or touching their owner's leg if it's shaking from anxiety.
Hill said the dogs also learn how to brace, which can help people with mobility issues get up and down, and in and out of chairs.
She said after the veteran returns home, H4H offers support and additional training. Hill said the majority of veterans they match with dogs are from Georgia, but they've helped a veteran from almost all 50 states.
Hill said while their focus is veterans, they do train dogs for civilians. She said moms have called her and said they have a child with epilepsy, diabetes or Asperger's Syndrome, and need a service dog.
She said they offer as much support to civilians as possible, and offer to match and train them with a dog for $1,000.
"We already know animals, in general, help you live longer," Hill said. "They help with happiness and make your life better."
The dogs and training are free to veterans and first responders.
Coweta rescue dogs
A new training class recently started Feb. 21, which is the first class for children, with five children participating. "It's a super class," Hill said.
The Newnan-Coweta Humane Society brought four dogs to the class, and two were selected for the program. Diesel, a Great Dane mix, is on standby for the next event. Another dog, Emmy, was matched with a participant in the class.
The other two dogs – Roscoe, a border collie, and Marley, a Great Dane mix – are available for adoption, according to Lisa Schmidt, dog foster program coordinator for NCHS.
Schmidt said H4H comes to NCHS and looks at the dogs they have to select for the program. She said to train a service animal, it's best if the dogs are between 10 months and three years of age.
She said after H4H picks an animal, volunteers at NCHS work with the dogs on leash training, crate training and basic commands, to give them a head start for the training class.
"We do anything we can to help the dog do better in the class," Schmidt said.
Schmidt said H4H also helps train NCHS volunteers on how to teach basic commands. She said this is the second H4H session the NCHS has been involved with.
"I love that they take rescue dogs and pair them with veterans who need them; it's a win-win," Schmidt said.
Hill said community members can apply to volunteer and make donations on www.healing4heroes.org . She said they also need fosters for dogs.