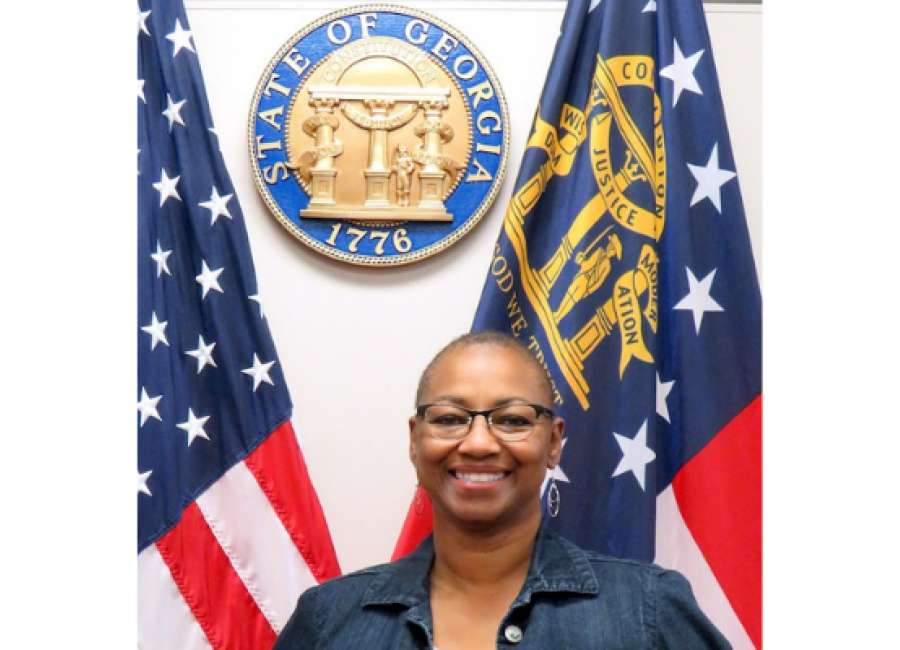 Before Veda Brooks was the commander of Newnan's American Legion Post 57, she grew up in Los Angeles County knowing that she wanted to serve in the military.
Brooks grew up in Compton, California, and joined the Army at 17.
"I always wanted to serve," Brooks said. "My father, grandfather and uncles served, and I always wanted to go into the military."
She said because of the GI Bill, she thought she could join and serve her country for two years and also get money for college.
"My two years were coming to an end, and I absolutely loved being in the service," Brooks said.
Brooks ended up serving in the Army for 15 years, from 1985 to 1999. Her basic training was at Fort McClellan in Alabama, and she did additional training at Fort Sam Houston in Texas.
She served in Germany, and then returned to Texas at Fort Hood before being deployed to Desert Storm with the 2nd Armored Division. Brooks served as a combat medic, which she had been training for during her service.
Brooks said she was deployed for four or five months. "It seemed like I was there a really long time," she said.
She was medically retired after Desert Storm because her lungs weren't functioning like they were supposed to.
Soldier first, girl second
Brooks said she can only tell her story about being a woman of color serving in the military. "I can't tell it for everyone," she said.
She grew up in Compton, which she said was known for its gang violence and hip hop music. However, she grew up in a household where that behavior was not allowed.
"My mom always said because we are people of color, we need to work harder and we need to prove ourselves," Brooks said. "As a woman, you had to work even harder than a man."
Brooks said she expected the military to be difficult, and went in with that mindset. She said she wanted to be the best soldier she could be.
"The downfall was I set aside my femininity to be a soldier," Brooks said. "You couldn't be a girl and still be a soldier."
She said that was what was required of you to be promoted and to get the right positions. Brooks said she wasn't taken aback by seeing women sacrifice their femininity for the service.
"Which is kind of sad," Brooks said. "You go into the service knowing what's required of you, and so often, many women would put aside who they were."
Social work
Brooks said after she left the service, she kept her promise to her parents and got a degree in social work from the University of West Florida.
Her motivation for pursuing a career in social work was from her time in Desert Storm.
"We saw everyone," Brooks said. "Friendly and those that were the enemy. If they needed medical help, they got it."
She said they saw a lot of civilians, and her unit was one of the few that had enough women to treat other women. Brooks said the population was mostly Muslim, and the women wouldn't recieve medical care from men.
Brooks said they treated children, and they triaged people into groups depending on how immediately they needed care. She said the saddest section was the group of people who hadn't yet passed away, but they couldn't do anything for them medically.
"I realized that because of the war, there are going to be orphans and widows left behind," Brooks said. "It began to make me think about what's going to happen to the kids."
That's when she decided to be a social worker and make a difference in foster care.
She ran an outreach through a church in California to set up homes for women who had lost their children to foster care. Brooks said that is when the opioid crisis was beginning, and there was a lot of separation of families.
Brooks also decided she wanted to be a foster care parent, and she took in female teenagers in California who were labeled hard to place. She said she worked with them, they became part of her family and she's still in touch with all of them.
She adopted a girl named Samantha, who came to her at 15 with two children. Brooks said she graduated from high school, went to college and is married and doing well.
"I believe that's how foster care should work," Brooks said.
Brooks also has two biological children and several others she considers her children since they came through her home.
American Legion
Brooks said she became very active in the American Legion when she came to Newnan in 2012 because the post was very active. She was nominated and voted in as commander two years ago. Brooks is the second female commander of Post 57.
"Post 57 is just a bunch of fun-loving people," Brooks said.
In addition to being commander of the American Legion, Brooks is also a member of several other veterans organizations. She said national veterans organizations do a lot locally to help the community.
"It's easy to do because those who volunteer to go in the service like to continue to serve," Brooks said. "Those who were drafted and survived are able to give back. It's a good feeling as a veteran to be part of a community and do things."
Nationally, Brooks said the organizations have lobbyists who advocate for veterans in Washington, D.C.
Brooks said her favorite part of her role as Post 57 commander is getting the post involved in community events such as food drives and visiting schools. She said before the COVID-19 pandemic, they had an auxiliary member who was volunteering at Jefferson Parkway Elementary.
She said they're looking forward to kicking that up a notch in 2022 by doing story time with school kids, and talking to them about what being a veteran is.
Brooks said another thing she enjoys about her role as commander is it gives her a voice.
"When I show up, people are looking for the veteran and it's me, and I'm the commander," Brooks said. "It shows young girls that it's possible to be in the military."
Department of Veterans Service
Brooks was able to combine her social work background and love for veterans by working with the Georgia Department of Veterans Service.
She is the director of the Women Veterans Office for the state, and when she was appointed, she discovered that she was the first female director at the organization. Brooks said the department is over 68 years old, and she didn't know how to feel when she found that out.
"It's such an honor, but I was also disappointed that it's taken this long," Brooks said.
Now, the Department of Veterans Service has three female directors, who are all women of color.
In her position as the women's veteran coordinator for the state, Brooks said she is responsible for advocating for gender-specific health care to the VA, helps women veterans navigate the health and benefits system, helps women transition from active duty to a veteran and is responsible for all military sexual trauma reports that come through the office for compensation.
Brooks said claims can be filed at any of the state's 52 offices, and she is responsible for tracking them to make sure they receive a positive outcome and are connected with mental health services.
Another one of her responsibilities at the department is working to influence laws and policies to end homelessness in the state of Georgia. Brooks said veterans are her priority population, but the goal is to develop a statewide plan to prevent homelessness in the state.
Brooks said she advocates for veterans because they chose to serve their country.
"It's the minimum they deserve once they leave service," Brooks said. "I don't think we're giving them anything; by serving they earned it."
She said her job is fulfilling because she loves what she does and it makes her happy.
"With the American Legion and my job, most of the staff is made up of veterans, including EMS, police and firefighters," Brooks said. "Veterans continue to serve the community, and we do appreciate when you say, 'Thank you for your service,' because we didn't stop serving."