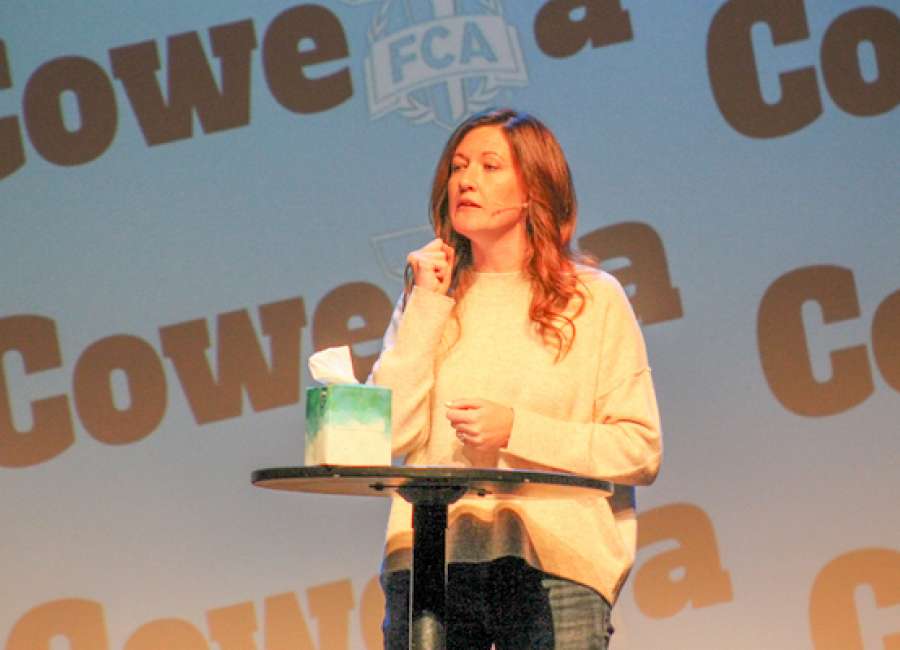 Coweta resident Aubrie Gruber was the keynote speaker at this year's Coweta Fellowship of Christian Athletes Women's Conference, where she talked about the last year of her life on the theme of "Fear Not."
"I am well acquainted with fear," Gruber said. "I was before last year; I was a person that dealt with fear in extreme ways and also in mild ways."
She said the consequences of her fear varied from keeping her from doing things, holding on to things and keeping her from obeying God.
Gruber spoke at the Coweta FCA Women's Conference in January 2020, and said at that time, life was really good.
"I had built this beautiful life with this family, I had this husband that I loved, my kids were great – doing well in school, healthy," Gruber said. "Everything was fine."
A year of challenges
She said March hit, and with it the COVID-19 pandemic. Gruber said her husband, Chris, owns a car wash, and at that time decided to shut down the car wash to keep their family, his employees and customers safe.
"When you own your own business, if you shut down you don't get paid," Gruber said. "That was a little nerve racking."
Gruber said her sister sent her something to help memorize scripture, and the scripture of the month was Isaiah 41:13, "For I am the Lord your God who takes hold of your right hand and says to you, Do not fear; I will help you."
She said whenever anyone in her family got anxious, they would quote the verse to each other. Gruber said she clung to the verse, and the pandemic wasn't the hardest thing her family faced last year.
Gruber said in May, her husband began experiencing some strange symptoms – like not being able to hear. She said he had to have tubes put in his ears, and the doctor wanted to do a biopsy.
"I remember sitting in the parking lot of the hospital, and I get a call from his doctor," Gruber said. "He says, 'Your husband has stage 3 cancer,' and I don't remember anything after that."
Gruber said the phone call lasted 20 minutes, and she thinks she asked some good questions, but she doesn't remember what she said. She called her sister-in-law, and said she lost it.
"My husband, 43 years old, we have young kids, like what?" Gruber said. "I can't fully wrap words around what it feels like to hear that word, cancer."
She said her very first question to God was, "Do you even care about us right now?"
"I've learned in my acquaintance with fear is that at the root of it, that's what it tries to get you to do, question God's heart, question who He is," Gruber said.
Her husband's cancer was inoperable, and he was preparing for chemotherapy and radiation.
"I had this moment on my sister's back porch, where I had this knowing that I was walking through this fire," Gruber said. "That my husband was walking through this fire, and by default my children were going to walk through this fire."
"I couldn't stop any of it," Gruber said. "I just knew, this wasn't going to be taken from us, there was going to be no miraculous healing right now, but right on the heels of that knowing I heard, 'I'm going with you, Aubrie. I'm going through the fire with you.'"
A crucial choice
Early on, she said her family felt like they had a choice: to trust in God or give into the fear. Gruber said she chose faith, and started telling people about the diagnosis.
She said people began encouraging them, and shared Isaiah 41:13. Gruber said she clung to that verse, and there wasn't a day she didn't feel afraid, but she knew that Jesus had given her authority over the fear.
Gruber said some times were easier than others. She said they would pray against nausea or pray that the pain would subside, but it wouldn't.
"As we entered treatment, it's everything they say it is," Gruber said. "The suffering was very real, and I could do nothing to stop it."
She said there was a point where things had gotten really bad. Gruber said she had just been to the dentist, and when she got home her husband had an extreme fever.
Gruber said she called his two best friends and told them he needed to go to the hospital immediately. They had to carry her husband to the car, and she couldn't follow them because she had laughing gas at the dentist and couldn't drive.
"Worship became one of these pillars of our life where we went to Jesus, and I'm here to tell you, he fought for us in those moments when we were worshipping," Gruber said.
She said people also brought them scripture, and she would tape it to the walls in her office alongside Chris' medication information and schedules, and she would read them.
Gruber said they barely made it through treatment, and then they had to wait three months before they found out if it worked or not.
"The only word that I can adequately describe those three months for me personally was a complete onslaught of fear," she said.
Gruber said they went in for the final scan, and Chris was cancer free; the treatment had worked.
"I was overwhelmed," Gruber said. "He got in the car and we sobbed. He said, 'I so desperately want to say God is good right now, but I don't want to say God is good because he healed me. He has been good from day one.'"
Gruber said she wished she could say she's not afraid anymore. She said there are days when she worries about future scenarios that are unknown.
"I play it to the end because at the end, no matter what happens, Jesus is there; he promises to be there with all joy and all peace, everything that I might need," Gruber said.
"You could say 2020 was the year my deepest and darkest fears were realized, and that we had to face them. But I would also say that 2020 was the year I settled in my heart that God was enough," Gruber added.