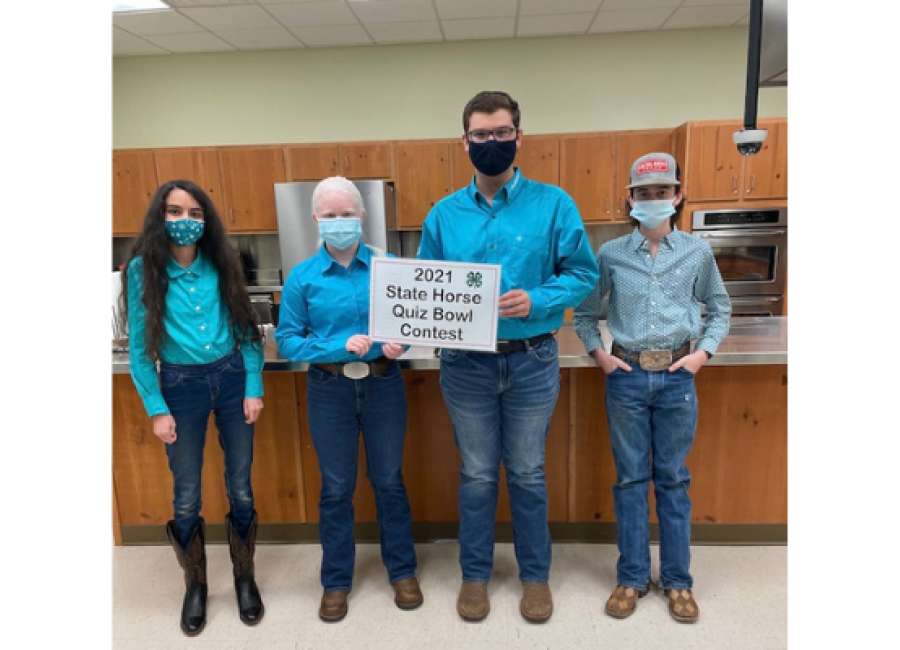 This past weekend, 45 Georgia 4-H youth participated in the 2021 Georgia 4-H Virtual Horse Quiz Bowl on Feb. 13.
The event was held in a hybrid format, with all competitive portions of the event done electronically to comply with COVID-19 precautions, according to a release from Georgia 4-H.
The Coweta Junior team placed third in the state, and the Senior team placed fourth in the state.
Representing Coweta on the Junior team were Avery Pruett, Addison Hill, Elena Williams and Claire Lummus.
Representing Coweta on the Senior team were Gabriela Luna, Sara Folsom, Parker Arrington and Nathan Yeager.
Youth participating in quiz bowl learn about horse health and other equine-related topics, then
demonstrate that knowledge in a competitive and thought-stimulating environment. Participants develop leadership and life skills, as well as strengthening social skills by working as part of a team.
"The Horse Quiz Bowl event is always a day of excitement for the youth, trying to be fast on the buzzers and adult officials watching the youth display so much horse knowledge," said Julia McCann, equine science specialist with University of Georgia Cooperative Extension. "Our new format was adapted to keep everyone safe. It was amazing how we played the afternoon with the same excitement as live play."
Junior and Senior teams compete during the quiz bowl, with Junior teams consisting of fourth
through eighth grade youth, while Senior teams consist of ninth through 12th grade youth.
The panel teams compete in double-elimination brackets. Points are awarded to teams who
provide correct answers to questions after responding with button signals.
In addition to the hybrid format, the new "Horse Smarts Test" was used as a pre-qualifier for the top five Junior and the top five Senior teams to be selected. More than 130 youth completed the Horse Smarts Test on Jan. 28.
"Due to the intense efforts and commitment of youth, coaches, county agents and the UGA staff to do their homework and address every detail of this event, the State Horse Quiz Bowl Contest felt like a huge win for everyone involved," McCann said. "I am proud and thankful for everyone who made the competition a success and hope this model can serve the program well in future preparations for quiz bowl contests and other future horse events."