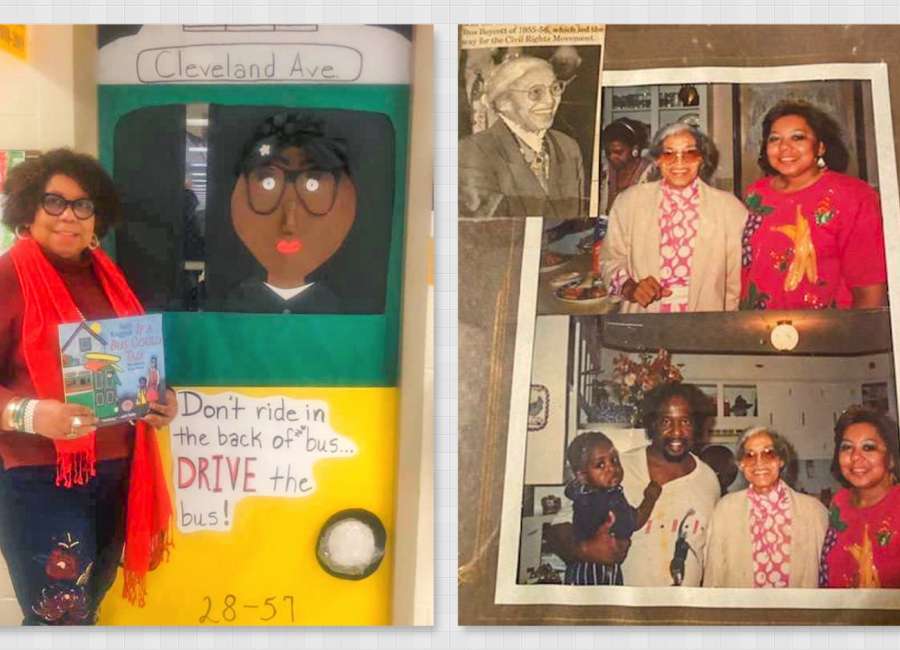 Rosa Parks is credited with helping initiate the Civil Rights Movement and local minister Linda Dixon is a close relative of the Civil Rights icon.

Parks refused to give up her seat to a white man on a Montgomery, Alabama, bus Dec. 1, 1955. Her actions inspired the leaders of the local Black community to organize the Montgomery Bus Boycott.
Led by a young Rev. Dr. Martin Luther King Jr., the boycott lasted more than a year — during which Parks not coincidentally lost her job — and ended only when the U.S. Supreme Court ruled bus segregation unconstitutional.
Dixon, a native of Atlanta, said she is related to Parks on her mom's side. Dixon said her roots are in Alabama, where her mother is from.
As a child, Parks said she didn't really understand the importance of "Cousin Rosa," as she calls her, but said her mother explained just how important Parks was.
"Whenever she came to Atlanta, my mom would say we're going to pick up Cousin Rosa," Dixon said. "This was in the 1960s, and she would come to town to meet with Dr. King during the Civil Rights Movement. She didn't take a salary or anything. She just asked for them to pay for her room and food, so when she would come. My mom would be so excited.
The family would pick her up at the Nancy Hanks Train Station, and Parks would spend a night or two with her family.
"Mom would take her to Paschal's Hotel because it was really the only Black hotel in Atlanta," Dixon said. "We couldn't go to the others. People take for granted the privileges of today. I let them know that you're looking at a lady, who was a little brown girl who went to a segregated school in Atlanta."
Dixon said even in the 1960s and 1970s, she was only able to visit Hunter Street Theater in Atlanta and the Rialto in downtown Atlanta.
"There was also a Black library on Hunter Street," Dixon said. "Hunter Street was a prominent area for Black people in Atlanta."
Dixon said her mother taught her at an early age about the history regarding her Cousin Rosa and what she meant to the Civil Rights Movement.
"She and her husband, Cousin Raymond, were run out of Montgomery after the bus boycott, and other family members took them in when they went to Detroit," Dixon said. "She said that particular day she was not trying to stir anything up. She just was not going to move. She was not the first person to refuse to give up their seat."
In fact, in March 1955, nine months before Parks refused to give up her seat, 15-year-old Claudette Colvin did exactly the same thing in Montgomery, Alabama. She was the first person to be arrested for challenging Montgomery's bus segregation policies.
Dixon said Parks' husband, Raymond, worked in her uncle's and brother-in-law's barbershop where she (Parks) did seamstress work.
"She started working for the NAACP, and she also started working for Black congressmen up there," Dixon said.
Dixon said Parks was very involved with the family. She said Parks would attend family functions and funerals quite often.
"She was a small person," Dixon said. "She always smiled, and she loved our family because she didn't have anyone but us. She was very quiet and sophisticated, and she was so humble and very meek. She was not flashy. Most of the time she would have on the same dress — a pink-and-white dress that she liked to wear."
Dixon said Parks did not have any children of her own. She said whenever Parks came to Atlanta, she and her mother would see her.
"I would go to all of her book signings," Dixon said. "Her caregiver, Elaine Steel, would always recognize me and my mom, and she would be so happy to see us."
Dixon said Parks' last big visit to the south was in 1995 in Alabama.
"We had a big function for another cousin that she was really close with," Dixon said. " She was 90 years old at the time. He was in his 80s, so we celebrated both of their birthdays. We tried to keep it hush, hush, except for family."
Parks died at age 92 on Oct. 24, 2005. Dixon said there were two funerals. One in Montgomery, Alabama, and the other in Washington, D.C. She said you had to have an invitation to get into either funeral.
She attended the funeral in Montgomery. Dixon said she remembers Cicely Tyson, Al Sharpton, Jesse Jackson and Tavis Smiley being among some of the attendees.
Parks became the first woman in the nation's history to lie in honor in the U.S. Capitol, according to www.history.com .
Many do not know Dixon is related to the Mother of the Civil Rights Movement.
"I don't like name dropping, but over the years, I have spoken at different churches for the ones who do know, and when it comes up, I am willing to share it," she said. "I am proud to be a relative of hers, as she was very inspirational to me. Because of her stubbornness and tenacity, it made me want to pursue and do the things in life. I wanted to be like Cousin Rosa."
Dixon said she was one of the first Black students to run for homecoming queen at Therrell High School in High School in Atlanta. She also said she was the first Black person to work in the Newnan office of the Georgia Power Company, where she worked for 31 years.
"Her life was an inspiration to me," Dixon said. "Because of her, I didn't have to take the back seat."