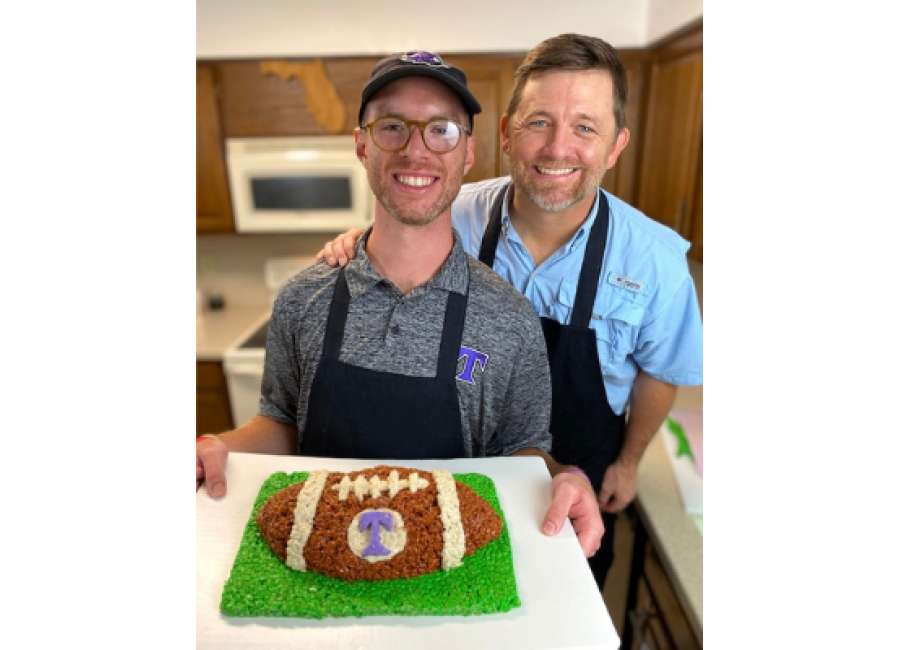 "Krispie King" Andy Davenport has used his crispy rice treat sculpture talents and YouTube channel to start a series called "Cakes and Conversations" that gives people with disabilities a platform to share their stories.
Davenport said for over 20 years, he has sculpted cakes from crispy rice treats for friends and his children's birthdays. During quarantine he had some down time, so he decided to create a YouTube channel where he could demonstrate how he makes his creations.
For 15 years Davenport has worked alongside many people with disabilities, and he said he wanted to create a platform where they can share their stories.
"I grabbed a camera and some lights, set up in our kitchen and started filming," he said.
Davenport works with Young Life Capernaum, a Christian program for teenagers and young adults with disabilities, and hosts leadership training through the program.
Although he doesn't have a child with disabilities, Davenport said he had a lot of friends with disabilities as he was growing up.
"I'm passionate about helping friends share their story," Davenport said. "They have so many gifts and abilities that we miss."
He launched the "Cakes and Conversations" series in June 2020, featuring "Michael," who has Down syndrome.
"My hope is to change how people experience disability one creation at a time," Davenport said. "At the end of every video we say every creation is beautiful and everyone should be treated like royalty."
Series beginnings
Davenport said he started the "Cakes and Conversations" series with people he already knew, and then others began to request an appearance on the show.
He said he first met about two-thirds of his 26 guests when they showed up to film the show. About 10 of those guests have been from Coweta County.
"Every week God provided someone to be on the show," Davenport said.
Guests have ranged in age from 11-39. Featured guests have dealt with disabilities ranging from Down syndrome, Fragile X syndrome, visual impairment and learning disabilities to developmental delays, Williams syndrome and autism spectrum disorder.
During each video, Davenport talks with the guest while they're creating together, which allows viewers to see their abilities and challenges in action.
Davenport said it's okay to feel uncomfortable, or to start a conversation with someone who has a disability and worry that you may say something wrong.
"Assume ability instead of disability," Davenport said. "When we assume disability, we see what they can't do instead of extending opportunity.
"I'm a better me because of my experience with people with disabilities," he added.
Conversation topics
Davenport said he created an application for guests on the show so he can find out some of their interests, and they talk about what kind of crispy rice creation they can make together.
He asks them beforehand about their disability, and what some of their strengths and challenges are. During the filming, Davenport has each guest talk about their disability.
"If we don't speak openly about it, people won't talk to you and others about it," Davenport said.
While they're making their crispy rice cakes, guests talk about relationships, jobs, hopes, dreams, feelings, dating and marriage. They tell stories about when they were treated well or about how they feel when people stare at them or are hesitant to approach them.
"Nine times out of 10, every emotion they express communicates that we're more alike than different," Davenport said.
He said guests feel like a movie star when they come to film, and the fact that the show is all about them makes them feel special.
"Almost every parent has contacted me afterward and said their child can't stop talking about it, that it's a highlight of their life," Davenport said.
"Cakes and Conversations" shows that people with disabilities can do anything with the right accommodations, Davenport said.
"The reality is, we don't take time and make space for those accommodations in order for them to show what they can do," he said.
Riley Davis, a freshman at Newnan High School who is visually impaired, was featured in the most recent "Cakes and Conversations" episode, released Feb. 3. Davis and Davenport made a crispy rice treat cake shaped like a lightsaber.
In the video, Davis said his favorite part of making the cake was eating the crispy rice treats while he was creating.
"I learned that it's not that hard to make conversation with people you don't know that much," Davis said.
He and Davenport met for the first time on the day they filmed the video.
"In the instance that you come across someone like me, make sure that you're nice, and don't be like pitiful nice, have like an actual conversation. Don't just do it just to make us feel good; actually mean something behind it," Davis said.
Future of Krispie King
Davenport said right now, the Krispie King channel is a 20 to 30 hour a week hobby.
He interviewed Davis' parents for a video, and said he hopes to make more videos about what the journey is like for parents of a child with a disability.
"It was so real and humbling," Davenport said. "The parents have an incredible story to share, and their words may give others hope."
Davenport said he has a lot of big dreams, one of which is to help people with disabilities find employment that has dignity.
New episodes are released on the Krispie King YouTube channel on Wednesdays. Davenport also has an Instagram @krispieking , a Facebook page and a website, www.thekrispieking.com .
Davenport invited members of the community to reach out to him at krispieking@gmail.com if they know someone who wants to be on the show or anyone wants to volunteer.