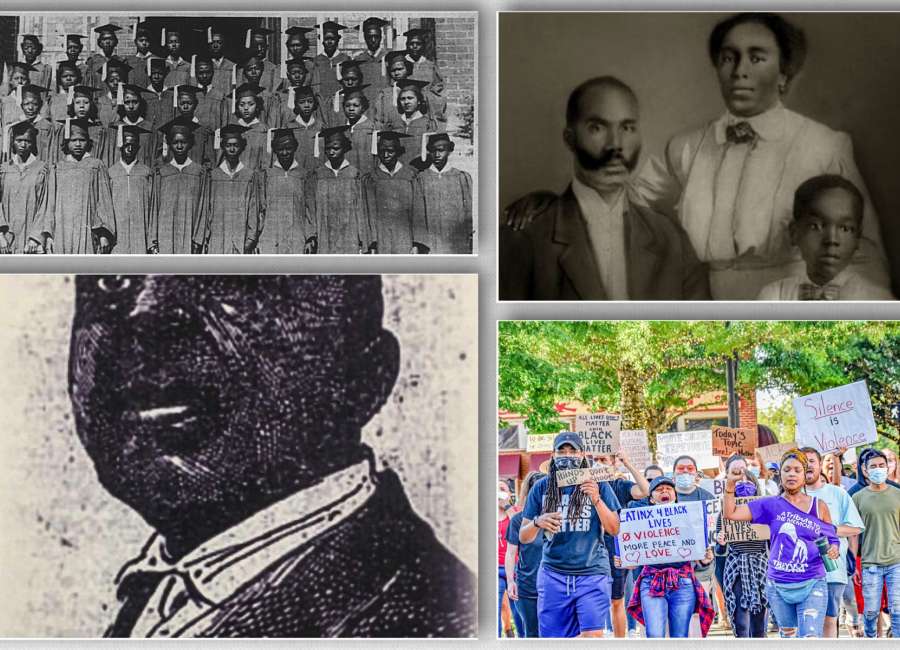 By Morgan Crumbly
February marks Black History Month in the United States, and throughout the month, The Newnan Times-Herald will be taking a look at some of the people, places and events that have helped shape Coweta County.
Black History Month is an annual commemoration that began in 1976 to acknowledge the contribution Black people have made to U.S. history, as well as their achievements in the face of enormous adversity.
Coweta County's own Black history is rich and multi-faceted, and the NTH will be sharing stories of Black struggles and victories that continue to sculpt our community today.
The following timeline highlights some important milestones – and setbacks – for the Black community in Coweta County, as documented in historical sources and official records.
1865: The first legal Black marriage, that of Issac Long and Martha Farmbrough, is recorded in October.
1868: The Herald runs an editorial on the Ku Klux Klan that reads, "We assert the opinion that this organization is the natural growth of these disordered times, destined to extend to every Southern city and town …"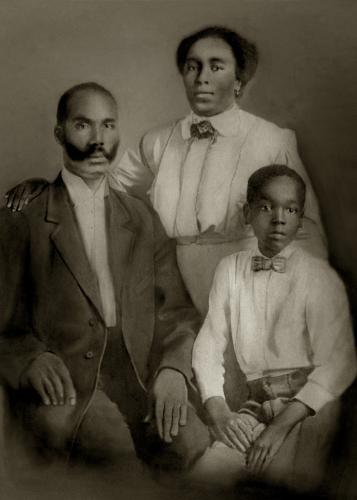 Dr. John Henry Jordan and family.

1899: Dr. John Henry Jordan becomes the first Black doctor to practice in Newnan. Jordan graduated as valedictorian of his class from Meharry Medical College in 1896. He built the first Black hospital in Coweta County and started the county's first Black Medical Aid Organization.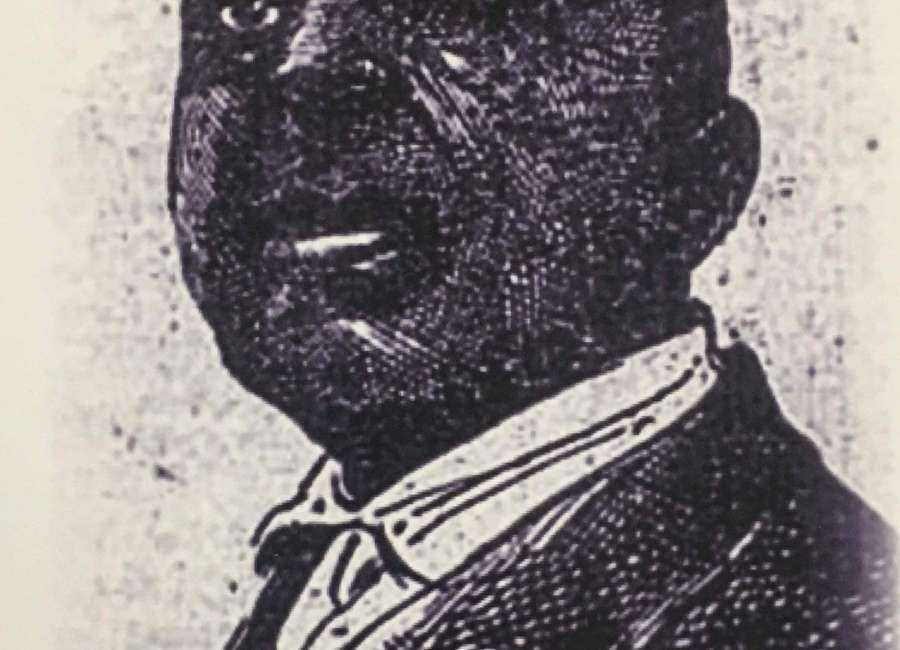 Sam Hose

1899: The notorious lynching of Sam Hose takes place in Newnan, before a crowd of 2,000 people. Hose is accused of murdering his employer, Alfred Cranford, raping Cranford's wife and attacking Cranford's young son, leaving him blind in one eye. Hose is burned, horribly mutilated and dismembered, and people from the crowd take home pieces of his body as souvenirs. Albert Sewell, a Black man who reportedly spoke out against Hose's lynching and said the murder would be avenged, is also killed by the mob.
1911: Mrs. Frannie Jenkins opens the first funeral home for Black people on Robinson Street in Newnan.
1922: A list of registered voters shows that only five Black people are registered to vote in Newnan. According to The Newnan Times-Herald , Black voter registration in Georgia fell from 28.8 percent to 4.3 percent between 1904 and 1910 because of racial violence and terrorist acts committed by the KKK.
1926: The Newnan Times-Herald runs a story entitled "Gifted Negro Singers Coming: Williams Singers coming to Newnan Chapel." Seats are reserved at the Black church so white people can attend the concert.
1930: Coweta County contains 42 Black schools with 48 teachers and more than 2,000 students.
1933: Brown High Moreland, founded by the educator and principal Sara Fisher Brown, becomes the first public high school for Black students in Coweta County. It merged with Grantville Training School in 1946, and the original building now houses the West Georgia Regional Educational Services Agency.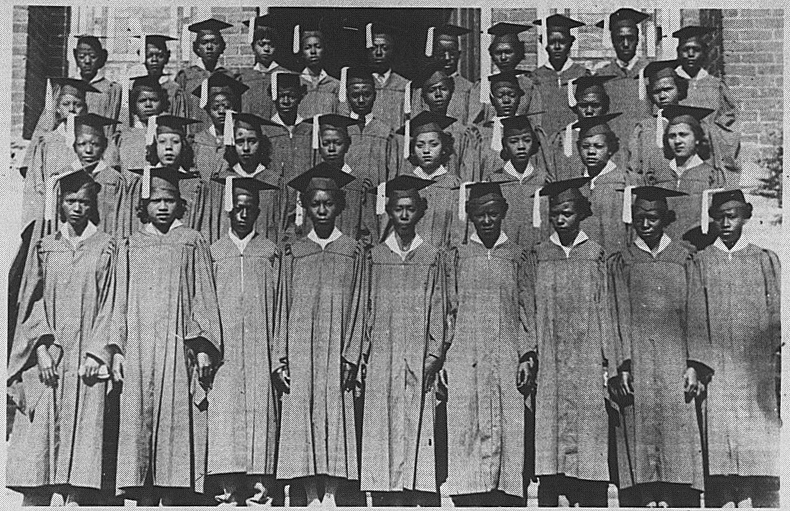 Howard Warner High School is named for Professor Howard Wallace Warner.

1935: Howard Warner High School opens, serving as the county's Black high school. It is named for Professor Howard Wallace Warner, who dedicated his life to children's education. The building now operates as a community center and home to the Howard Warner Boys & Girls Club.
1946: Liberal Democrat Ellis Gibbs Arnall of Newnan is elected Georgia's 69th governor and rules that Black people can't be prevented from voting in the Democratic primary. The Newnan Herald runs a front page story with the headline "Arnall says White Primary Dead."
1946: The Newnan Herald reports that 6,000 Cowetans and 600 Negroes are registered to vote in that year's primary.
1948: The trial of John Wallace, who was convicted and sentenced to death for the murder of white sharecropper in a dispute over stolen cows, is held at the historic Coweta County Courthouse in downtown Newnan. Wallace, a wealthy landowner, is the first white man to receive the death penalty based on the testimony of Black people. Wallace forced two Black field hands, Albert Brooks and Robert Lee Gates, to help burn Turner's body to conceal the murder. The events are later documented by author Margaret Anne Barnes in the bestselling 1976 book Murder in Coweta County and in the 1983 television movie of the same name, which starred Johnny Cash and Andy Griffith.
1949: Ulas "U.B." Ware is credited with being the first Black man in Coweta County to register to vote since Reconstruction.
1950: The first Black library in Coweta County, the Sara Fisher Brown Library, opens. Today, the building is home to Community Action for Improvement.
1955: Georgia Gov. Samuel Marvin Griffin declares, "Georgia will have either separate schools or no schools. There is no choice under our law." This defies the U.S. Supreme Court's landmark 1954 decision in Brown v. Board of Education, in which the court ruled that state laws establishing racial segregation in public schools violated the Constitution.
1956: While campaigning for U.S. Senate, former Georgia Gov. Herman Talmadge tells a crowd in Alabama that anyone who upholds the Brown v. Board of Education decision is "assisting in the destruction of constitutional government in this country … just as did the people in Italy, Germany and Russia." Talmadge also says, "God advocates segregation." Talmadge is elected to the U.S. Senate, where he serves until 1981.
Herman Talmadge

1956: After his election, Talmadge begins writing a weekly column published in The Newnan Times-Herald and other Georgia newspapers. In it, he decries the "so-called Civil Rights Movement" and what he sees as the Supreme Court overstepping its bounds.
1960: Georgia Gov. Ernest Vandiver creates the Sibley Commission, which travels throughout the state soliciting input from Georgians about whether they want to keep the current state law or allow "freedom of choice" for individual school districts, which would open the door for integration. At a regional meeting, Cowetans say they want local control, despite expressing their collective support for "segregation at any cost."
1960: The Coweta Solicitor General, Wright Lipford, says the October kidnapping and flogging of two Black men is the third time in three months the rights of Black people were "violated by thugs." For the first time, he decides to bring charges against the suspects.
1962: Coweta General becomes the first hospital in the county to serve both Black and white patients.
1963: Josephine Rush, Mary S. Reese and Fannie Freeland attend the March on Washington, featuring keynote speaker Dr. Martin Luther King Jr.
1964:Moses Martin and Sonny Arnold become the first Black police officers in Newnan.
1964: Days after the U.S. Congress signs the historic Civil Rights Act of 1964 into law, Newnan's public pool shuts down to prevent Black children from swimming there. The Newnan Herald reports, "A group of Negro teenagers requested admittance to the municipal swimming pool Monday night, and in accordance with existing instructions from the city of Newnan, the pool was closed by the YMCA."
1964: The Newnan Herald publishes an editorial called "Obeying the Law'' about the Civil Rights Act. "Reactions thus far to tests of the public accommodation section of the Civil Rights Act have been encouraging … quiet integration of hitherto segregated facilities has occurred in many Southern communities. The Mississippi KKK has urged white people to let police handle racial troubles, contending the real objective of civil rights leaders is to have the state put under martial law," the editorial states.
1965: Officials with the Newnan and Coweta school systems announce that Coweta schools will be integrated under a "freedom of choice" plan, and that the schools will desegregate a few grades at a time. "Freedom of choice" allowed students to choose which school to attend. Only a handful of Black students were attending Newnan city schools by 1965 – more than 10 years after Brown v. Board of Education.
1966: Willie Katie Almond becomes the first Black student to graduate from Newnan High School. She is photographed along with the rest of her classmates for their senior class picture.
1968: A week after the assassination of Dr. Martin Luther King Jr., the Newnan Herald runs a short, complimentary story about King's funeral. The piece is marked by a typo noting that King had lived to become a "Nobel Peace Prize winner." The outbreak of rioting throughout the country following King's murder brought condemnation in multiple editorials and columns.
1969: The federal government orders full desegregation of all U.S. public schools. Coweta County is informed that the "freedom of choice" plan is not sufficient, and the groundwork is laid for a merger of Newnan and Coweta school systems.
1969: In an article titled "Parents Demand Return to Freedom of Choice," the Newnan Herald reports that an angry crowd of between 800 and 1,000 white parents, upset with their children's long bus rides, had packed a recent school board meeting. Days later, during a rally at Drake Stadium, arch-segregationist Gov. Lester Maddox encourages the crowd of 2,500 white parents to continue sending their children to whatever schools they wish. About 25 students seek admission to Newnan High and one to Central, but all are turned away. Newnan High receives a bomb threat, and the school is evacuated for a short time.
1969: A U.S. District Order mandates that Coweta County Schools fully integrate.
1970: Central High School and Newnan High School merge.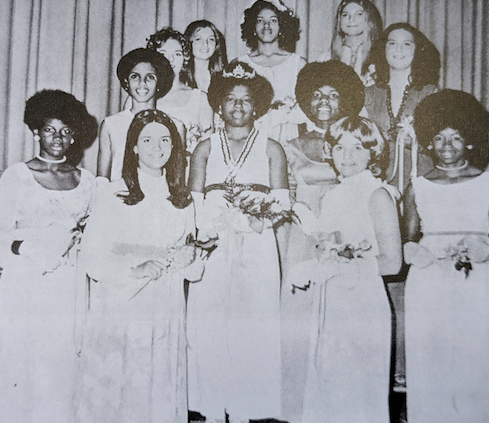 1971: Toni Greer is elected Newnan High School's first Black homecoming queen.
1976: The Newnan Times-Herald begins featuring Black Cowetans alongside their white counterparts in community news stories and feature photographs. By 1976, the wedding announcements of Black couples and white couples are being published side by side on the same pages.
1985: Willie Lynch is elected the first Black Newnan City Councilman.
1988: Wilbon Clay becomes the first Black person elected to the Coweta County Board of Commissioners, representing District 5. Clay serves as a commissioner until 1993.
2003: The Coweta County African American Heritage Museum and Research Center opens in July. The museum is housed in a donated mill village house once owned by Ruby Caswell and is also known as the Caswell House.
2018: Jazzmin Bryant, Seametrice West and Ariel Watts become first Black female firefighters in Coweta County.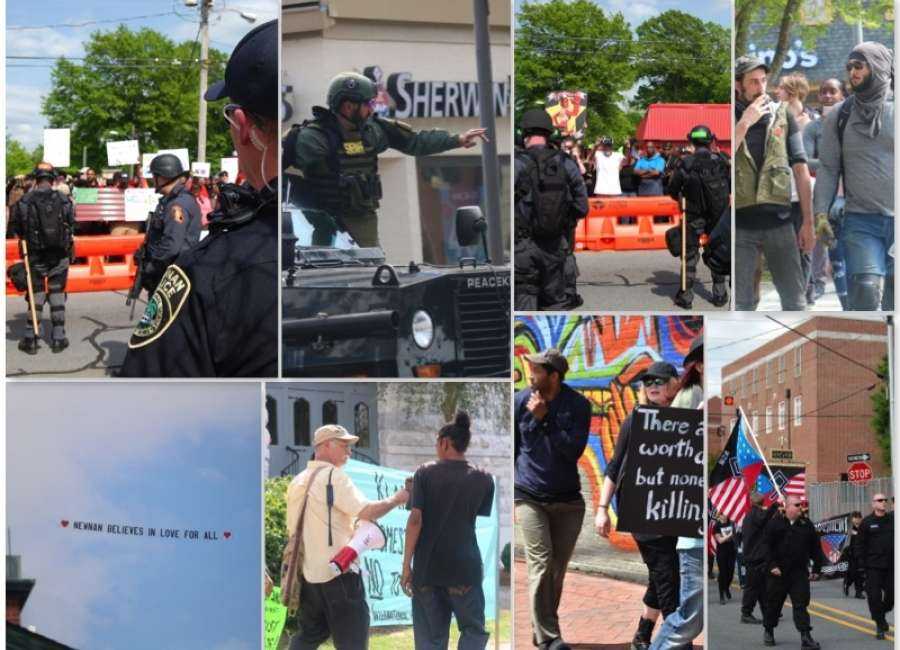 2018: The National Socialist Movement – neo-Nazi organization that in 2017 was at the center of a violent demonstration in Charlottesville, Virginia – is granted a permit to hold a rally April 21 at Greenville Street Park in downtown Newnan. About two dozen NSM members show up an hour after the scheduled start time for the rally and are met by hundreds of counter-protesters and anti-fascist activists. Approximately 800 law enforcement officers from agencies throughout Georgia line downtown streets and sidewalks as NSM leader Jeff Schoeb speaks out against illegal immigration and the removal of Confederate monuments. Ten people are arrested and charged with misdemeanor offenses ranging from obstruction to disorderly conduct.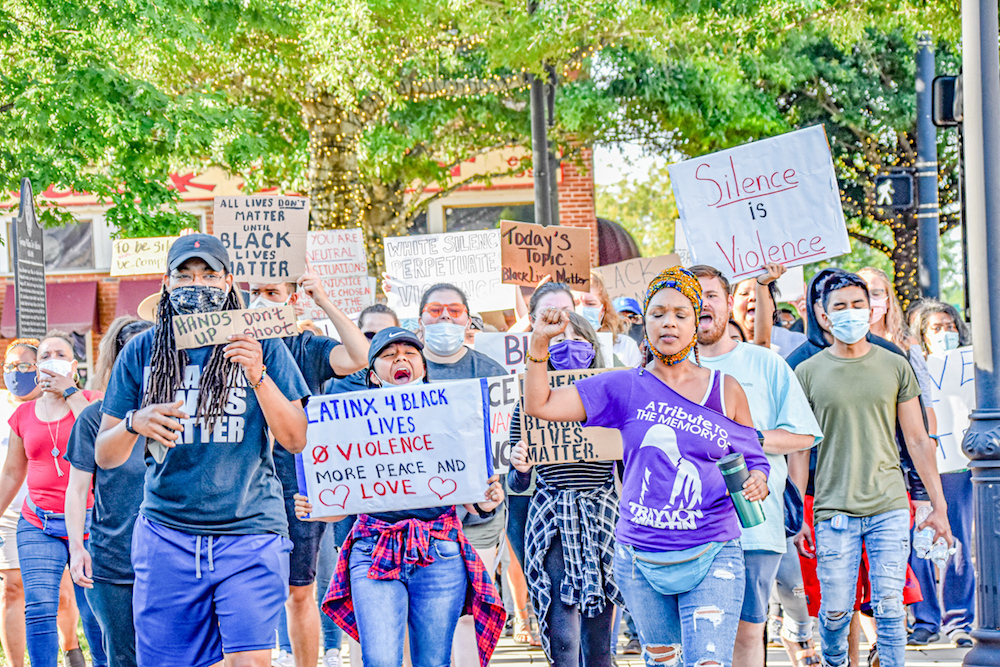 2020: Black Lives Matter protests break out across the country following the murders of George Floyd in Minnesota and Ahmaud Arbery in Brunswick, Georgia. The issues of police brutality and racial violence are once again at the forefront as protestors gather on the Court Square and lead demonstrations throughout downtown Newnan. The local demonstrations continue for more than a week, taking aim at systemic racism and discriminatory practices of law enforcement and the justice system in dealing with people of color.
(Editor's Note: The Coweta County Museum Blog, www.BlackPast.org , the Newnan-Coweta Historical Society and Eve Olsen also contributed to this story.)