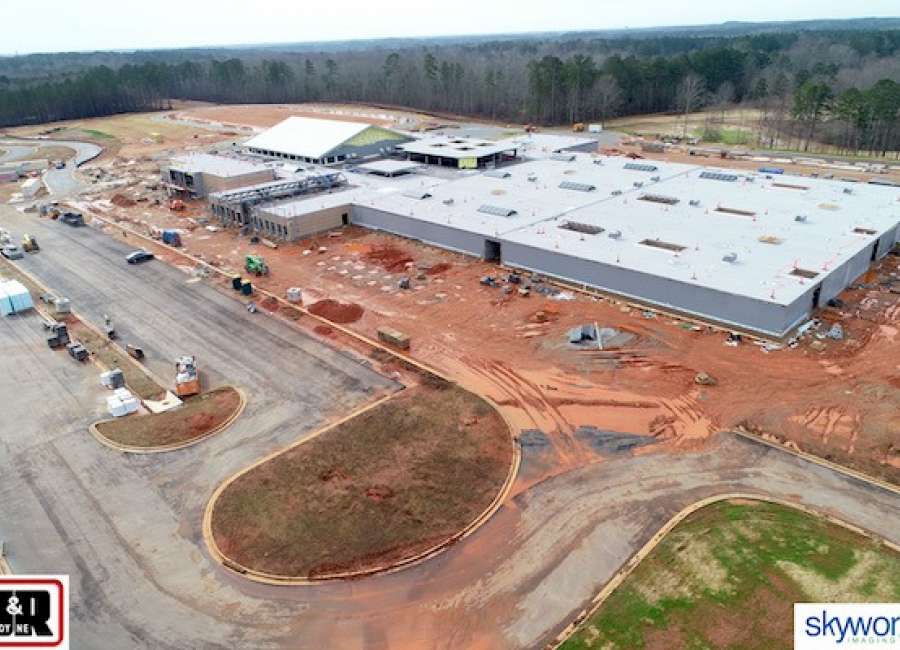 Work is progressing on the new Blake Bass Middle School that is on schedule to be completed by July 7, for the start of the new school year in August.
It was recently announced that Dr. Cindy Bennett, current principal of Lee Middle School, will be the first principal of Blake Bass Middle School.
Coweta School Superintendent Evan Horton updated the school board about progress on the middle school during the January monthly board meeting.
"It is progressing nicely; the block work is 80 percent complete, the skylights are now in," Horton said. "If you go by, you will see brick going in on the front of the building."
Plumbing, electrical and HVAC rough-ins are proceeding, and all rooftop HVAC units should be installed this week.
"I was out there last week, and I will tell you it's always a good sign on a construction project when the windows show up on site," Horton said. "That means you're getting close to getting dried in; then weather doesn't become an obstacle for you at that point."
Horton said the project is progressing nicely and is still on schedule.
"Just wanted to bring to everyone's attention that this large construction project is 50 percent or so done, and there are 0 percent change orders to date," said board member Buzz Glover, District 2. "I think that's a testament to the work that the previous board did, that Mr. Cheek has done, and everyone involved in the planning in that process — they got it right."
In addition to the new middle school, other construction and improvement projects are continuing around the county.
Northgate renovations and modifications
Work is progressing on the renovations and modifications at Northgate High School. Work on phase one, building 500, is complete.
Work on phase two, building 400, is ongoing with electrical wiring proceeding and the installation of new HVAC units. Phase three, building 100 N, is scheduled to begin Jan. 21.
Project completion is scheduled for this summer.
"That project is moving along and on schedule," Horton said.
Northgate addition
Construction on the addition at Northgate High School is scheduled to begin in the spring.
"Mr. Cheek and his staff are working with the architects to get BP-2 scheduled and set up and ready to go out, hoping to receive those by February," Horton said. "We'll bring you a recommendation hopefully in February or March on the addition."
Project completion is scheduled for the fall.
School renovations and modifications
Arnall Middle School, Jefferson Parkway, Thomas Crossroads and Newnan Crossing elementary schools will receive HVAC modifications, LED lighting replacements, ceiling replacements and replacement of fire alarm systems.
Relighting work is proceeding at all locations, and some HVAC rough-ins have been completed.
The project is scheduled for completion during the summer.
Bottle filler replacements
Equipment installation for new bottle fillers is scheduled to begin this week. Twenty percent of the replacement bottle fillers have been delivered, and the remaining equipment is scheduled for delivery at the beginning of February.
"That will take us a pretty long way of being out of the traditional water fountain business, and that's a good thing," Horton said.