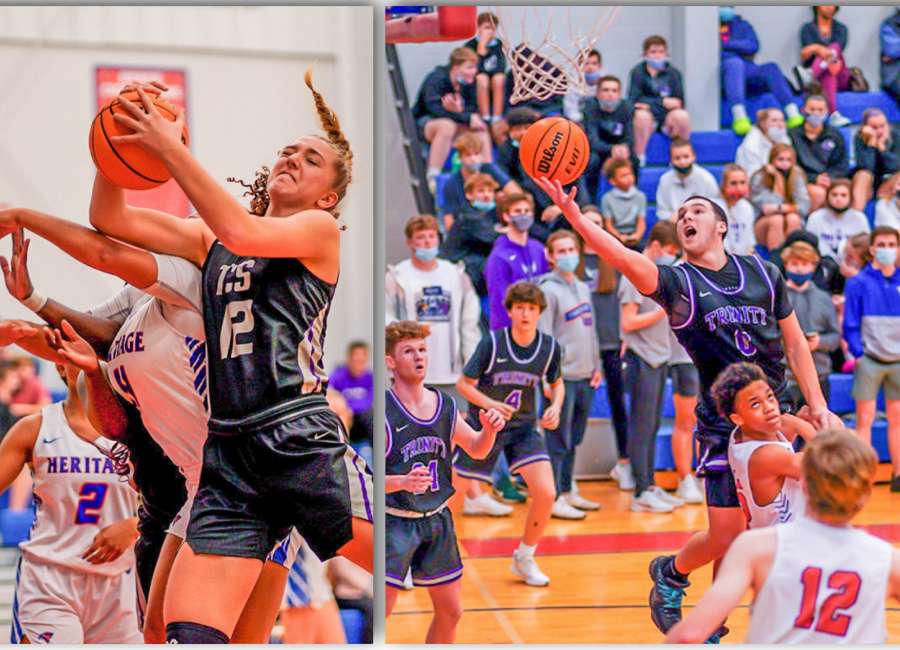 By ROB GRUBBS
For the second night in a row, Coweta basketball fans got the treat of intercounty rivalry games.
On Thursday night, East Coweta and Newnan played a close game that East Coweta eventually pulled out. Friday, the attention turned to the Heritage vs. Trinity matchup. In an emotionally charged evening, the Trinity Christian boys' team defeated Heritage 68-53.
The Lions have received a huge boost to their roster since the football players joined the team after their state championship run. Josiah Johnson, David Dallas, Josh Dallas and Shawn Braxton have all given Trinity Christian Head Coach Will De La Cruz more weapons at his disposal.
Josh Dallas has made his presence felt in the starting lineup. He has a nonstop motor and is a relentless rebounder. He has taken on the dirty work inside and allowed the other four starters, Isaac Brito, Sami Pissis, Michael Morge and Jackson Barnes, to create offensively.
Trinity Christian got off to a quick start – they got 3-pointers from Pissis and Barnes and held a 23-10 lead after the first quarter. It was a prelude to what would be an exceptional night for Pissis, who finished with 31 points.
Down by 23 going to the fourth quarter, the Hawks made a run fueled from the free-throw line. They outscored Trinity Christian 18-5 to start the fourth quarter behind Max Skidmore, who had 11 points in the fourth quarter alone.
The Lions steadied themselves and closed out the Hawks for the 68-53 final.
In addition to the 31 from Pissis, Britto had 12 and Michael Morge added 11. Ellis Coggin led the Hawks with 14 points, while Skidmore finished with 13 and Emanuel Melvin had 12.
Coach De La Cruz spoke of Josh Dallas afterward. "I am so glad we have him and his brother (David), because they add the grit that we needed, especially on the boards. He affords Sami and Isaac relaxation to some extent during the game."
The girls' game was as equally electric as the boys'. The two head coaches, Joe Daniels for Trinity Christian and Justin Stephens for Heritage, played a strategic chess match throughout.
After a slow start, both teams exchanged 3-pointers, Madison Morge for the Lady Lions and Haylah Spence for the Lady Hawks. The Spence basket gave Heritage a 10-9 lead at the end of the first quarter.
Neither team could ever get much of an advantage. The Lady Lions held their largest lead going into the fourth quarter at seven, and with only four minutes left, it was a four-point game.
Madison Morge made her free throws down the stretch, and the Lady Lions prevailed 44-37. She finished with a game-high 25 points, while Ianna Odulaja led the Lady Hawks with 13.
Coach Daniels pointed to a game earlier that got his team prepared. "Competing against East Coweta the other night was great for us as a team. It also helped prepare us for the grind of playing against Heritage, who plays fast and physical, and who continue to improve under Coach Stephens."
In terms of the game, he continued, "Madison Morge had a great game offensively and came up huge for us so many times tonight. Several of our players made key plays or stops throughout the game. Our team just held together, and we were excited to come out with the win."
Trinity will be back in action on Saturday against Greenforest, while plays next on Tuesday against Starr's Mill
Photos by Chris Martin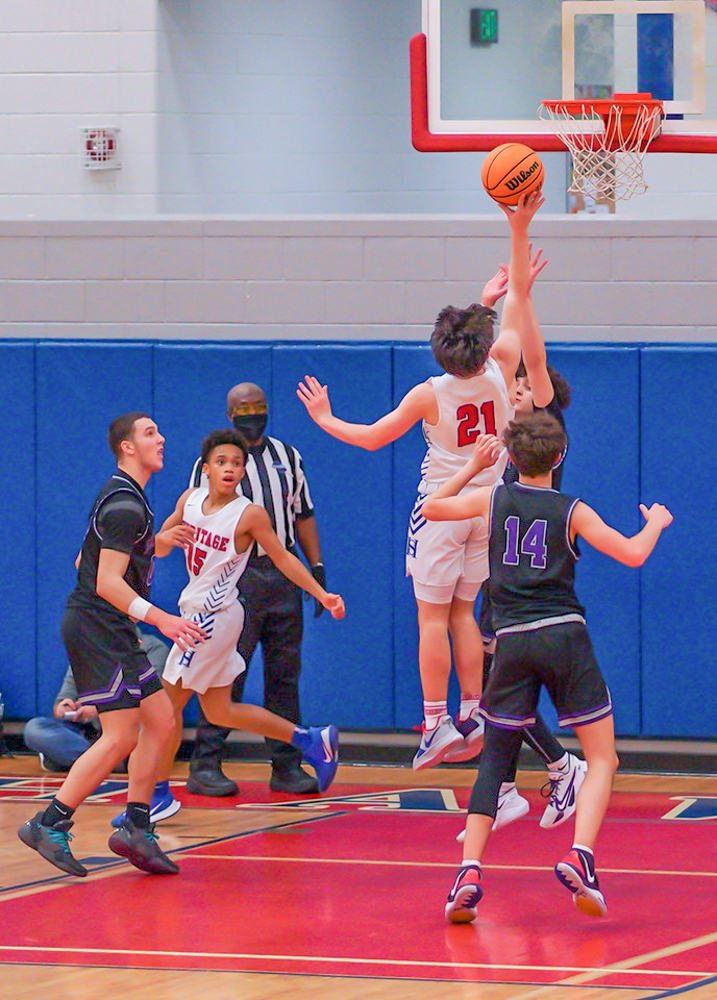 Ellis Coggin goes up for two of his 14 points.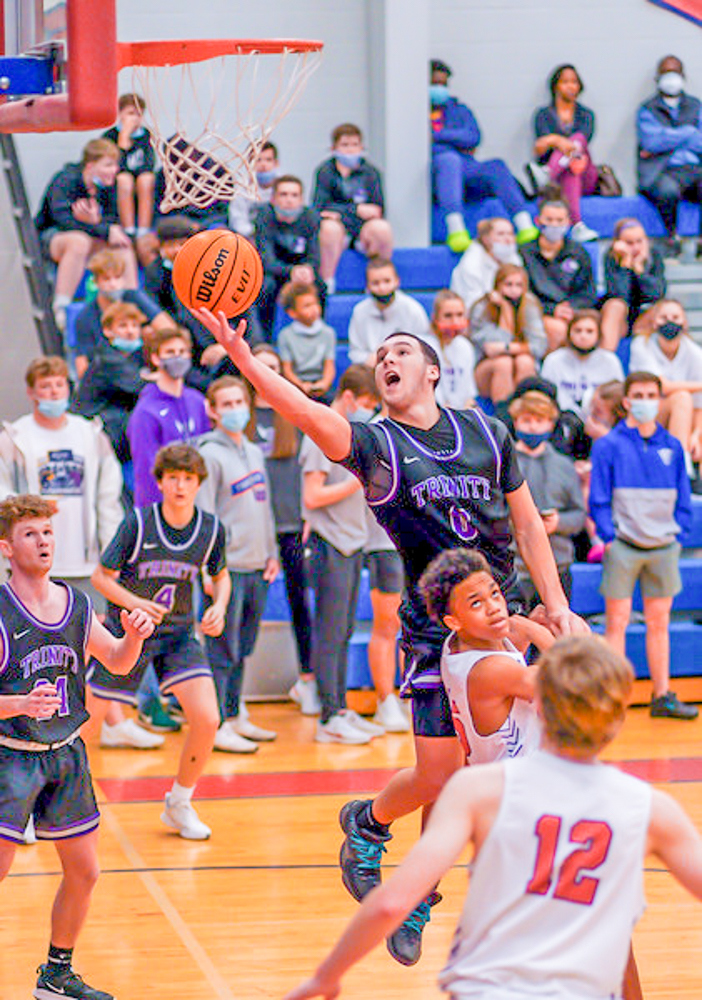 It was a monster night for Sami Pissis, who scored 31 points from everywhere on the floor.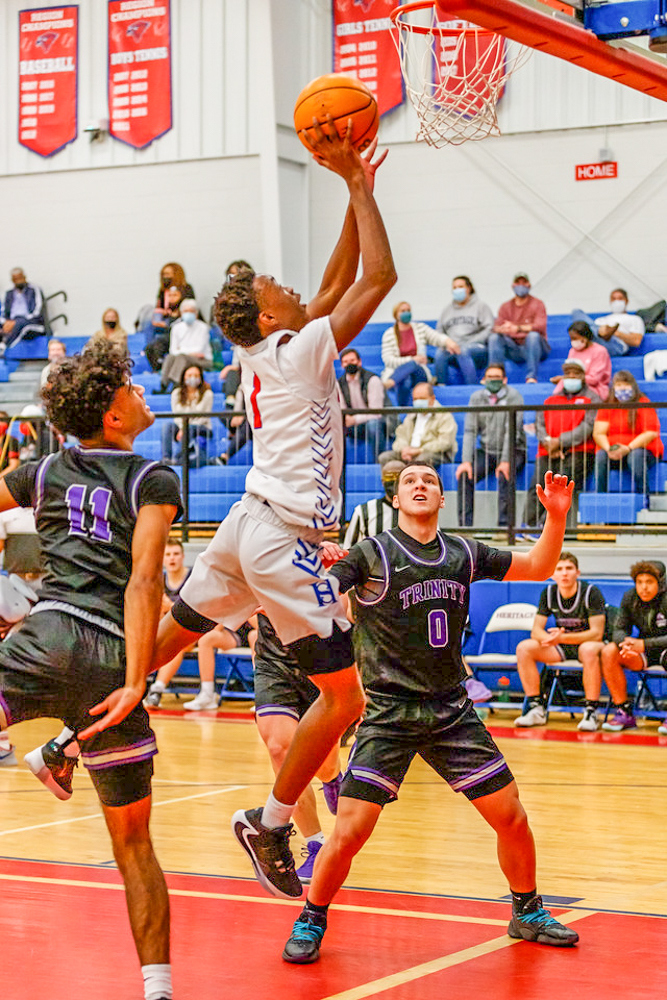 Emanuel Melvin with a strong move inside to score.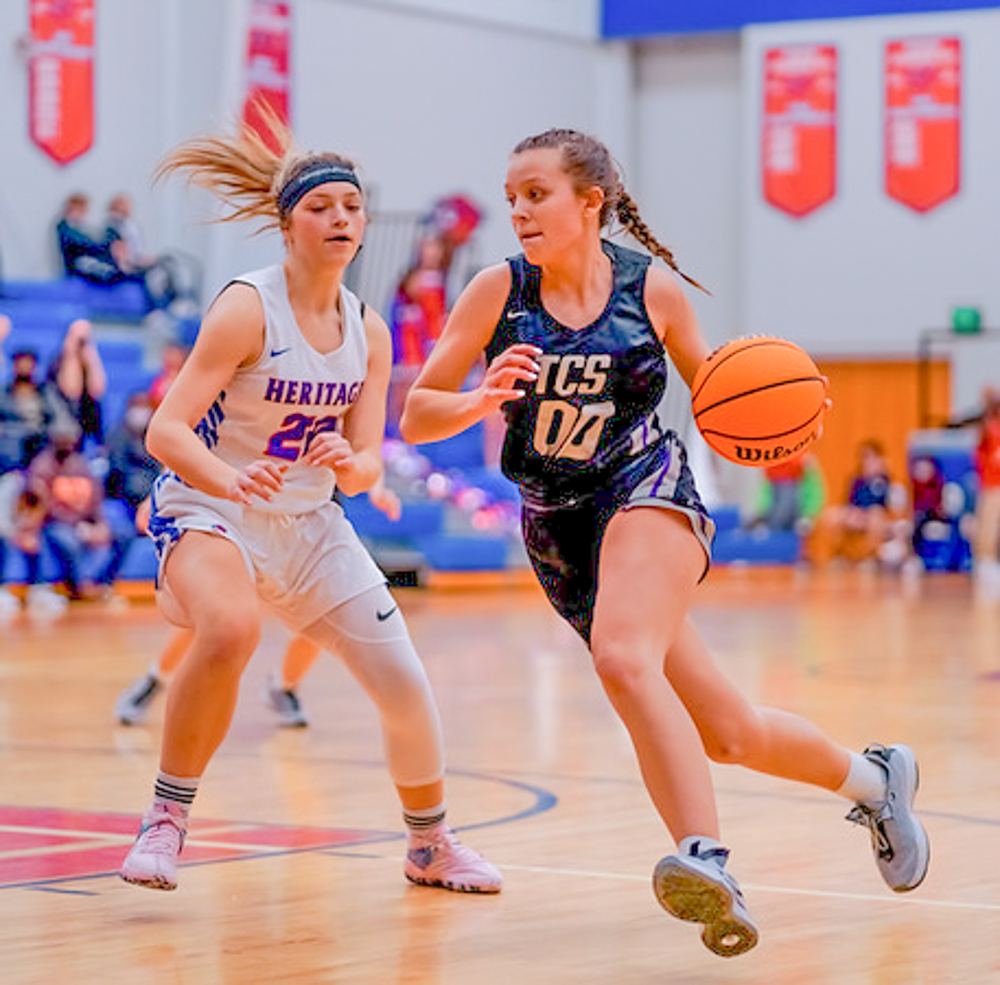 Madison Morge led all scorers with 25 points.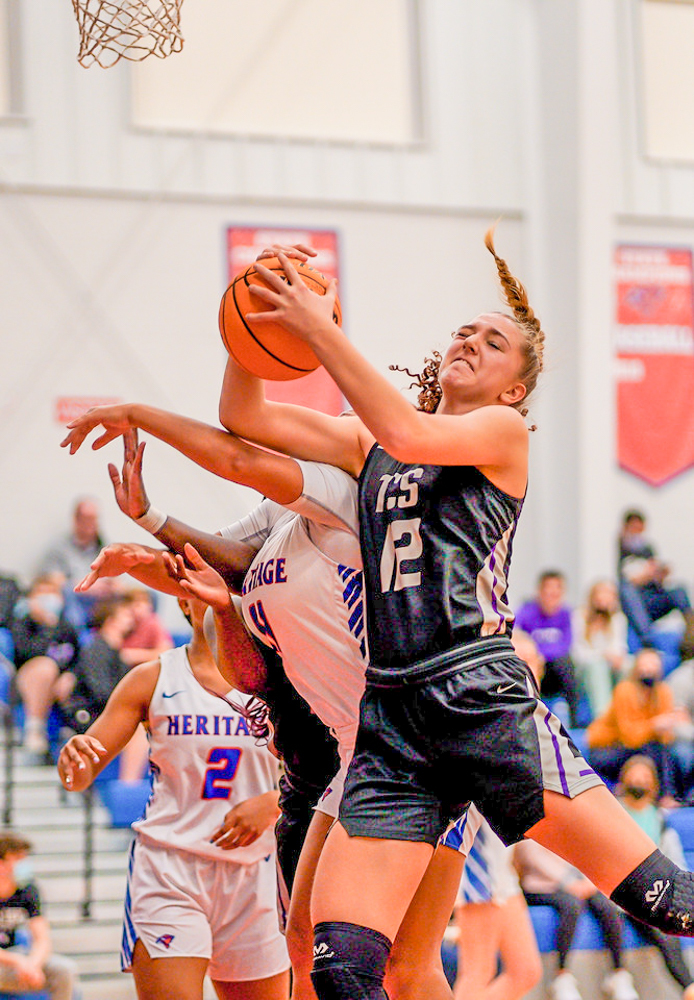 Anna Denes fights for the rebound.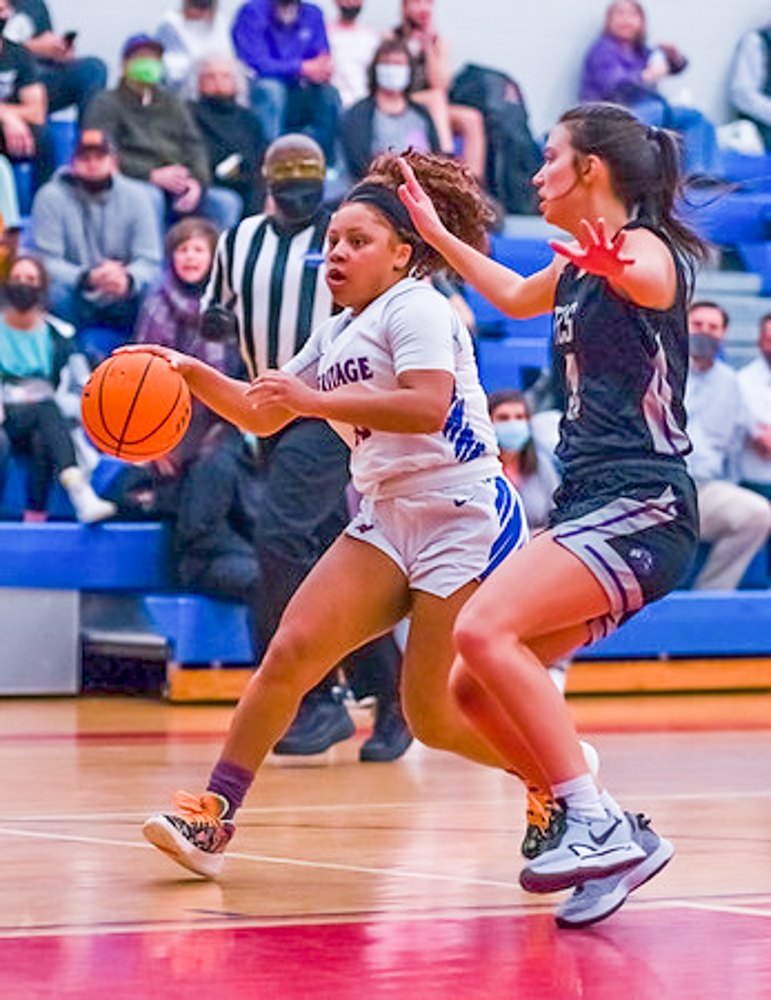 Ianna Odulaja led the Lady Hawks with 13 points.