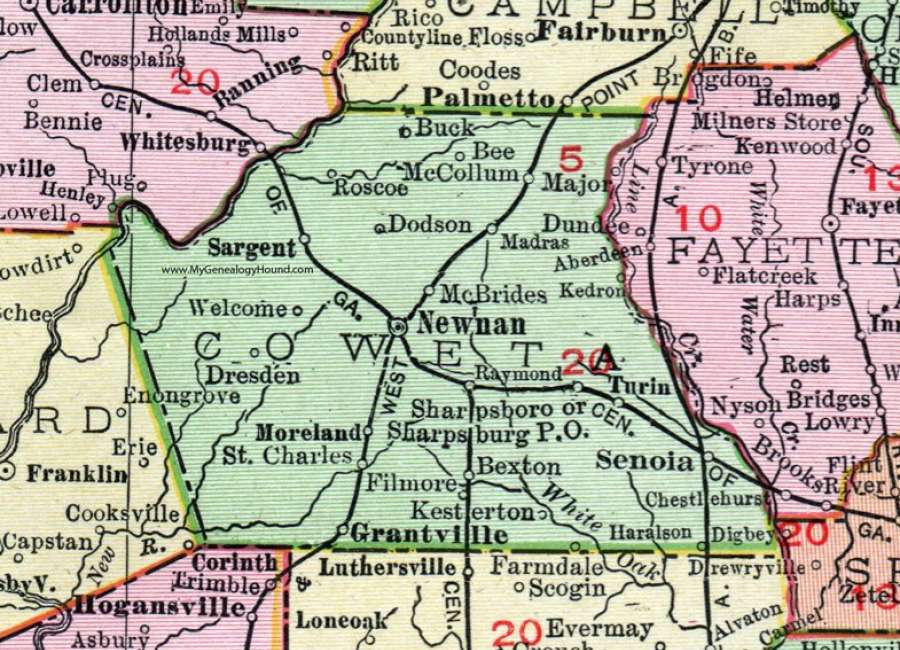 Despite the pandemic, Coweta County saw strong signs of growth last year.

Coweta County Administrator Michael Fouts recently presented a state of the county to the White Oak Golden K Kiwanis Club.
The county covers 441 square miles of land with more than 148,000 residents and 56,000 housing units.
Fouts said he believes Coweta's population will exceed 150,000 residents once data from the 2020 census arrives.
According to the Atlanta Regional Commission, Coweta's population is projected to be at 217,000 by 2050.
"We believe that's fairly accurate, but there's a lot of economic factors, like the pandemic, that may skew that number," Fouts said. "It's something to look at as we continue to grow."
Coweta County has a millage rate of $3.68 for every thousand dollars fair market value, said Fouts.
"If you model ours compared to other counties our size or larger, I do believe we offer very competitive tax rates for the services we provide," he said.
Within the county, and as of 2020, there are 935 miles of paved local roads, according to Fouts. This number does not include state roads or the interstate.
Government and administration
The 2020 budget for the county was $114, 201,682.
On Sept. 15, 2020, the County Commissioners approved a budget of $117,905,493 for the 2021 fiscal year.
"A 2.7 percent increase," Fouts said. "Overall, we maintained a pretty flat budget, in general."
Forty-six percent of the budget, more than $39 million, is spent on public safety.
According to Fouts, the county has 927 full-time employees. There are 6.24 county employees per thousand Coweta residents.
Public safety makes up the majority of county employees with 615 employees. It is also the only department to have new positions proposed for the 2021 fiscal year.
Over the course of the last year, Fouts said the county administration focused on consolidating various paperwork and fees to one location.
"I'm really proud of what we accomplished with that," he said. "You can now come to the administrative building to get business licenses, inspection permits and code enforcement. Everything is under one roof in one place."
Fouts said he hopes a software platform will go live in the first quarter of this year to allow online permitting and licensing to be available 24/7.
Community Development
Last year, the county issued 640 single-family certificates of occupancy. It was the first to match the number of certificates before the 2008 recession, according to Fouts.
"Despite the pandemic, we saw a very strong growth on the residential side," he said.
To view development projects in the county, Fouts directed members of the Kiwanis club to an online development map.
The map divides Coweta into rural conservation zones and areas where medium-density subdivisions are allowed.
"It's an important tool for our communities as we keep growing," he said.
The Coweta Development Map can be found at http://bit.ly/CowetaDevelopment .
Public Safety
Despite the ongoing pandemic, an expansion and renovation of the 911 operations center was complete, said Fouts.
"It's very state of the art. There are a lot of tools out there to have our communications officers do the best they can to support our community," he said. "We upgraded our public safety radio system, which is the two-way radios we use throughout the community for public safety. We added two additional towers over the last couple years and some software upgrades for expansion."
Fouts said in 2021 the county is looking to add more resources to the Coweta Cares behavioral health unit — a paramedic and licensed counselor equipped with an SUV that responds to mental health crises instead of fire and law agencies.
Coweta Cares launched in 2019.
"Last year was a very abnormal year, but this is an area that we're looking at adding more resources to," he said. "We learned that many people in our community need proper help. They don't need to be taken to jail or the ER."
The Pathways Cares Campus opened last year, which Fouts said will need more resources as well in the future. PCC serves those in a mental health crisis, inpatient crisis stabilization and substance abuse detox. Patients from across the state are brought to the facilities.
There are two buildings that are a part of the campus — an adult facility and an adolescent facility. The adult facility has 24 beds, and the adolescent facility has 16 beds.
According to Fouts, there are 20 beds occupied in the adult facility, while the adolescent beds remain full.
Also in 2020, Coweta County launched a new system of alerts, Coweta Alerts, to inform residents of weather events or emergencies in the area.
The system is also being used to help residents find information on where to go and make appointments for the COVID-19 vaccine, said Fouts.
To sign up for Coweta Alerts, go to http://bit.ly/cowetaalerts or text CowetaAlerts to 67283.
Transportation
Last year the county completed an improvement at the intersections of Smokey Road and Old Corinth Road, and Smokey Road and Belk Road. The two intersections were moved farther apart and are monitored by a traffic light.
"Those skewed intersections have been a problem for a number of years, and we've now opened that new intersection, which has been two traffic signals, and it's been a great improvement for safety along that area," Fouts said.
According to Fouts, a signal was upgraded at Lower Fayetteville Road and SR-154 to add left turns for safety.
A bridge on Moore Road was replaced last year, as well, said Fouts.
The county also completed maintenance on more than 50 miles of roads, last year.
"Our team performed 28 miles of crack seal. A lot of people call that the black squiggly lines across the road. That's to protect the investment that you all have made to make the road last longer so that water doesn't penetrate the surface," Fouts said. "We also performed 27 miles of roadway rehabilitation, which includes grinding up asphalt at different layers."
For 2021, Fouts said the county is working on a multi-lane roundabout at the SR-16 and SR-45 intersection.
"Both roads are state roads, so we've been working hand in hand with the state and Georgia Department of Transportation," he said. "Our GDOT representatives and Sen. Matt Brass have been helpful in trying to move this along."
In order to keep track of which roads need maintenance, Fouts said the county has teams doing daily monitoring.
"Our team is out there daily. We have captains over certain designated areas and monitoring conditions and trying to get ahead of culvert and bridge failures as well as road issues," he said.
Seventy-five percent of the money Coweta County receives from the 2019-2024 SPLOST is designated for transportation, according to Fouts.
Coweta's Strategy
According to Fouts, 72 percent of workers are leaving Coweta for other jobs.
As a response, Fouts said the county is focusing on increasing average wages and corporate jobs within the county.
In 2020, Coweta added more than $135 million in investment and 1,300 jobs, according to Fouts.
"It's a slow process, especially during a pandemic, but it has been a busy couple of years of job growth," he said.
The county is planning a new comprehensive plan update, said Fouts. The first meeting is on Jan. 26. There will be limited in-person attendance but the meeting will also be open on Zoom for community participation.
"The citizens will have a lot of input to plan for the future of the county," he said.