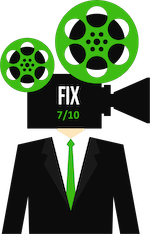 Review by Jonathan W. Hickman
Ever heard of a "Domestique?" In the world of racing, it is a support rider. They are part of the team that helps propel the sprinter to victory.

Set in Ireland in 1998 during the Tour de France, "The Racer" focuses on a Belgian rider named Dom Chabol (played by Louis Talpe). At age 38, Dom is at the end of his long career. And having spent 20 years as a Domestique, he's seen his chance to wear the prestigious yellow jersey fade away.
Covering three tumultuous days in Dom's life, director Kieron J. Walsh delivers an intimate portrait of a man questioning everything. As a doping scandal unfolds, Dom is given a second chance at greatness. But the price is high; he's spent a career taking drugs that enable him to compete. And it is the win-at-all-costs attitude that might not only end his career but his life as well.
There are sequences in "The Racer" that painfully illustrate the scary risks that professional racers of that time took to perform. Dom wears a heart monitor to bed each night. If his heart rate falls too low, the device awakens him. Dom then must pull himself up and get on a stationary bike to raise his heart rate. He must ride or die.
The team masseur, Sonny ("Game of Thrones" star Iain Glen), is complicit in this risky behavior. A mid-50s former athlete, Sonny knows what Dom and the other riders are capable of, and he knows what they will do to achieve their lofty goals. But the cynical environment has caused Sonny to neglect his health, probably because he sees so many young people burn out so soon. Puffing away on a cigarette at a team dinner, he chases liquor down with a sloppy cheeseburger. Some of the members of the team are horrified.
What impacted me about "The Racer" was how the film approaches doping. At that time in the sport's history, such cheating was so widespread that it was likely that every racing team was doing it. And filmmaker Walsh working from a script he co-wrote with documentarian Ciaran Cassidy lays the situation out plainly. Doping was just part of their training routine.
Walsh manages to focus on a man caught amid various crises while mostly skirting the moral and ethical issues. Dom's father has recently died, his heart may be forever injured and his career is unceremoniously coming to an end. Therefore, as Dom is awakened in the middle of the night, literally dying from a slow heartbeat, the pressure displayed is palpable.
A fleeting romance with an Irish racing doctor named Lynn (Tara Lee) complicates Dom's decisions. Can he leave the sport and find happiness in the arms of this intelligent young woman? Or will the pressure to wear the yellow jersey take over? The Walsh/Cassidy script takes an ambiguous approach that might frustrate some audiences. I found it provocative.
The racing sequences are exciting. In 1998, Ireland hosted the prestigious Le Tour de France's opening stages, which are recreated here. Cinematographer James Mather (see "Lock Out," "Frank" and last year's fun "Extra Ordinary") does some splendid work using custom-built rigs to put the viewer on the bike and in the race. For such a modestly budgeted film, the large-scale race sequences are convincing.
Since I know little about the sport of professional bike racing, the competition and the concept of a support rider was fresh and fascinating. We've seen movies about doping (see Ben Foster as Lance Armstrong in 2015's "The Program," for example), but "The Racer" gives us a sincere look at an athlete meant to be forgotten. It's a compelling story and one that left me intrigued.
A RottenTomatoes.com Tomatometer-approved critic, Jonathan W. Hickman is also an entertainment lawyer, college professor, novelist, and filmmaker. He's a member of the Atlanta Film Critics Circle, The Southeastern Film Critics Association, and the Georgia Film Critics Association. For more information about Jonathan visit: FilmProductionLaw.com or DailyFIlmFix.com