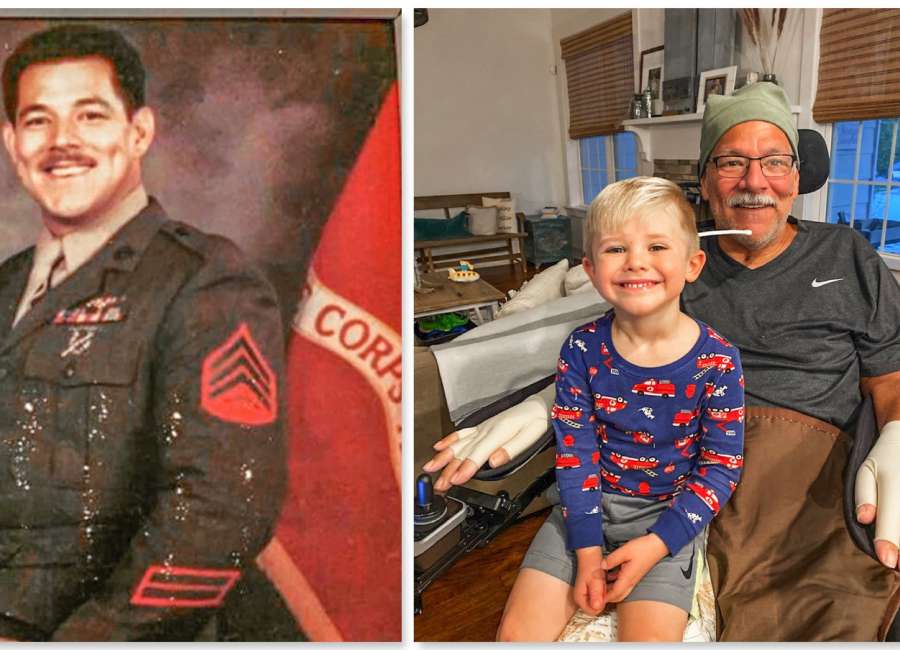 Square Foot Ministry has teamed up with the McEnhill family in Sharpsburg to make their home more accessible for Thomas McEnhill, who became paralyzed after a bike accident, but more support is needed to complete the project.

The faith-based nonprofit organization was founded in Fayette county 18 years ago with a mission "to share God's hope and love by providing safe, healthy, affordable homes and environments for families and those who serve them."
Square Foot Ministry builds homes for low-income working families, does minor home repairs for elderly and/or disabled citizens and also partners with other nonprofits to help them build or expand their facilities.
McEnhill, a Marine Corps veteran, was also an avid athlete and biker. Last summer, McEnhill had a bike accident, leaving him paralized from the shoulders down. McEnhill, his wife Julie of 34 years, his children and extended family were faced with challenges they never could have imagined, said Jeff Williams, executive director of Square Food Ministry.
Williams said McEnhill was discharged from the Shepherd Center in Atlanta several weeks ago after rehab.
"Being a Marine family, they set to work on figuring out the new normal and how to adapt," Williams said. "Tom's daughter, Ashley Fehr, mobilized a group to set a plan in place to add an accessible addition to the home that Tom and Julie have lived in for 23 years."
Fehr said although this has been a difficult journey for her father and their family, "the word 'gratitude' continues to play a significant role in our journey."
"Our family was not prepared for the phone call we received back in June following our Dad's accident or how his condition would evolve over the following months," Fehr said.
Over the next several months following his injury, McEnhill fought very hard both physically and mentally – enduring a number of surgeries; coming to peace with the loss of use to his arms and legs; pushing to gain strength to breathe on his own; and overcoming many other obstacles that come with such a serve spinal cord injury.
"Even in this season, we continue to sit in a place of such gratitude," Fehr said.
The Power Of Community
Fehr said both of her parents' lives have drastically changed.
"My dad is adjusting to life with full paralysis, and my mom is adjusting to being a full-time caregiver," Fehr said. "While, myself, my husband and children, and sister are learning to support, encourage and care for them through it. This season has also taught me the importance to ask for help and the power of community."
Luckily, friends and family have really stepped up to support them.
"I've been blown away by the outpouring of love and care for our family during this time," she said. "It's been a humbling experience, but more importantly, it has been powerful to witness God's promise, love and care for us. Just this morning, I was reminded of a message that God does His best work in the hard and difficult seasons.
"And although this is one of the hardest and challenging seasons for our family, it has also been a season of the deepest level of joy, light and love," Fehr said.
Williams said Fehr's team and Square Foot Ministry started the project last weekend and plan to finish by the end of this month. He said the renovation will include a bedroom, bathroom and sitting area.
Although the home addition is being built primarily by volunteers, the materials and subcontracting specialists will cost approximately $55,000, Williams said.
The current total of money raised is $43,000, so about $12,000 is needed to complete the project.
Putting Faith Into Action
Doug Higgins, co-founder of Square Foot Ministry states that "we're excited to partner with our volunteers and donors to build this home addition for a military veteran and family.
"These are the types of projects that really allow us to mobilize the community and put our faith into action," Higgins said.
Fehr said she is grateful for Square Foot Ministry and the volunteers that are helping make the modifications to her parents' home. She said without their help, the changes probably would not be possible.
"We are honored to be selected by Square Foot Ministry to modify my parents' home, allowing him to have a space that can support his new accessibility needs," she said.
"Through their partnership and so many others that have volunteered to help, it will be a blessing for my parents to be able to return to the home they built almost 24 years ago together — giving them a sense of familiarity, security, comfort and peace amidst so much change. We are forever grateful."
McEnhill served 13 years as an E5 Helicopter Mechanic in the United States Marine Corps and an additional 10 years in the National Guard. During his time in the USMC, he completed two tours of duty in Beirut and spent time in over 20 countries around the world.
He also had an opportunity to play a role as a career planner to mentor and coach younger fellow Marines during their discharge process and offer guidance for their future career path.
To contribute, visit the Square Foot Ministry website at www.squarefootministry.org/ donate and designate your donation to the Ashley Fehr project.