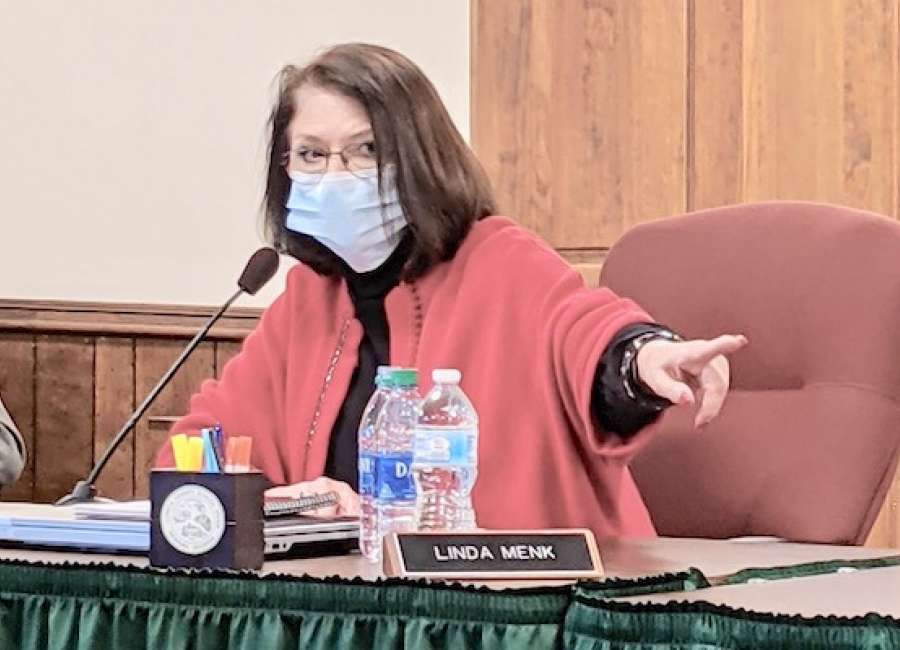 Editor's note: This is part of ongoing coverage relating to the events that occurred at the Jan. 12 Board of Education meeting.
Coweta County Board of Education members kicked off their 2021 meeting schedule with protesters demonstrating outside and more than a dozen residents signed up to speak.
The topic was – once again – embattled District 4 representative Linda Menk, who this time came under fire not only for her controversial posts on social media but for attending a rally in Washington, D.C. on Jan. 6, the day the Capitol was violently attacked.
Newly elected board chair Beth Barnett wielded her gavel on several occasions, reminding speakers of the "no personal attacks" rule in the agreement they signed when they asked to address the board.
Calls for removal and censure were plentiful, and one speaker was escorted out by police.
"Our very own Linda Menk stormed the Capitol last week," Christina Cesari said in her address to the board. "Somebody on a board of education planned, organized and paid to participate in this insurrection."
Cesari charged that Menk participated in an attempt to overthrow the U.S. government, including failed assassination attempt on government officials, before Barnett interrupted with her gavel.
Cesari countered that her allegations about Menk were not personal attacks – "It was factual. She was there."
Cesari asked board members if they'd seen the "homophobic rhetoric" on Menk's social media.
When she was again stopped, Cesari began directing her remarks to the entire board, accusing members of enabling Menk's behavior.
"So that's OK with you. As a board member, that's OK," she said. "She's excused. You're going to protect her and not our children. That's what we're going to do today."
Andrew Copeland objected to Cesari's comments before calling for her removal from the meeting.
"Ma'am, that's not fair," he said. "What a board member does on her personal time, which we can agree or not agree with … it's not fair to say we're not protecting the students of Coweta. I was hearing you until that."
Copeland said he's received "a ton of feedback" through social media, text and calls, including some people who were upset after he appeared to be defending Menk. But he said that's not the case.
"They have been asking me, 'How could you?'" he said Wednesday. "I understand how it might have looked, but I wasn't defending Ms. Menk. I was defending the board from accusations made by someone who came to speak publicly. What she said was a reflection on the board as a whole, and on the superintendent we hired and the staff we employ. (Cesari) said we're not looking our for our kids, when our main goal is to make sure they're achieving and staying safe while they're doing it. And I said I couldn't stand for that."
Other speakers' turns were less contentious, but no less aimed at Menk. Kenya Brantley said Menk chooses "politics over policies for our children," and Cynthia Finney – head of the Coweta NAACP – was direct in asking for her resignation.
Jermon Sims said Menk brought herself to his attention.
"It's not personal," he said. "I didn't go looking for Linda Menk – she found me."
Sims said the 14th Amendment makes it clear that Menk is unfit for public office.
"She violates it, and that disqualifies her from serving on this board," he said.
Jan Horne and Ben Parsons, both of whom said they were in Washington, D.C. with Menk at the time of the Capitol siege, defended her during their time at the meeting lectern.
Horne said if someone attends a rally and bad things happen, it shouldn't be assumed that the person necessarily agrees with those actions.
Parsons called the accusations leveled at Menk "ridiculous."
"Those who despise her for what she did have no idea what you're talking about," he said. "You think just because she's a board member, she gives up her First Amendment rights. That's ludicrous, and ridiculous."
Parsons challenged Menk's detractors.
"For those of you who want her out of office, why don't you move into her district and run against her?" he said.
In an emailed response to The Newnan Times-Herald Thursday, Menk said she believes the public calls for her censure and/or resignation have been orchestrated.
"I suspect they were encouraged by others, since the statements were similar," she said. "I do know I have detractors."
Menk said she supports the right of citizens to speak out on a public matter, but objects to the personal attacks prohibited in the public speaker guidelines.
"Slanderous comments based on lies and misinformation with the intent to damage another person is against the board policy outlined in the form, which all speakers were required to sign and adhere to," she said. "If that policy is violated, the person who made the comments and those who encouraged them to do so should be held legally accountable."
Copeland said he wants to assure members of the community that Tuesday's meeting is not indicative of how the board typically operates.
"What happened last night is not what the board of education is about," he said. "It is not a show. Normally – as it should be – we're there as the education board, so we are going to present ourselves how we're expected to, given our title and our position.
"I don't want anyone to think they're going to come every month and see a show, because they're not," he added.