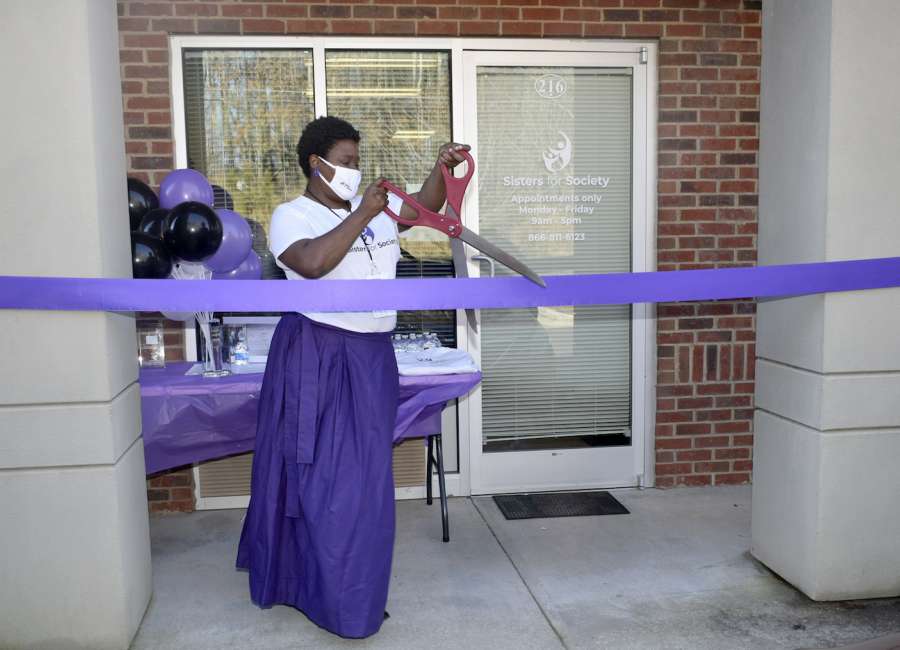 Sisters for Society recently celebrated a ribbon cutting for the nonprofit's new location at 4046 Highway 154, Suite 216 (Storage Xxtra), Newnan.
When CEO Kavion Baker founded Sisters for Society, it operated out of her house, and she and her husband, Steve, transformed their home to make room to store donations of food and clothing.
The new location provides a place for donations, and a place for the organization to meet with clients and really get to know them. It's also a place for volunteers.
The mission of Sisters for Society is "to provide a lifeline of support and knowledge to marginalized individuals and families that are facing financial instability," said Baker.
Sisters for Society provides clothing and food, but also does community enrichment programs.
The Breakout program is an 18-month journey with clients who are really trying to get their lives back on track, Baker said.
Participants get financial education as well as other services they need, such as counseling, help with a substance use problem, or furniture and other items. Some services are provided through Sisters for Society and others through partners.
Participants also receive food and clothing through the organization on a regular basis.
"The goal is to build a support around them," she said.
At the end of the program, participants should have at least $1,000 saved for an emergency fund. The journey for each participant is different, based on their particular situations.
"We meet with them and make sure they are staying on track," Baker said. "A lot of times when you are going through something, you don't always make the best decisions. Maybe talking through it with someone can help you," she said.
The financial education can help participants see what they need to do, such as getting a better job or a second job. A major goal is for participants to not have to be so reliant on nonprofits, Baker said.
A big part of the program is building a relationship with the participants. "You want them to feel safe and secure with the help that they are getting," Baker said, but also get the tools to deal with other issues when they may pop up.
Sisters for Society partners with groups in Coweta and Fayette for grandparents raising grandchildren and other relatives raising children, and provides the group members with food boxes on a regular basis.
The organization also does a home delivery of food to senior citizens and those who are disabled and unable to go shopping for themselves.
There's the DOME – Destitute Outreach Mobile Encouragement – program for the homeless. Sisters for Society volunteers keep MRE meals in their vehicles to give to homeless people they might encounter, and the organization also provides hygiene bags and survival kits.
They also try to work with those experiencing homelessness "to see what got them to that state and if it is something that we could possibly help them with."
"We connect them with resources if we can," Baker said. Most of those services come when those experiencing homelessness contact the organization, not from chance encounters.
Partnership with other organizations is a vital part of Sisters for Society. Major partners include the Salvation Army, Coweta FORCE and RiverLife.
Volunteers are also crucial. Ruthie Anderson and Cathy Smith work with clients, and Judy Maddox is the donations coordinator. Laura Buckner handles office and administration work and Miranda Greer helps with special events.
"I can't do anything without those ladies. They help keep everything going," Baker said. There are also about 30 to 40 volunteers who help out at the office. Volunteer days are on Tuesdays and Thursdays, Baker said
Baker said her vision for Sisters for Society is to someday have a larger space where they can have a computer lab and classroom.
Empowering youth is something that is important to Baker, including from a personal finance perspective, and they're working on a money matters program. Sisters for Society also partners with other nonprofits to offer a youth entrepreneurship program.
"A lot of our kids are wrapped up in social media and things of that nature. We want to see if we can get some of them encouraged by helping them learn how to build a business," he said.
For more information about Sisters for Society, email kbaker@sistersforsocietycorp.org or call 866-811-6123 to make an appointment. You can also learn about the group on their Facebook, Twitter and Instagram pages and at sistersforsociety.org .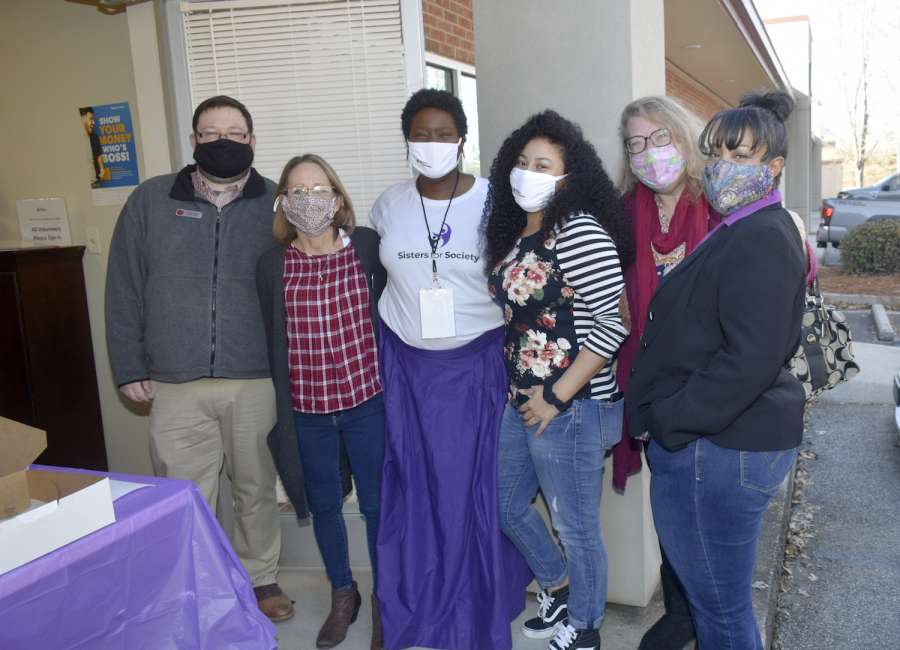 At the ribbon cutting for Sisters for Society are, left to right: William Atkins of the Salvation Army, Billie Jane Gossage of Coweta FORCE, Founder/CEO Kavion Baker, Board Member Nina Blackwelder, Nancy Langer of the Salvation Army and volunteer Tracy Brooks.