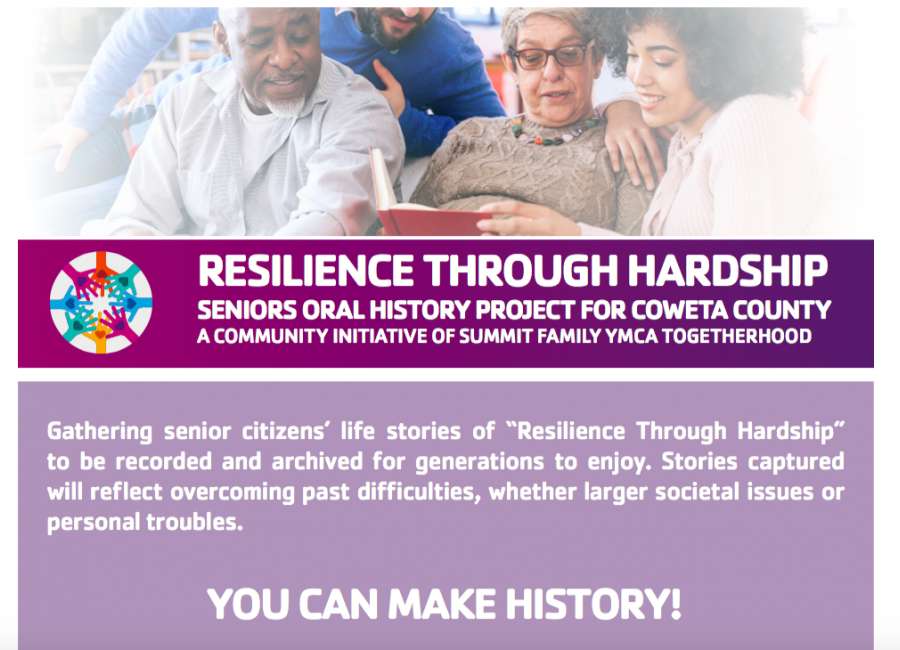 Older Cowetans are invited to tell their stories of overcoming adversity as part of a new oral history project spearheaded by the Summit Family YMCA.
The "Resilience Through Hardship" project seeks to interview 50 Cowetans, age 70 and older, about their stories of overcoming past difficulties, whether personal troubles or larger societal issues.
The YMCA is partnering with the Newnan-Coweta Historical Society on the project, and the oral interviews will be archived at the historical society for future research purposes.
In addition to seeking people to participate in the oral history interviews, the project also needs volunteers to act as interviewers.
An online training for volunteers will be held Saturday from 10 a.m. to noon. Following the training, there will be an optional practice workshop. Those who miss the training will be able to watch the recording on the Newnan Coweta Historical Society Facebook page or on YouTube, but won't be able to participate in the Q&A session during the live training.
The oral history project came out of the YMCA Togetherhood committee. The committee is made up of several YMCA members that come together monthly to identify community projects.
The idea was born when the committee was brainstorming projects.
"One of our volunteers said they were concerned with our senior population during a time of isolation," said Jenny Simmonds, assistant director for community outreach. There was discussion of how isolation can affect the health – both mental and physical – of senior citizens.
"We were brainstorming on how we can reach them and give them an opportunity to be able to share their stories. And what a great way to do that by doing this oral history project," Simmonds said. One volunteer who loves history "talked about how we have all these stories out there, and nobody is capturing them," she said.
The group decided to make the theme of the project "resilience through hardship."
With the COVID-19 pandemic and the changes it has brought, everyone is dealing with adversity, in a way.
Older Cowetans who have lived through hardship can teach us a lot.
"They have been through so much and we can learn so much from them," Simmonds said. "We know they would have a lot of wisdom about resilience through hardship."
And as senior citizens pass away, so do their stories. With COVID-19 striking senior citizens the hardest, more stories are lost.
"COVID is taking some beautiful people away from us," Simmonds said. It's also a way to reach out to those who are isolated because of the pandemic.
"We really want to bless them and capture their stories."
Simmonds said they'd also love to find a way to do oral history interviews with nursing home residents.
There will be two different ways to have the interviews done.
In February and March there will be sessions held at the Newnan Carnegie Library and the Historical Society where interviews will be recorded with professional audio and video equipment on loan from the University of West Georgia. The interviews will be done using COVID-19 guidelines, with masks and distancing, and everything will be cleaned between interviews. For those who come to the sites, there will be 90 minutes set aside for each interview. The sessions will be the week of Feb. 19-26 and March 19-26.
Seniors who aren't comfortable getting out can be interviewed by friends or family in their own homes, and people can use their own smartphones or audio recording devices when conducting the interviews.
Interviewers will learn about the various technology options during the oral interview training.
The training will be led by PhD students who use oral interviews in their work, said Emily Kimbell, director of NCHS. "They are very well versed in it," she said.
The training will help volunteers learn how to properly conduct an oral history interview, including not asking leading questions, and teach about the ethics of oral history interviews.
Everyone who wants to participate needs to do the training, even if they are interviewing someone they know well. "The style of oral history isn't like talking to your mom," Kimbell said. "It's different than just having conversations."
The interviews will be stored on a cloud server accessible only by those at the historical society and on a hard drive.
Kimbell said they were very excited when Simmonds reached out to them about partnering on the project.
"Preserving history is our mission, and to be a part of a project that is actively preserving current history and current memory is really, really exciting," Kimbell said.
"I think people don't really think about preservation in terms of collecting people's stories and collecting oral interviews," she said. Usually, when people think about preservation, they think about preserving buildings.
But oral histories are also preservation work, Kimbell said.
Seniors who would like to be interviewed should contact Simmonds at 770-254-5920, jennys@ymcaatlata.org or can sign up at www.signupgenius.com/go/20f084aaaa822a3f58-oral .
Participants must sign a release allowing the interviews to be used for historical research purposes.

To register for the training, visit https://zoom.us/webinar/register/WN_0AL57MMhSSOPYFx2C0ht2A .