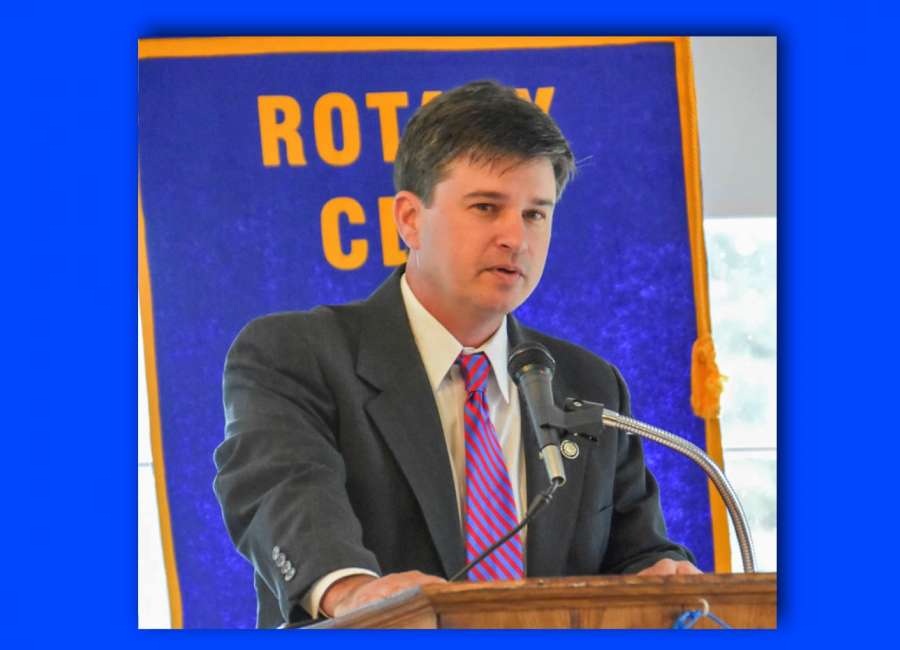 This story has been updated with information on how damaged ballots are handled.
During Friday's meeting of the Newnan Rotary Club, Sen. Matt Brass reflected on the tragic events in Washington, D.C., last week and the issues that will dominate the 2021 General Assembly session, which kicks off on Monday.

Brass said last Wednesday's riotous attacks in Washington, D.C., were "atrocious."
"It was heartbreaking," he said. "No real America would be proud to watch that. Protests are healthy, but unhealthy when they turn violent — and that's what we witnessed."
Whether there was election fraud or not, Brass said there is currently a lot of distrust in the election system, which ultimately leads to large numbers of citizens losing faith and harboring resentment.
"Until we diagnose the problem, we're going to get protest after protest," Brass said. "We saw the same thing when Trump was elected, but they didn't storm the Capitol. It's important to note why these things are happening. There are a lot of angry people on the left and right."
Locally, Brass said it's easier to find people coming and working together who might not always agree on what's best for the future.
"We don't have to agree on everything, because we never will," he said. "But we can still break bread and have conversations. If we can take that mentality, we can quit treating the symptom and find the problem."
Election questions
Proposals to change Georgia's election laws will take center stage under the Gold Dome as lawmakers from both parties grapple with changing voter patterns that saw the 2020 presidential election and both of the state's U.S. Senate seats flip in Democrats' favor.
The June 9 primaries, Nov. 3 general election and Jan. 5 Senate runoffs each saw more than one million absentee ballots cast, shattering previous mail-in voting records.
Brass said nothing has been proposed at this point but believes absentee ballot voting will be the subject of great scrutiny after the role it played in the last election cycle. In his opinion, greater accountability is crucial.
"There's a lot of mistrust there," Brass said.
Brass was among several state senators who sent a letter, dated Jan. 2, to Vice President Mike Pence, urging him to delay congressional certification of the electoral college votes for 12 days "to allow for further investigation of fraud, irregularities, and misconduct" in Georgia's election.

Georgia Secretary of State Brad Raffensperger is calling for tightening state voter ID laws for mail-in ballots and eliminating no-excuse absentee voting, which since 2005 has allowed Georgians to request absentee ballots for any reason, not just because they live out of state or are physically impaired, according to Capital Beat News Service.
Raffensperger traced slow turnaround times that sparked suspicions over Georgia's election integrity to the flood of absentee ballots.
"It makes no sense when we have three weeks of in-person early voting available," Raffensperger told state lawmakers last month. "It opens the door to potential illegal voting."
Brass said Issues surrounding third party groups sending out applications, signature verification issues and examining the back end of voting software all must be scrutinized.
If a ballot is damaged, it's rejected by the machine, which forces the election worker to make their best judgment, Brass said. "It needs to be where the question should be the only race where they can make a judgment … when they can change every race, that opens up fraud."
Under state law, any ballot that is damaged or kicked out of the scanners for another reason goes before a three-person ballot review board. The sworn board includes one Republican, one Democrat and one non-partisan election official. The board reviews any damaged ballot and transfers those votes to a fresh ballot. The damaged ballot and new ballot are kept together. If there is any question about a voter's intent, all three members must agree on intent or the vote does not count.

Brass said he hopes to restore the lack of confidence in the Dominion voting software, which has been subject to speculation. He'd also like to see more transparency surrounding voting, including the possibility of the public utilizing cameras and videoing inside polling stations.

"As long as you're not photographing other voters, there's no reason you shouldn't be able to video what you're seeing," he said.
Budget
Legislative budget writers enter the 2021 General Assembly session more optimistic than might have been expected in the midst of a pandemic-driven economic slowdown that has forced thousands of businesses to close and put several million Georgians on unemployment. State tax revenues have been coming in at a healthy pace in recent months.
State tax collections rose by 7.7 percent last month compared to December of 2019, the Georgia Department of Revenue reported late Friday.
The strong December capped off a better-than-expected revenue outlook for the first half of fiscal 2021.
State tax receipts for the first six months of the fiscal year were up 6.1 percent over the first half of fiscal 2020, despite the impacts of the COVID-19 pandemic on Georgia businesses and workers.
Individual income tax collections increased by 7.2 percent in December, driven in part by a 17.3 percent decrease in refunds issued by the revenue agency. Net sales tax receipts rose by 9.2 percent.
"We're not out of the woods with the pandemic flaring up, and I see us possibly taking another hit," Brass said. "The last jobs report saw a loss of 140,000 jobs nationally, and I can't imagine we've gained anything. I believe the state budget will be impacted."
In 2020, Gov. Brian Kemp asked for 14 percent cuts, and ended up "around 9 or 10," Brass said. "The passage of the Market Facilitators Act, tax on internet sales helped us out."
However, Brass is skeptical of taxes collected on unemployment.
"What they don't reflect is those making under $10,000 annually, so that's a negative impact as well," he said. "We have to hang on and get through this pandemic as best as possible without raising taxes."
Broadband
Access to rural broadband has become a major issue, especially following the rise in remote learning during the recent battle against COVID-19 among school districts.
Brass said to get it built out soon, the state, providers, municipalities and citizens have to be involved.
"If we're calling it a priority, the state needs to put some funding under it," Brass said. "How to do it during a budget crunch, I'm not sure. We need to be creative to fund the grant, who gets it and how."
It's a complicated issue with many moving parts, but Brass believes the best way to make it happen is to keep the state government out of the picture and let the market figure it out.
"We need to empower our local governments, maybe give them more leeway on SPLOST dollars," he suggested. "Each community or county can do what's best for their citizens instead of a top-down approach."