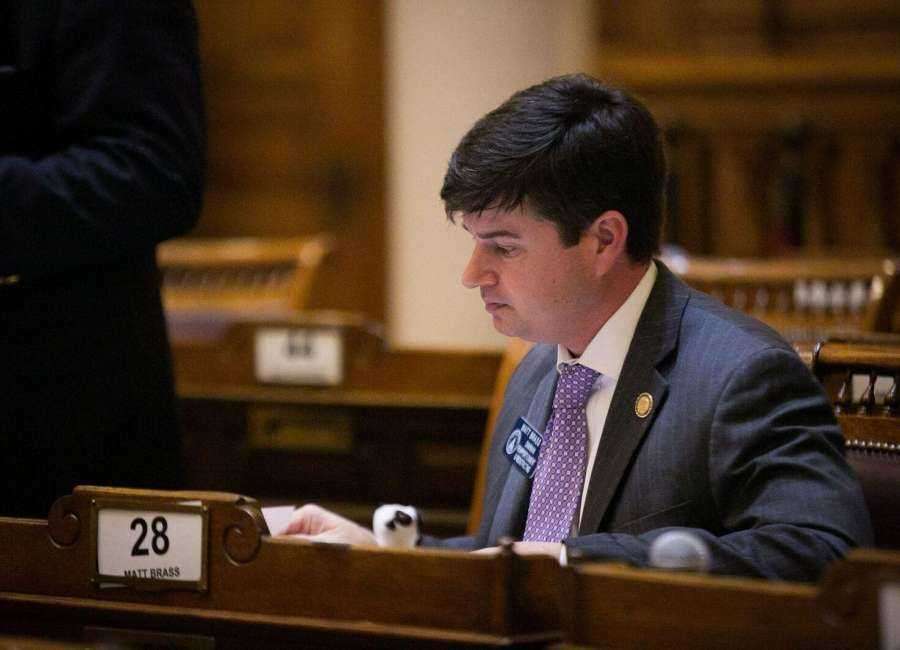 The fever pitch of Georgia's runoff election this week was accelerated by Sunday's leak of President Donald Trump's phone conversation regarding alleged voter fraud to Georgia Secretary of State Brad Raffensburger.

While Sen. Matt Brass, R-Newnan, has also expressed frustration with Raffensburger's handling of the election, he said he believes the recording is being overblown by the national media.
"Based on the transcripts I've read versus what the media is saying, it's a stretch," Brass said. "The intent of the call was to discuss a settlement agreement, and that's in the transcript. This has been blown out of proportion and (is) very disheartening."
The Georgia House and Georgia Senate recently concluded hearings surrounding election fraud, and Brass said he believes further investigation is warranted.
"It was clear from the very first hearing that our laws were being violated in multiple counties," he said. "Some were done through the federal court system and some through executive order in the public health crisis, which violated our state laws, which are set up as guardrails to help protect our election process.
"When those laws are violated, it opens us up to fraud, and that's the problem I have," he added. "We're susceptible on multiple levels for fraud to happen, and we haven't investigated enough to know."
Right now, Brass said, the public is fighting through a glut of misinformation from both sides of the aisle, but said it's frustrating when Raffensburger says there's not enough fraud to overturn an election.
"How do we know if we're not really going to investigate this stuff?" Brass said. "My belief is 'one person, one vote' and when you let a dead person or out-of-state resident vote, you've diminished one person's vote, and that's a major problem for me. But the most frustrating part for me is that I'm doing everything possible to find the truth, and the people I'm working for are the same ones saying I'm doing nothing."
According to Brass, many residents urged him to go into special session to investigate the claims even further, but without a three-fifths majority of both chambers agreeing or the governor calling it, there's no way for that to happen.
"People think we can arbitrarily go into special session, but we cannot," Brass said. "We don't have those numbers, and the governor hasn't called it. We just can't snap our fingers and go into a special session."
Brass said issues of voter fraud will likely dominate the 2021 General Assembly, and he's optimistic more will be discovered then.
"We'll do it on Jan. 11, but (I) would have liked to have done it before the 5th to try and secure the runoff," he said. "There are a lot of people who feel like their vote didn't count – not just from one sector of people who voted for Trump, but from a wide range of people."
Election validity issues
On Nov. 7, 2020, Brass drew criticism after releasing an official statement regarding issues of compromised integrity in the election.
"They cheated. Plain and simple," Brass said in the original statement. "And the mounting evidence shows just that. Elections are only as good as the confidence our citizens have in them. And right now, most of the people I represent, including myself, have little confidence in the validity of this election."
In the weeks that followed, Brass said he's been dealing with the fallout, including receiving hundreds of emails daily from not just his constituents but from residents across the United States.
Looking back, Brass said he doesn't necessarily regret the statement, which he stands by, but said using the word "they" may have been too broad a stroke.
"It captured too many people," Brass said. "There's certainly fraud on an individual level and I know for a fact there were individual cases. Enough to overturn an election? That's debatable, but it was not a shot at our local elections, but intended for individual instances."
"Emotions are still really raw," Brass continued. "These emails are taking my time away from the people I represent. I don't have a staff and I answer them myself, but it's ridiculous and I'm worried it gets worse after Wednesday, no matter how it goes. We're in a hyper-political world and it's very toxic right now. People are angry and saying and doing things they wouldn't normally do."
The biggest takeaway from the hearings, Brass said, were the instances of state laws being violated during the election.
"The video of Fulton County pulling boxes from under the table," he said. "They stopped counting around 10:30 p.m, which sent the press and poll watchers home, but then started counting again at some point after midnight. None of those should have been counted without being available to the public."
General Assembly to dig deeper?
Heading into the 2021 session, Brass said election accountability will be the No. 1 issue, which is imperative in order to restore faith in the election system and ensure that "one person equals one vote."
"We'll debate what that looks like when we go back in on Jan. 11," he said. "We have to figure out a way to hold people accountable who blatantly disregard our state laws."
"Voting is our most fundamental right and if people aren't confident their vote counted, you're shifting the power from people to our government. I don't think that was the intent of the founding fathers, and it's certainly not something I believe in," he added.
Brass said the cause of the numerous election lawsuits being thrown out by judges is simply because of attorneys' requests for cases to be expedited.
"You have to have substantial evidence on the front end, and there isn't on any individual case for an expedited trial," he said. "There may be more during the discovery process, but we won't know unless there's a regular case filed that's not requesting expedition. That won't help the Jan. 5 election. "
"If you look at the data, over 10,000 dead people voted, 40,000 people voted in the wrong county, 20,000 voted from another state and another 1,000 voted from a P.O. box number, which is illegal unless you're in the military," he said. "In a presidential election, it might not matter as much, but in a local election it certainly does, and that's a problem."
Raffensburger's office has countered several of these claims in a recent press conference. Of the 1,043 who voted using a P.O. box, many are cited as apartments, and potentially ineligible out of state voters are being investigated. Of the 10,000 claimed voters who died before the election, only two have been discovered, but it is still under investigation.
"I'm not saying these individuals committed fraud, but these numbers need to be investigated instead of the secretary of state saying nothing about it," he said. "It's all about one person, one vote."