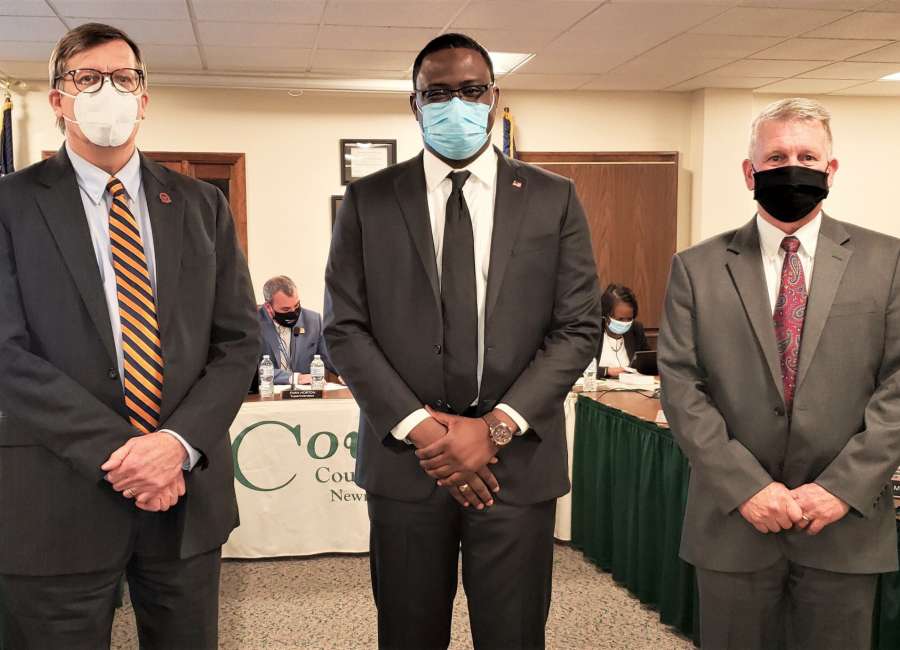 Three Coweta County Board of Education members – all elected or reelected in May 2020 – were sworn in at the beginning of the board's January meeting by Judge Carrie Markham.

Buzz Glover, Andrew Copeland and Frank Farmer each swore to support the U.S. and Georgia constitutions and to "truly and faithfully discharge all of the duties required of me by law as a member of the board of education of Coweta County, to the best of my ability."

The newest board member, Glover, replaced Sue Brown, who decided not to run for reelection to the District 2 seat she has held since 2004.

During board comments at the end of the meeting, Glover thanked his fellow board members, Superintendent Evan Horton and the school system administration for their advice and warm welcome. He said he looks forward to meeting all the school system staff and learning about their responsibilities.
"I'm excited to begin working with you to keep the Coweta County School System as one of the best in the state," he said.
He also pledged to continue Brown's legacy.
"I promise, just as Ms. Brown always did, to keep your students as my primary focus," he said.
District 2 covers southwestern Coweta County, including Glanton Elementary School, Moreland Elementary School, Poplar Road Elementary School and Western Elementary School.
Copeland was elected to a four-year term to represent District 4. He was appointed by the board to serve out the year, remaining in longtime board member Winston Dowdell's term after Dowdell stepped down in December of 2019.
As District 5 representative, Copeland serves portions of Newnan and central Coweta County, including Atkinson Elementary School, Jefferson Parkway Elementary School, Newnan Crossing Elementary School, Ruth Hill Elementary School, Welch Elementary School, Smokey Road Middle School, Winston Dowdell Academy, Newnan High School and the Central Educational Center.
Farmer has held one of two at-large seats on the Coweta County Board of Education since 2004. Farmer's district covers all of Coweta County, and he represents all schools in the Coweta County School System.
The Coweta County Board of Education, a nonpartisan body, consists of five district representatives and two at-large representatives. Members are elected to four-year terms and are not paid for serving on the board.
In addition to working with the community to improve student achievement and ensuring compliance with state and federal laws, the local board establishes governing policies for Coweta's public schools.
The board also selects the superintendent, who acts as CEO and oversees the day-to-day operations of the Coweta County School System.