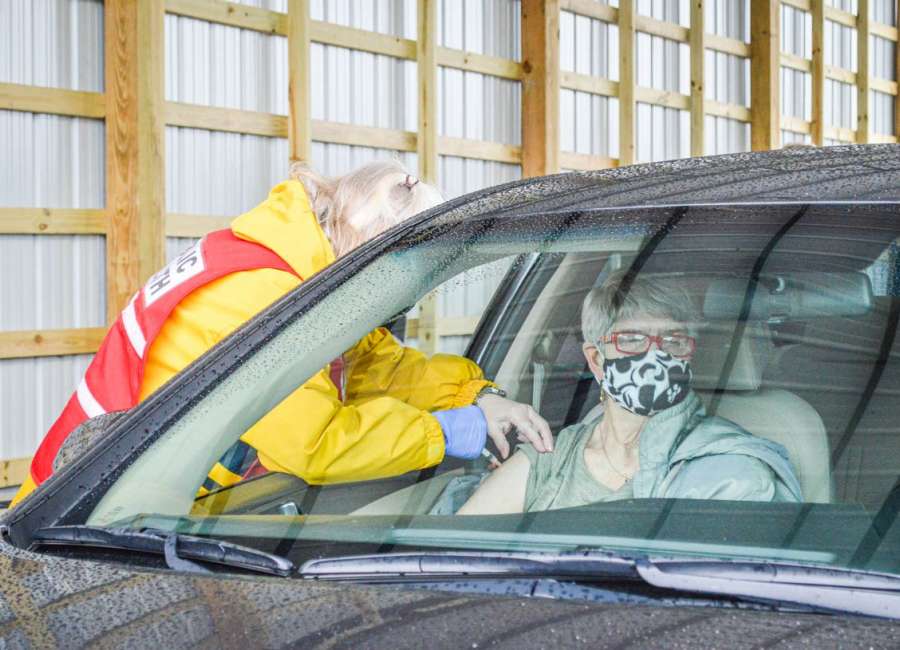 Frustrations regarding the scheduling of the COVID-19 vaccine are rampant on both sides of the phone line.

Coweta residents attempting to reach the DPH for an appointment are often met with a busy signal, or a computer asking "qualification" questions.
Upon completion of the questions, one caller stated he was told by the automated system "the queue is full" and asked to call back later.
Stories of scheduling woes are extremely common, and Hayla Folden with District 4 Public Health said she's doing her best to make something good out of a bad situation.
Folden said she empathizes with the frustrations of those attempting to connect with the DPH.
"We know our infrastructure isn't capable of handling this and were hoping it would be temporary," said. "Our technology leaves a lot to be desired. We're not built for this kind of demand."
At the District 4 office, located in LaGrange, approximately eight people are currently answering phones to help schedule appointments, with each call taking around five minutes.
"When people finally get through, they're often very angry," Folden said. "They don't realize we're scheduling for so many counties and are often frustrated to learn there's no vaccine left in Coweta.
District 4 currently serves Butts, Carroll, Coweta, Fayette, Heard, Henry, Lamar, Meriwether, Pike, Spalding, Troup and Upson counties.
As of Wednesday, those looking for the vaccine would need to travel to either Upson, Lamar or Butts County. However, all three of those counties are utilizing a different vaccine than Coweta, which provided the Moderna version.
"So since those three counties are using the Pfizer vaccine, they would have to return for the second dose," Folden said.
Those who have received the first vaccine will be contacted by the DPH with instructions regarding second dose scheduling.
For those who are unsuccessful at reaching the DPH, Folden urges residents to look into other providers listed on the agency's website, which includes a list of vaccine sites, searchable by county: https://dph.georgia.gov/covid-vaccine .
In the meantime, Folden is urging patience for the process.
"I want to say more vaccine will be available and easy to get, but it's going to take some time," she said. "It's hard to get through to us, and even then, it's barely making a dent."
COVID-19 vaccine shipments to Georgia are currently hovering around 80,000 per week, far short of the millions of doses needed for the state to achieve herd immunity, said Georgia Public Health Commissioner Dr. Kathleen Toomey.
Toomey told state lawmakers at a budget hearing Tuesday the incoming Biden administration has made "a promise of additional vaccine" that could boost supplies, but those numbers will not be known immediately.
"We literally don't know week-to-week what our allocation will be," Toomey said. "There's some disconnect between what we were told was coming and what actually is available."
While state officials are now setting up mass vaccination sites and better systems for eligible Georgians to schedule appointments, Toomey said the only way to halt the virus' spread will be for the state to receive more vaccines.
"At the rate we're going, it's going to take many, many months," Toomey said. "We really need to be able to do these big vaccination sites, and we hope that will happen soon with the availability of more vaccine."
For more information on District 4 vaccine availability, visit https://www.district4health.org/covid-19-vaccine/ .
Current nearby locations for vaccine include:
Coweta County Health Department
70 Hospital Road
Newnan, GA 30263
770-254-7400
Notes: The Coweta County Health Department does not schedule COVID-19 vaccine appointments through social media, by emails or calls to our staff, nor at the county health departments or district office. The scheduling line, 762-888-8180, is booking appointments as quickly as the staff is able.
Lee Goodrum
40 Hospital Road
Newnan, GA 30263
Notes: Do not call. The only way to get on the vaccine list is to email covid19@leegoodrum.com or CASEY@LEEGOODRUM.COM . You must provide your name, phone number, birthday and address in the email. Do not call the pharmacy and inquire about where your name is on the list or try to get on the list via phone.
Thompson's Pharmacy
134 Millard Farmer Industrial Blvd.
Newnan, GA 30263
770-251-4808
Notes: At this time, Thompson's Pharmacy is unable to take phone call requests for their waitlist due to the high volume of calls. To be placed on their COVID-19 vaccine waiting list, email your information to covid19@thompsons-pharmacy.com . This will ensure that you are placed on the waitlist, and they will contact you as soon as availability comes open.
YourTown Health (Senoia)
48 Main St.
Suite 3A
Senoia, GA 30276
Notes: Send a message through http://yourtownhealth.com/cont...
YourTown Health (Palmetto)
643 Main St.
Palmetto, GA 30268
Notes: Send a message through http://yourtownhealth.com/cont...