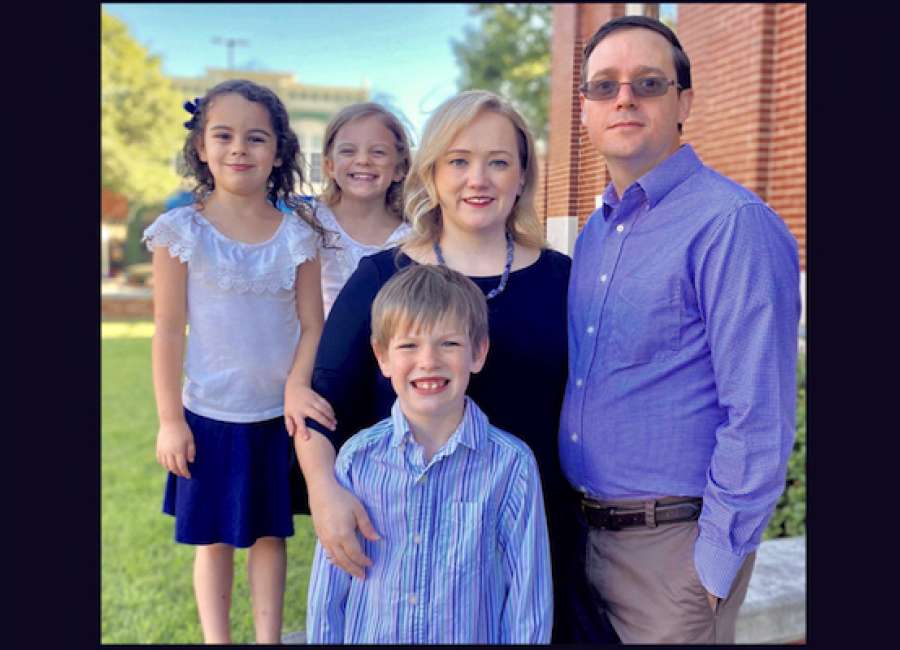 One of the biggest barriers to adoption is the cost, and a local moms group is helping a Newnan family grow by raising money in support of its attempt to adopt.

Newnan native Lara Carswell and her husband, Robert, are growing their family
through infant adoption. The Southside Moms of Multiples Club will host an online
silent auction from Jan. 21-24 to help the couple raise the necessary funds.
Carswell, a local attorney, said she and Robert – who works in engineering research at Georgia Tech – have always dreamed of a large family.
"Infertility has made achieving that dream more challenging," Carswell said.
Before looking into traditional infant adoption, the Carswells grew their family through embryo adoption. About 600,000 embryos created for in-vitro fertilization are currently in storage in the U.S., according to Carswell.
"When going through IVF, parents often create more embryos than the number of children they want," she said. "Once they finish having kids, the other embryos remain frozen in storage. Many couples donate them to other families, or place the embryos for 'adoption.'"
After two successful embryo adoptions resulting in their son, Leland, and twin daughters Charlotte and Elizabeth, the couple said they still felt the pull towards traditional adoption.
Carswell said the biggest hesitation was the cost of adoption, with the national average for infant adoption topping $40,000.
In 2019, after attending the RACE for Orphans, the Carswells said their then-7-year-old son asked them when he could have a baby brother or sister. He told his parents the family could adopt one of the many orphans in the world.
Carswell said Leland's open heart and encouragement led the family to begin planning and saving for adoption. But as for many adoptive parents, the Carswells' journey has not been an easy one.
"(We) were matched with an expectant mom who intended to place her child for adoption, but later changed her mind and decided to parent," Carswell said.
A "failed adoption" is not only emotionally draining but can take a financial toll as well. Most of the up-front costs – in this case, $13,000 for the Carswells – is unrecoverable, and they do not carry over once the family is matched with a new expectant mom.
Despite the ups and downs, the family says their faith in God gives them strength and
confidence that the right baby will join their family at the right time. Fundraising has helped keep
them motivated and busy through the challenges of the adoption process, they say, and their efforts so far have included selling T-shirts and homemade casseroles.
The Southside Moms of Multiples Club is a 501(c)(3) nonprofit organization that supports families of multiples. Bidding for the online auction supporting the Carswell family's adoption efforts will open at 6 p.m. on Thursday, Jan. 21 at https://smm.betterworld.org/auctions/carswell-adoption-SMOMC .
Auction items include tickets to the World of Coca-Cola; tickets to the Tellus Science Museum; tickets to Zoo Atlanta; two-night getaway in Chattanooga, Tennessee, including a whiskey distillery tour and bottle of whiskey; family membership to the High Museum of Art; autographed photo of Guz Malzahn; gift cards to Fogo de Chao, Publix, Sam's Club, Palmer's, Gillyweed and Rock Salt Milk Bar; and season tickets to the LaGrange Symphony Orchestra.
The auction closes at 8 p.m. on Sunday, Jan. 24. For more information, visit the Carswells' Adoption Journey page on Facebook.