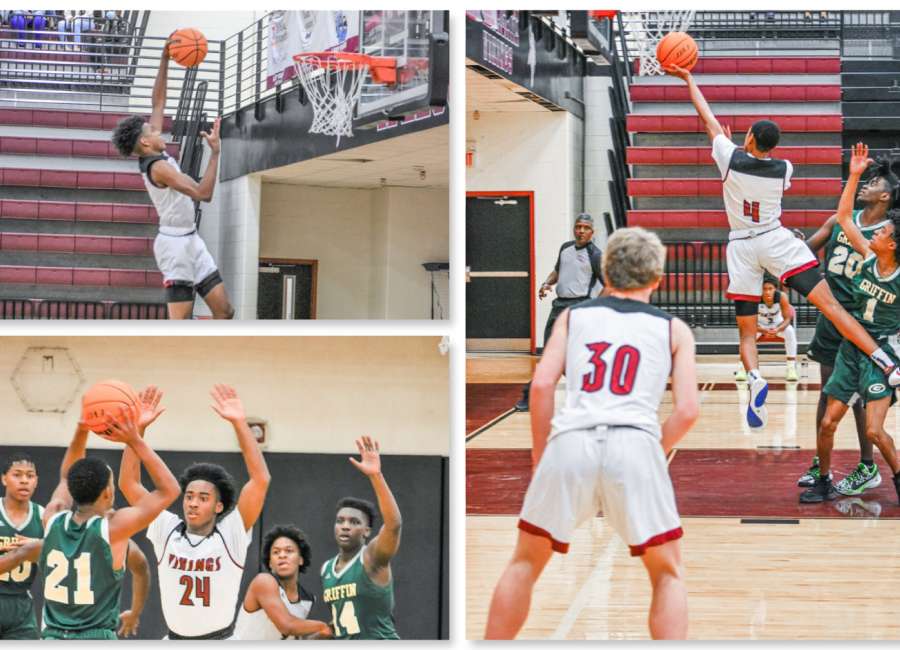 BY ARVON BACON

Saturday evening, the Northgate Vikings hosted the first-place Region2-5A boys and girls teams, the Griffin Bears (11-4 and 11-6 respectively) to complete the season series between the schools.
Unfazed by the Bears' exceptional regular-season resume, the Vikings found themselves up four points just before the end of the second quarter, after a 10-4 Vikings run.
Jordan Edun and Robbie Reid both combined for over half of the Vikings' first-half points. Combined, the two also shot a perfect 8-8 from the free-throw line. However, the Bears ended up leading by one at halftime, 27-26.
The third quarter was the difference-maker in the ball game as the visiting Bears outscored the Vikings 22-14, lifting Griffin to a nine-point lead heading into the fourth quarter. The Vikings' offense was almost nonexistent in the third quarter, but Edun's eight points kept the Vikings within striking distance.
The fourth quarter brought offensive struggles and turnovers for the Vikings, which led to Griffin's 11th victory of the season, 67-50.
Jordan Edun led the other Vikings with 23 points, and Kenny Orr and Robbie followed, combining for 14 points, four blocks, and two steals.
The Lady Vikings faced the same fate in their game as they fell behind early in the first quarter 13-4. As the contest continued the ladies had trouble gaining any traction offensively and had difficulty moving the ball past Griffin's press. Ultimately the Lady Vikings fell to the Ladies of Griffin, 57-18.
Caitlin Raynor led the Lady Viking with six points and was followed by Breigh Totten and Jordyn Patterson combining for nine points.
The Vikings will be back in action on Tuesday in a region matchup against the Northside Patriots, starting at 6 p.m.
Photo credit: Sandy Wisenbaker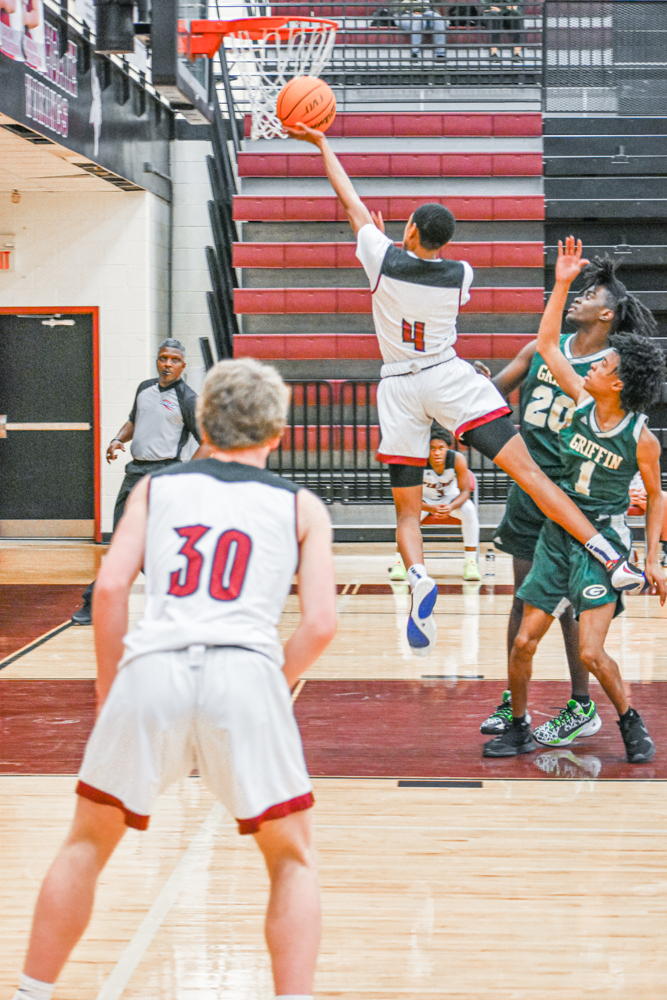 Josh Schumaker drives for a layup early against Griffin to keep the game close in the second quarter.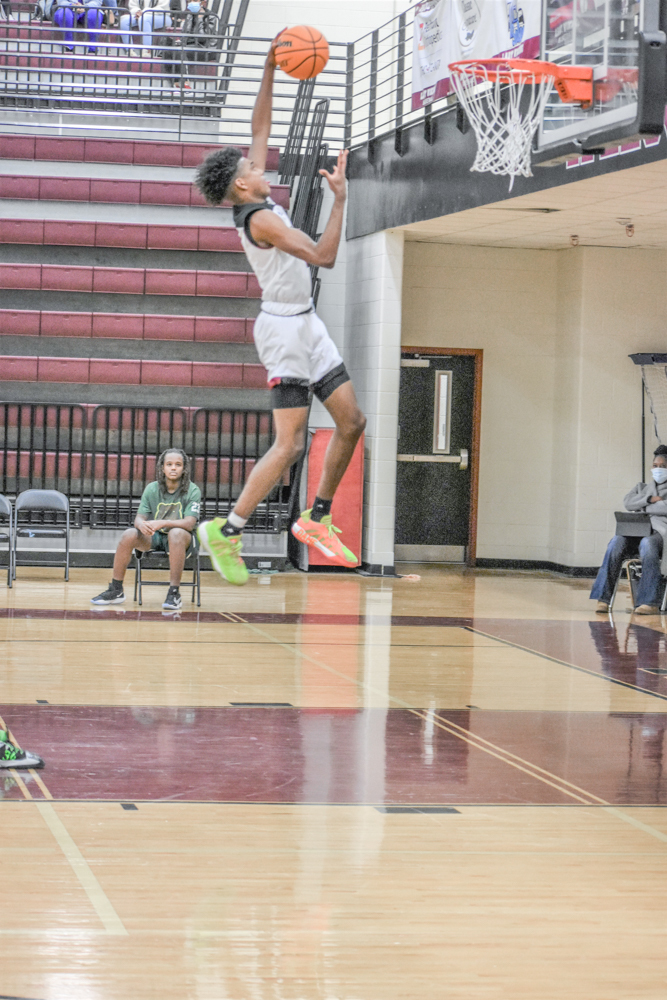 Jordan Edun with two of his game-high 23 points for the Vikings.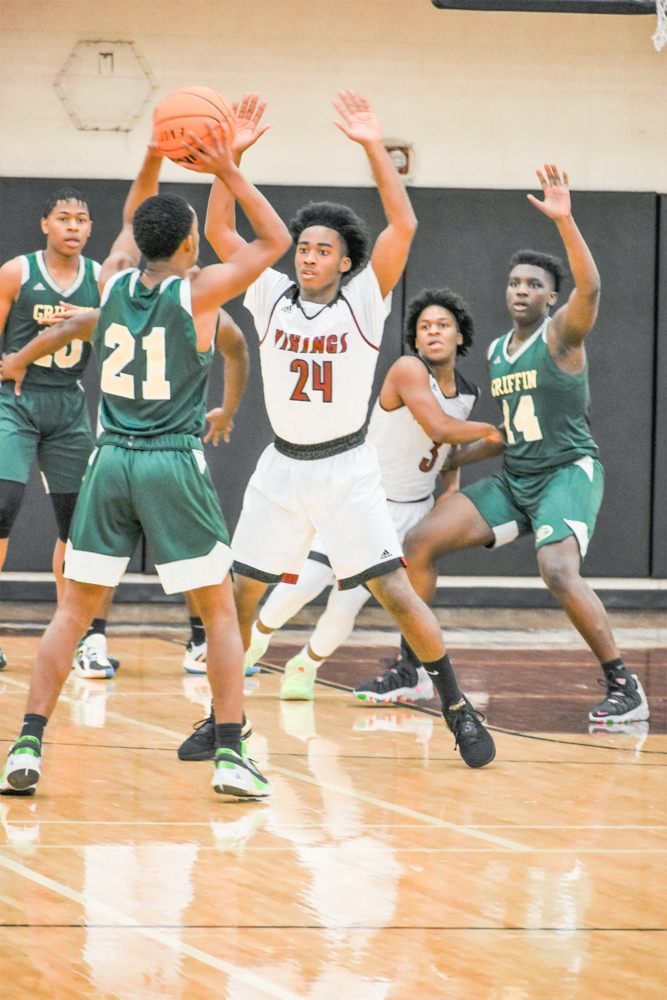 Josh Colton playing some hands-up defense to prevent the Griffin pass down into the post.