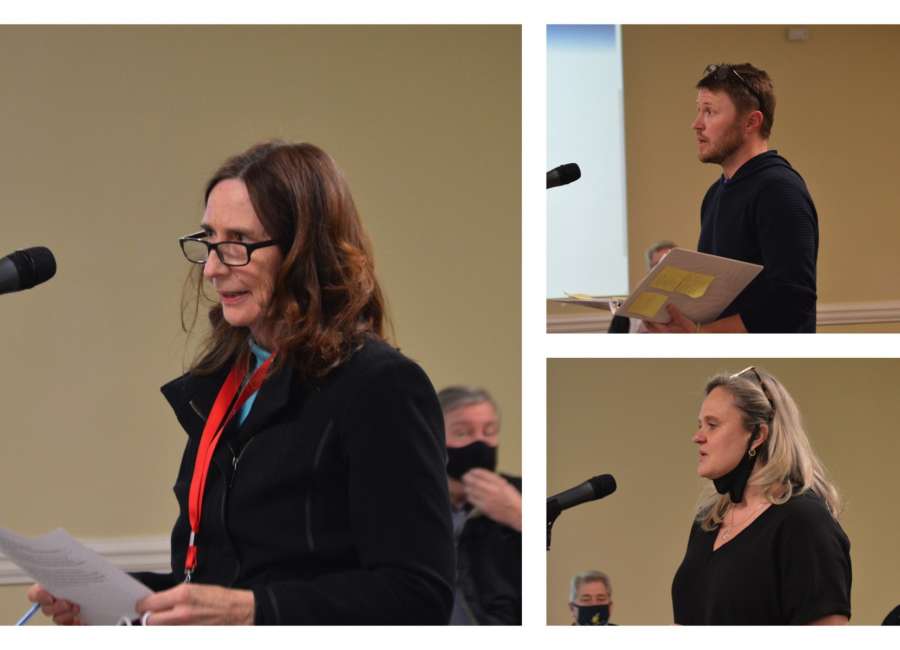 The economic fallout from COVID-19 has been devastating to many in Coweta – and the dramatic increase in the amount of people visiting food banks and seeking financial assistance shows it.

Now that all eviction moratoriums related to COVID-19 have expired, it's expected that there will be a dramatic increase in evictions.
A group of local nonprofit organizations has been working for the past several months on a program to prevent evictions, and the program was presented to the Coweta County Board of Commissioners last week during the public comment section of the commission meeting.
Pam Gabel, a volunteer case worker with the American Red Cross, is founder of the Sustainable Housing Task Force. There are 23 member organizations working with the task force.
"All of them are committed to the eviction diversion proposal," Gabel said. The group is asking the county to apply for grant money from the new Coronavirus relief bill to fund the program and to use some money from the original CARES Act to address the public safety aspects of the eviction crisis. There is $12 billion set aside in the new relief bill to fund these kinds of programs, she said.
"This problem of eviction is an indiscriminate and far-reaching issue," Gabel said. "We are asking you to help make landlords whole. We are asking you to keep children in their homes so that they can continue their education without the trauma of losing their homes. We are asking you to protect the financial security and safety of tenants. We would appreciate your serious consideration of this proposal."
Cynthia Bennett, community liaison for the Newnan-Coweta Chamber of Commerce, said that the task force has done a great deal of research and contemplation and has talked extensively over the past several months to come up with the proposal.
Bennett said she hoped the commissioners and staff would take the time to look over the proposal and ask questions about it.
"Most importantly I want you to understand that we sought input from local authorities and other nonprofit agencies," she said.
Bennett said she had received a confirmation from Chief Magistrate Judge Jim Stripling that his court, which handles evictions in Coweta, would participate in the program if it is approved.
"We hope that you take our proposal into consideration and allow Coweta County to apply for the funds that are necessary to provide eviction relief and divert some of the economic stresses that we are going to see after Jan. 31."
Yvette Thomas of Community Action for Improvement said that, over 10 months, the organization has helped families with over $58,000 in rental assistance. Now, "I get at least 10 calls a day, and I have to tell them we're not paying rent at this time," she said. CAFI released funds for its low income heating program on Dec. 1. By the end of the day, they were booked through March, she said.
"People are in desperate need of help. The eviction diversion program will at least lighten the burden on the families," she said.
Ann Kerlin of One Roof said they've seen twice as many people as usual asking for help with rent. They've had to cut the amount of assistance they give each family in half because there are so many requests.
One Roof has a $25,000 grant to put people in hotels. But with the cheapest hotel costing $360 a week, that money can't go far. "If there is a way we can work with landlords and the court to keep people in their homes, I think that would benefit the community in the long term in this very strange period of life that we are in," Kerlin said.
Eric Miller of Newnan Coweta Habitat for Humanity presented some information form the Joint Center for Housing Studies. The report found that more than 80 percent of households making under $25,000 are paying more than 30 percent of their income just to keep a roof over their heads. Sixty-two percent of people in that income bracket are paying more than half their income toward housing.
Those who make under $25,000 are more likely to have lost income during COVID-19, with more than half of those in that income bracket losing wages during COVID-19. For those earning up to $50,000, 53 percent are losing income and 16 percent are behind in rent.
Federal programs helped stave off evictions temporarily, but many households have missed payments and may be unable to pay their back rent, Miller said. The eviction diversion program will not only keep people in their homes but will help landlords who are falling behind as well, because they are not receiving the rental income.
The program could have a profound impact on people in Coweta, said Kelli Yeager-Nelson of Bridging the Gap. They've seen a 48 percent increase in people needing services during COVID-19, she said. And landlords are being impacted.
The program proposal would use the grant funds to pay landlords, and would be modeled after programs such as Star C in Atlanta and Project Reset in Gwinnett.
Plans are for the nonprofits and the magistrate courts to work together to develop a coordinated action plan.
The group is asking the county to apply for $1 million in grant funds from the new stimulus package, and to contribute $50,000 from CARES Act funds to launch the program.
The commissioners didn't make any public response to the presentation, though Commissioner Paul Poole did talk about an elderly couple in dilapidated housing that he wanted to help. The roof on the house leaks and the house likely needs to be torn down, he said. The couple doesn't qualify for assistance from Habitat for Humanity.
"It just kills me that we can't help these people," Poole said.