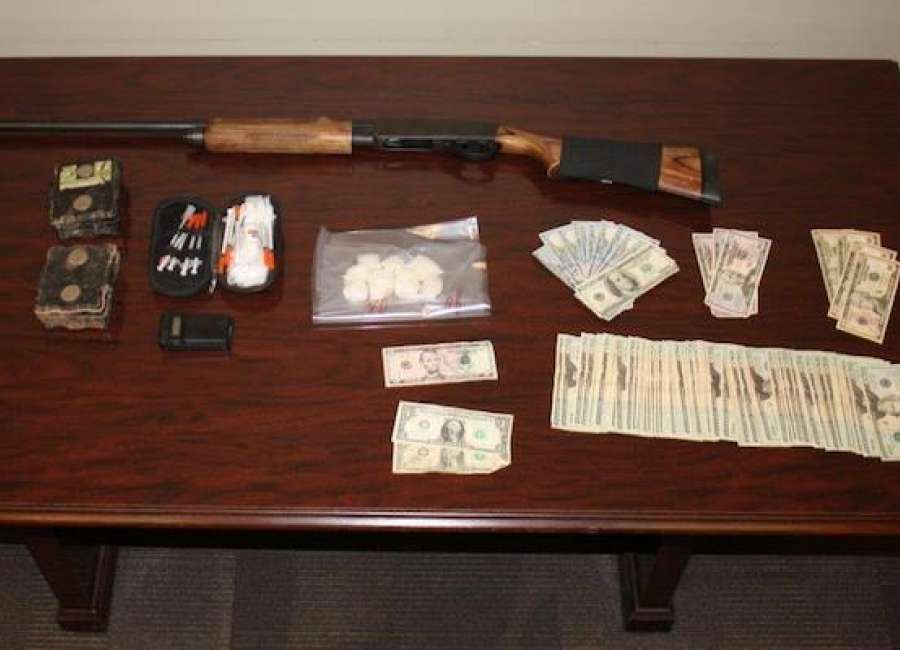 They didn't check their brake lights, and now two Pine Mountain men are in custody for suspected drug trafficking.
During a traffic stop Tuesday, Coweta County sheriff's deputies discovered 77 grams of methamphetamine, drug pipes, $2,797 in cash and a shotgun hidden under a pile of socks inside a Toyota Tacoma driven by Charles Quinn McDonald, 36.
Deputies initiated the stop for defective equipment after noticing the truck's top brake light was not working, pulling over the vehicle near the intersection of East Hwy. 34 and Chatsworth Place, according to Col. Jimmy Yarbrough of the Coweta County Sheriff's Office.
The passenger – Christopher Wayne Brooks, 40 – had an outstanding warrant for misdemeanor criminal trespass. Yarbrough said as a deputy approached the vehicle, Brooks threw a black case out of the passenger window.
Both men were detained and the case was located. Inside were syringes, clear baggies and a clear glass pipe containing white residue suspected to be methamphetamine, Yarbrough said.
During a search of the truck's cab, clear baggies "consistent with narcotics distribution" were found, according to the incident report. They made another discovery after they popped the hood.
"Under a pair of socks, they found a shotgun stolen out of Valley, Alabama," Yarbrough said.
Brooks reportedly told the deputies they had not found all the drugs, and after being advised of his Miranda rights, he said the methamphetamine belonged to McDonald and he did not want to be charged for it, according to the report.
Brooks said the drugs were in individual baggies inside a magnet box on the driver's side, according to the report. Underneath the truck, deputies found two black boxes containing a digital scale and 8 baggies containing a total of 77 grams of methamphetamine.
After being advised of his Miranda rights, McDonald told deputies he was holding the gun for a friend and hid it under the hood because he is on felony probation and knew he was not supposed to be in possession of a firearm, the report stated.
McDonald reportedly claimed he didn't think the gun was stolen and said the drugs belonged to Brooks.
Both men were charged with trafficking amphetamine and transported to the Coweta County Jail, where $2,797 in cash was discovered in McDonald's pocket and seized by the sheriff's department.
Because he reportedly admitted he knew the shotgun was in the truck, McDonald faces additional charges of possession of a firearm by a convicted felon, possession of a firearm during the commission of a felony and theft by receiving a stolen firearm.