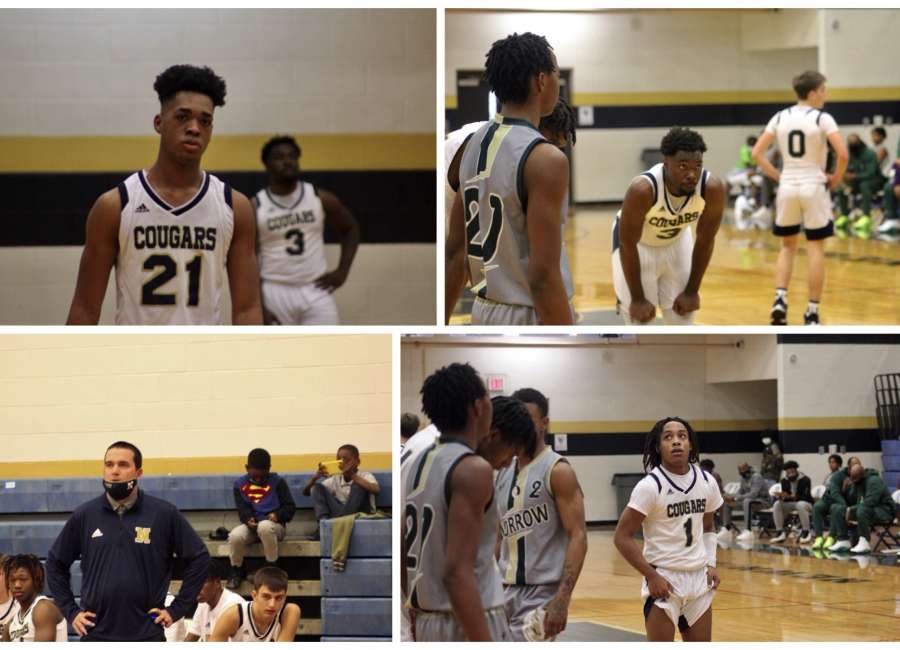 By ROB GRUBBS
On paper, it seemed like an easy Saturday afternoon for the Newnan Cougars.
After their Friday night region game with Campbell was postponed, Coach Trent Gatzemeyer was able to secure a Saturday afternoon matinee against the Class 6A Morrow Mustangs (4-9).
However, the Cougars found themselves down by one to start the fourth quarter with the pesky Morrow team. But Newnan fought through adversity to capture an 80-76 overtime win to improve to 12-1 on the season. They remain perfect in the five games they have played at the Max Bass Athletic Complex this season.
Zion Brown got the scoring started for Newnan with a steal on the defensive side, and he drove the length of the court against pressure for a layup. Brown finished the game with 10, one of four Cougars to reach double digits in points.
Ja'terriaz Robinson led the Cougars in the first quarter as he scored six of his 14 points to give Newnan a 21-15 lead. Eric Smarr took things from there. He scored nine of his game-high 24 points in the second quarter, but the Cougars went to the locker room down by two at the half.
In the fourth quarter, Morrow had a 63-61 advantage, but Smarr had identical back-to-back possessions. On both, he created a steal and drove down court to the basket for a contested layup.
With four minutes remaining, Newnan clung to a two-point lead. The Cougars could not convert on their last possession and went to the extra frame.
In overtime, the game was tied at 74 when Smarr got banged up on a failed Cougar offensive possession. As he stayed in the backcourt to regroup, Robinson secured a defensive rebound and spotted Smarr alone at the far end. He found Smarr with a perfect pass and basket. The Cougars never trailed again.
Jamar Stargell was able to ice the game from the free-throw line. He made three in the closing moments of the of 80-76 victory.
Wesley Drake had 14 points and three rebounds for Newnan. Smarr had an exceptional all-around game. In addition to his 24 points, he had five rebounds, two assists, four steals and a block.
The Cougars host county rival East Coweta on Thursday night in a Region 2-7A contest.