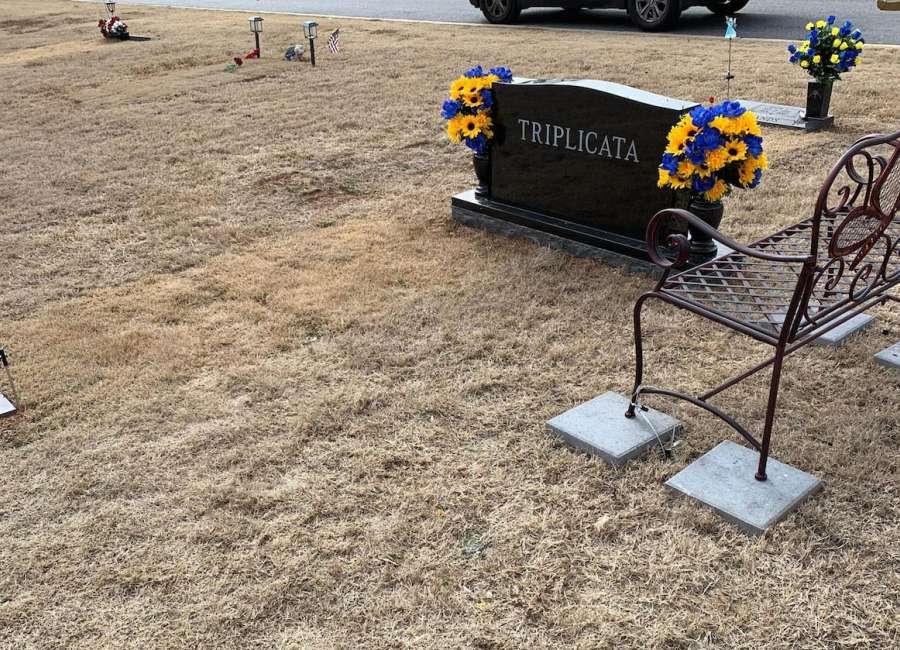 When the bench at Jeanna Triplicata's grave vanished, her mother, Bridgette, reached out on social media, hoping that someone would return the bench that had apparently been stolen from Oak Hill Cemetery.

No one ever returned the missing bench, but it's been replaced with a brand new one, purchased by a community member. And this time, the bench is secured to the ground.
Triplicata had posted about the missing bench on the Chatty Newnan Women Facebook group, and soon after making the post, she was contacted by a lady who sent a picture of a bench she could order online and asked if it looked the same. It did. As soon as Triplicata confirmed it was the right bench, it was ordered.
Several other people also offered to donate money to help buy a replacement bench.
The woman, who asked not to be named, and her husband met the Triplicatas on Sunday at the cemetery.
"She said, 'I'm a mom and her story touched my heart, and I just wanted to do something. God has been good to us this year,'" Triplicata said. "She wanted us to have a place of peace."
The woman and her husband assembled the bench, placed it and anchored. "We didn't do anything. We just stood there and watched," Triplicata said. "It was pretty amazing."
The Triplicatas gave the generous couple T-shirts made in memory of Jeanna, 18, who died in July in a skydiving accident. They wanted to give them something to remember Jeanna by.
The shirts say "treat people with kindness."
"That was Jeanna's kind of motto," her mother said.
Triplicata said she wanted to talk to the couple more about her daughter, to show them some pictures and let them get to know the kind of person she was, so the woman asked to take the whole group out to lunch.
At the restaurant, Triplicata said her husband tried to sneak and pay the check, but the woman wouldn't hear of it.
Jeanna's little sister, Julia, wanted to say thank you to the lady who donated the new bench. "Now I can sit here and talk to her," she said.
Triplicata said having a bench back at her daughter's grave like having a tremendous weight lifted.
"It's just a physical bench that you can sit on at my daughter's resting place. What hurt me the most was just to think that someone could come and take from her. That is the total opposite of who she was. She was giving and generous and caring, and she would never in a million years have done something like that. That hurt me," she said.
"I am so thankful that this selfless couple felt led to provide us a replacement and installed it. We will most definitely be paying it forward," Bridgette said.
"My daughter's bench that represented her so well was replaced, and we are so thankful to the nice couple that replaced it. This confirms to me that through these dark times, there are still people who shine a light," said Jeanna's father, Joey.
"Even though what happened was just horrible, you can still see that there are good people in the world," said Triplicata. "It restores your faith in humanity."