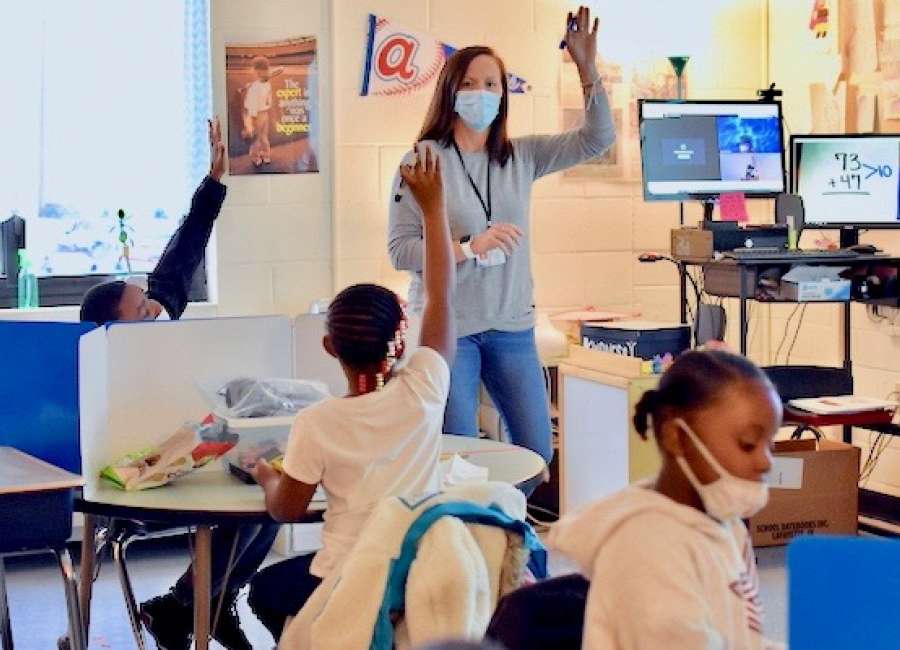 Graduation, prom, honors night, year-end celebrations – the list of school traditions interrupted by COVID-19 seems never-ending.

One educator-centric event also fell by the wayside thanks to the global pandemic. The annual Coweta County Teacher of the Year ceremony, during which 2019 honoree Ashley Nelson was to have handed over the title to a new recipient, never happened.
So at the request of the Coweta County School System, Nelson held on to the honor for another year. As the 2019 and 2020 Teacher of the Year, Nelson is Coweta's nominee for state honors – which also were suspended last year – as well.
It seems fitting for a year of upheaval and uncertainty, when many teachers started the school year teaching to empty classrooms. School ended abruptly last spring and began virtually last fall, and when students finally returned to in-person learning, their classrooms and interactions looked very different.
It's something that has greatly impacted not only the students, but the teachers as well.
"While being a teacher always comes with a certain level of mental fatigue, this school year is a whole new beast," said Nelson, a second grade teacher at Ruth Hill Elementary School. "Planning lessons, managing behaviors, communicating with parents, assessing students' emotional as well as physical needs, all while attempting to deliver effective instruction to face-to-face students and virtual students simultaneously is flat-out exhausting."
Implementing and enforcing new classroom COVID-19 safety protocols add another layer of responsibility.
"Teachers are overwhelmed, disheartened and weary," Nelson said. "Educators are people of purpose and passion. It is difficult for us to feel unprepared, inadequate and disconnected. Unfortunately, these are all symptoms of how the pandemic has impacted the classroom."
But Nelson, now in her seventh year at Ruth Hill, has seen how educators can change lives. In fact, it helped shape her career.
She originally intended to become a child advocacy lawyer, but Nelson's career goals changed after she spent a required college semester in a kindergarten classroom, witnessing the impact the teacher had on her students.
After spending the first three years of her career teaching fourth and fifth grades at Welch Elementary School, Nelson relocated to Massachusetts to teach a self-contained emotional and behavioral program for grades 2-4. She piloted a similar program for high schoolers and led that unit for two years before returning to Georgia and joining the staff of Ruth Hill.
At Ruth Hill, Nelson has taught fourth grade, second grade and schoolwide math intervention. She currently leads the school's Positive Behavior Interventions and Supports team, as well as the Soaring Eagles Girls Running Club, which she founded to promote self-confidence and interpersonal skills in female students.
Ruth Hill Principal Aaron Corley described Nelson as a teacher who is successful because she holds her students – and herself – to extremely high standards.
"She knows that true love means expecting the best from her students at all times," Corley said. "She has sympathy, but she teaches them to be overcomers and not victims of their circumstances."
It's a message Nelson said is reinforced daily by the men and women who teach Coweta's children, overcoming their own challenges to continue to lift up their students.
"Where there are children, there is resilience, there is promise and there is hope," she said. "These things have remained constants in the classroom. Combine that in with the immeasurable love teachers have for their students, and we are steadily making it through the misfortunes that COVID continues to bring our way.
"The most beautiful aspect of teaching is the belonging to a community of professionals who regardless of the weariness of today, we still go to bed with hope for tomorrow," Nelson added.
The Georgia Teacher of the Year program was suspended last year as well, so Nelson will remain Coweta's nominee this year.
"I have to emphasize what a tremendous honor it truly is to be named Teacher of the Year for any school system, but especially one as rapidly growing and consistently successful as the Coweta County School System," she said.
The 2021 Teacher of the Year ceremony is tentatively scheduled for May 5 at the Nixon Centre for Performing and Visual Arts. Co-sponsored by the Coweta County Board of Education and the Newnan Pilot Club, the ceremony recognizes Teachers of the Year from each school in the Coweta County School System.
Teachers of the Year are selected by their fellow certified educators for the quality of their teaching, professional development, teaching philosophies and methods, community involvement, contributions to education and ability to inspire students of all backgrounds and abilities to learn.
This year's Teachers of the Year, who have agreed to remain in place for a second year, include:
Dani Kelly, Special Education (Arbor Springs Elementary)
Adrienne True, Pre-Kindergarten (Arnco-Sargent Elementary)
Dana Lovvorn, Fourth Grade Math (Atkinson Elementary)
Dana Miller, Second Grade (Brooks Elementary)
Becky Lowery, Third Grade (Canongate Elementary)
Shannon Millard, Special Education (Eastside Elementary)
Laura Bass, REACH/Gifted Education (Elm Street Elementary)
Catherine Drake, Fourth Grade English and Language Arts (Glanton Elementary)
Regenia Ware, Fifth Grade Math (Jefferson Parkway Elementary)
Kiesha Carroll, Fourth Grade English and Language Arts (Moreland Elementary)
Barbara McDowell, First Grade (Newnan Crossing Elementary)
Dede Rowan, Early Intervention Program (Northside Elementary)
Mechelle Geter, Fifth Grade (Poplar Road Elementary)
Mary Thompson, REACH/Gifted Education (Ruth Hill Elementary)
Jen Scruggs, Second Grade (Thomas Crossroads Elementary)
Kristie Stewart, First Grade (Welch Elementary)
Patsy Hart, Fifth Grade Science (Western Elementary)
Viveca Edwards, Kindergarten (White Oak Elementary)
Sarah Trotter, Special Education (Willis Road Elementary)
Melanie Smith, Eighth Grade Science, (Arnall Middle)
Katie Bott, Eighth Grade English and Language Arts (East Coweta Middle)
Rebecca Bowman, Seventh Grade Science (Evans Middle)
Jerilyn Robinson, Sixth Grade Math (Lee Middle)
Alonza Wood, Math (Maggie Brown Middle)
Matt Nash, Health/Physical Education (Madras Middle)
Kelley Ritter, Seventh Grade Special Education (Smokey Road Middle)
Pat Patten, Audio Engineering (Central Educational Center)
Amanda Bowles, Math (East Coweta High)
Chris Swanson, Economics (Newnan High)
Hilary Perry, English (Northgate High)
Angela Dettermering, Social Studies (Winston Dowdell Academy)