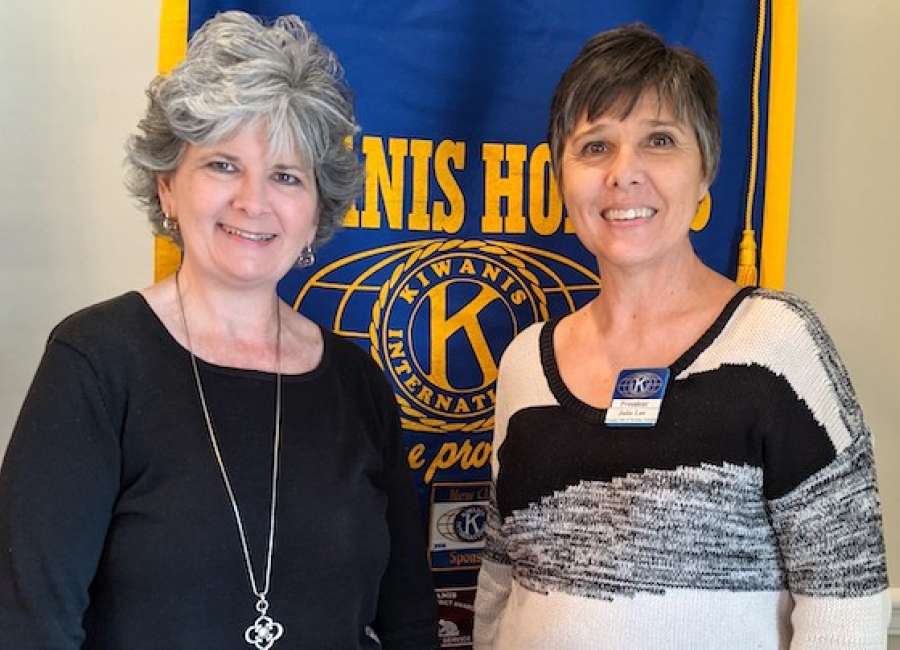 Local author and editor Angela McRae spoke to the Newnan Kiwanis Club about the uptick in reading during the pandemic, and her most recent books, at the club's Jan. 12 meeting.
McRae said to describe what she does in two parts – she gets paid to be critical, and she gets paid to make stuff up.
"I think that's one of the best gigs in the world," McRae said.
She said she's always liked words, and from the time she was young she was writing stories and diary entries. As she got older, journalism was a natural fit for her, and that's what she went into.
McRae has done newspaper journalism, magazine journalism, and then she worked her way into books.
She said with everything that has been going on in the world recently, there is some good news – more people are reading.
"Because of the pandemic, we don't have that many good things we can write about every day, but reading is one of them," McRae said.
She said people are reading print products more than they have in recent years. Print sales of books went up 8 percent last year, McRae said.
McRae said it's important that people are reading, not just for the book industry, but for humanity as well.
"My understanding is that reading makes us more empathetic people," McRae said. "I think that's very important. Especially people who read fiction are more empathetic, more considerate of others."
She said for that reason, she's been honored to help people get their books into print.
McRae has done a lot of work with local authors, including helping Norma Haynes compile some of her columns from the Newnan Times-Herald into a book called "Home Is Where My Heart Is."
She also edited Bob Coggin's book, "Flying High Over the Cotton Field: The Life and Times of Robert W. Coggin," and "Senoia Boy" by Ellis Crook.
McRae said when anyone gives her the honor of working on their book, her job is to make it the best it can be. She said she's worked with New York Times bestselling authors who still make punctuation and grammar errors.
"Working on books has really made me refine my game as far as grammar and punctuation," McRae said. "People enjoy telling stories, people enjoy reading stories, and my job is to help make them better."
In addition to editing, McRae released her first novel in 2019, called "Emeralds and Envy." She said she wanted to write a cozy mystery because she loves the genre of a small town sleuth solving a mystery.
McRae said the classic example of this is from the TV show "Murder, She Wrote." She wanted to write something similar, so she came up with the idea of a young sleuth in a small town near Atlanta, who is a jewelry designer that used to be a newspaper reporter.
She said a lot of cozy mystery authors are former newspaper reporters. McRae said she thinks it's because you learn a lot of stuff when you work in a small town — things that make it into the newspaper, and things that don't.
McRae said she's already written and submitted the second book in the series, and she's working on outlining the third.
Last year, she also had a story published in "Chicken Soup for the Soul" about a nativity scene that was given to her by a homeless woman at the Welcome House.
"It was one of the most humbling gifts of my life that Christmas, when this poor woman came up to me and told me she had bought me a present," McRae said. "I couldn't believe it, and it was a very sobering moment."
She said "Chicken Soup for the Soul" is a great place for those who write stories to be published.
"I like to encourage fellow writers because this is not rocket science; the muses don't come down from on high and bless me with ideas. It's like any other skill or talent; it can be learned, and it can be improved upon," McRae said.
Her most recent book, "The Vintage Christmas Cookbook" compiles old-fashioned recipes that are beginning to disappear. McRae said it has been a hit.