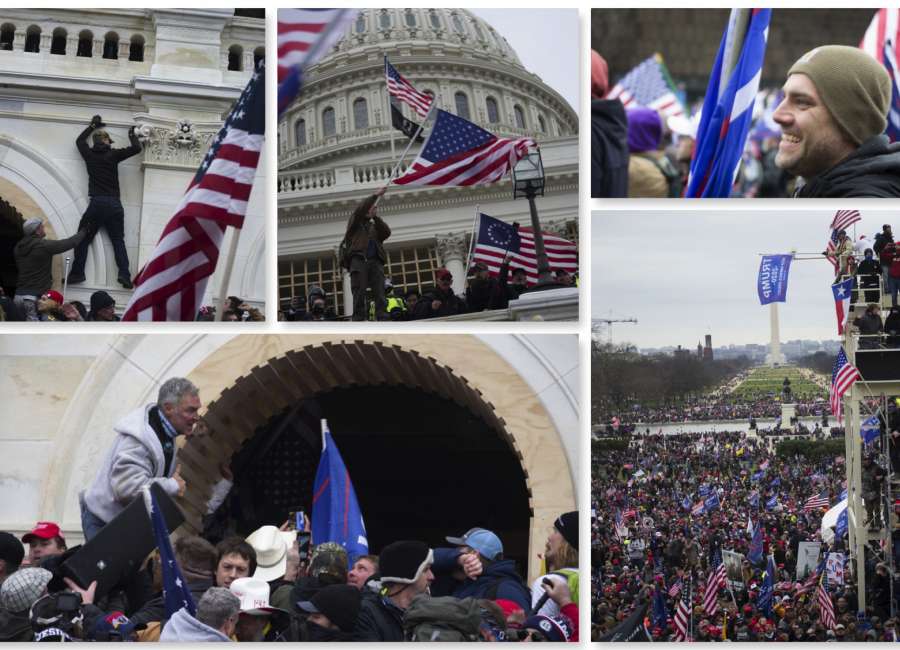 (Editor's note: Wanda Carroll is not employed by or affiliated with The Newnan Times-Herald, and this story is not an endorsement of her, her actions or the events of Jan. 7, 2021.)
A Newnan woman among those present in Washington, D.C. last Wednesday, when a violent mob loyal to President Donald Trump stormed the U.S. Capitol, attacked law enforcement officers and forced lawmakers into hiding.
The nation's elected representatives scrambled under desks and donned gas masks while the vastly outnumbered police – more than a dozen of whom were injured in the siege – tried to barricade the building.
It was a stunning and unprecedented attempt to overturn America's presidential election by Trump supporters who seemed determined to wreak havoc, undercut the democratic process by preventing Congress from certifying Democrat Joe Biden's election win – and physically harming anyone they perceived as a threat.
But Wanda Carroll said from her perspective, the day was not about violence or Trump, but the direction the country is heading.
"I don't like the direction this country is going, and in my heart, it's never been about Trump," she said Saturday. "I think they want to silence our vote, close our churches – and I don't like it."
Carroll was among the thousands of people who attended Wednesday's rally – and subsequent riot – traveling on luxury charter buses with a group of about 75 others from the Atlanta area. She said she believes the election was fraudulent and that God led her to "take a stand" for Trump.
"When Trump said he wants us to come to D.C., we all felt the same way," said Carroll. "I don't worship Trump, but it seemed like God wanted us to come."
Trump has been accused of inciting violence in a speech before the attack on the Capitol, encouraging his supporters to "fight like hell, or you're not going to have a country anymore."
"He said he'd see us at the Capitol and to let Congress know how we felt about the vote," she said. "I didn't feel like he was inciting violence. He just wanted support to back what was going on. If you see the faces of the people, there is no hate in their eyes."
As the mob – minus Trump, who reportedly spent the afternoon hunkered down in his private dining room, watching the attempted coup unfold on TV – surged toward the Capitol steps and the members of the U.S. Congress, Carroll said she felt like their purpose was the same as the founding fathers in 1776.
The atmosphere, she said, was "amazing" and "crazy."
"The patriots did their job and we wanted them to do their job," she said. "Not to threaten them, but to urge them to do their job."
Carroll said people made their way through gaps in the barriers surrounding the Capitol and used barriers as ladders to help each other scale walls, while she took photographs.
"That was my only reason for being there," she said. "I was there to capture the soul of America, and I think I captured it. It wasn't hatred – it was love for the country."
The crowd laid siege with pipes and other weapons to gain entry into the Capitol.
"It was good, but when they started hitting the glass with the stick, everyone was chanting, 'stop, stop, stop' and someone grabbed the leg of the guy breaking the glass," Carroll said. "Then they started chanting, 'no peace, no Trump.' It was because if we don't get peace, we don't get Trump."
Around 2 p.m., the afternoon exploded into violent insurrection, killing five people and threatening to alter the course of American democracy.
The mob mortally wounded a Capitol police officer, who died the next day from his injuries. A woman wrapped in a Trump flag was shot by police as she attempted to breach a barricaded door inside the Capitol building. A Kennesaw woman – among three people whose deaths were attributed to medical emergencies – reportedly was trampled to death.
Members of Congress were forced into hiding, offices were ransacked and looted, and the formal tally of Electoral College votes was delayed for more than six hours. Rioters livestreamed themselves, and recorded and uploaded video of their comrades gleefully committing criminal acts.
In a video posted 90 minutes after the attack began, Trump told his supporters, "We love you. You're very special," and asked them to go home.
Heavily armed backup officers eventually used tear gas, flash-bangs and percussion grenades to force back the attackers, and Carroll said she was affected by the tear gas despite pushing her face into the chest of someone nearby.
"It hurt so bad," she said.
Long separated from her traveling companions, her phone nearly dead, Carroll received a call from a neighbor informing her that the National Guard was on its way. She said she followed the crowd of people leaving the scene but missed her connection at the rendezvous point for her bus.
A police officer allowed Carroll to use his phone to call her daughter, who helped her locate her group – on its way to a campground 30 miles away. Another group offered her a ride.
"That's God," she said. "We got to the campsite and everything was fine. It was an ordeal, but God took care of me."
The bus headed back to Georgia that night with all travelers accounted for, but back home, Carroll said she wasn't surprised to see how the "rally" was portrayed in the mainstream media. She said she believes a small group caused the chaos.
"(The media) collectively look at the bad things," she said. "They don't look at the faces or ask them questions. They just make assumptions. We were there because we wanted (members of Congress) to do their job, not for ill will, to harass or destroy."
Carroll reiterated that the event was "not about Trump."
"I think that's true for many people here," she said. "I want to go down in history as taking a stand."
In a defiant show of solidarity, Congress reconvened late in the evening of Jan. 7 to officially count the Electoral College vote, confirming Biden's win shortly before 4 a.m. on Jan. 8.
Vice President Mike Pence, presiding over the joint session, announced the tally: 306-232. He then addressed the pro-Trump rioters directly.
"You did not win," Pence said.
After the announcement, Trump released a statement saying there would be "an orderly transition" on Jan. 20, "even though I totally disagree with the outcome of the election and the facts bear me out."
He remained steadfast in his refusal to condemn his supporters who attacked the Capitol – some of whom were identified as members of the neofascist "Proud Boys" group he exhorted to "stand back and stand by" during a presidential debate in September.
Biden, however, did not hesitate.
"Don't dare call them protesters. They were a riotous mob. Insurrectionists. Domestic terrorists. It's that basic. It's that simple," Biden said Thursday.
Immediately after the attack, police recovered two pipe bombs – one outside the Democratic National Committee and one outside the Republican National Committee – and a cooler containing a long gun and Molotov cocktails from a vehicle on Capitol grounds. Makeshift gallows reportedly had been constructed, complete with steps and a noose.
The Associated Press reported Monday that the FBI is investigating whether some of the attackers intended to kidnap members of Congress, focusing on the fact that some were carrying flex cuffs and had apparently accessed areas of the capital that are not generally familiar to the public.
Charges of felony murder are reportedly being considered in the death of Brian Sicknick, the Capitol officer killed in the mob's attack, under a statute that allows prosecutors to file those charges when a person is killed during the commission of a crime.
On Saturday, family members confirmed the suicide of Howard Liebengood, a Capitol police officer who responded to the pro-Trump riot. One former police chief described Liebengood's death as a "line of duty casualty."
In the aftermath of the onslaught, photos and video – much of it uploaded to social media by the attackers themselves – are being reviewed, and participants in the violence are being identified.
Some of those participants have reportedly been fired, have resigned from their jobs or are facing discipline and public scorn; many have been placed on no-fly lists, and some have been taken into custody by federal officials.
Trump, his champions, and pro-Trump groups and forums have been banned or restricted on Twitter, Facebook, Shopify, Instagram, Snapchat, Shopify, Twitch, Pinterest and Reddit.
The far-right social networking service Parler – utilized by millions of Trump supporters, conservatives, conspiracy theorists and right-wing extremists – has been dropped or suspended by Google, Apple, Amazon, Okta and Twilio.
Even Stripe, which handles payments and transactions for online websites, has announced it will no longer process payments for President Trump's campaign – which continued to solicit funds after Biden's successful presidential bid.
On Monday, House Democrats formally introduced a resolution to impeach Trump, charging him with "incitement of insurrection" for his role in the deadly attack. And a growing number of Republicans say they also want Trump out of office before Jan. 20.
Despite the negative outcome, Carroll said her beliefs are unshaken.
"People need to keep the faith. I haven't lost faith," she said. "Like the disciples – they didn't understand, but they had faith."
***
Story By CLAY NEELY AND REBECCA LEFTWICH
The Associated Press and writers Jill Colvin, Kevin Freking, Alan Fram, Matthew Daly, Ben Fox and Ashraf Khalil in Washington, along with Bill Barrow in Atlanta, contributed to this report.
•••
(Editor's note: Wanda Carroll is not an employee of The Newnan Times-Herald and was not on assignment on behalf of the NTH in Washington, D.C. on Jan. 7, 2021.)
Photos by Wanda Carroll, posted in chronological order
Photos by Wanda Carroll, posted in chronological order