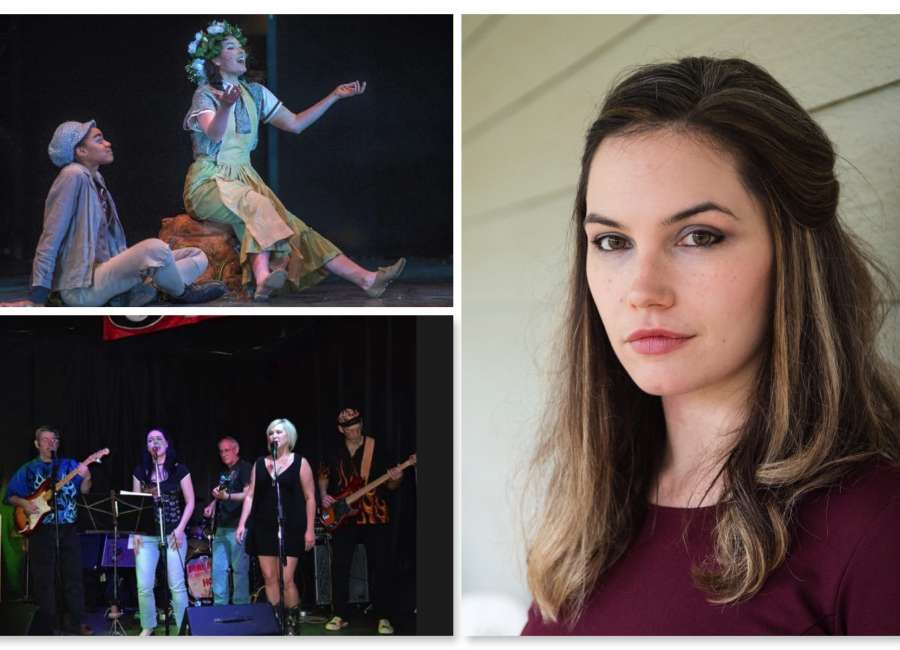 Performers and artists across the nation have been in a state of suspense since last March.
One local vocalist was headed towards a major milestone in her career. Then closings due to COVID-19 subsequently led to a performance world marked by postponed seasons and canceled rehearsal.
Newnan native Robin Sewell is a member of the local band Fire in the Hole and works as a professional vocal performer.
Sewell has been cast in several operas and is employed as a private vocal instructor at Musicology in Newnan.
Sewell spent last year navigating a turbulent time for musicians as an expecting mother and then with a newborn.
"Everything kinda happened right as my career was kinda taking off," Sewell said.
Sewell said she was getting back into things after having a baby in August, and had a lot of gigs lined up, including her first professional role debut with an opera company.
"Of course, when COVID started in March, things started getting postponed. A lot of things are still kinda up in the air," Sewell said.
Sewell has been cast in a role with Atlanta Concert Opera.
"It got postponed and then postponed again. So it's just in limbo right now," Sewell said.
Sewell said she had booked an additional job with Atlanta Opera Chorus that was supposed to begin rehearsals the third week of March.
In the meantime, Sewell said she had been involved with virtual performances as artists find new ways to engage with audiences.
Sewell said she did an online recording for an a capella group in December.
"It was crazy to hear it all together because we had never rehearsed it together," Sewell said.
More recently, Sewell said she did a recorded performance with Capitol City Opera and Atlanta Concert Opera.
"It was a totally different, new experience," Sewell said.
However, there is nothing like a live performance.
"It's thrilling being on stage and singing. Knowing that it's live and anything can happen is a big rush of adrenaline," Sewell said, "It's amazing to be able to tell someone else's story through another character."
Sewell said she was introduced to live music as a child through her parents.
"When I was a little girl, there was always music in my family," Sewell said. "My mom plays piano, and my dad plays guitar and he sings."
Sewell said her dad would practice with his band Fire in the Hole.
"As a child, I was always going to rehearsals and playing with the other kids of the band members. I started getting up and singing probably when I was around 13," Sewell said.
"My dad was always practicing, and eventually I was, too," Sewell added.
Sewell said she began singing with Fire in the Hole when she was 16, and as an adult, she was able to perform gigs with the band.
"The performing we used to do was mainly parties of friends and family, or performing at bars and clubs," Sewell said.
"It's a lot of fun! The people are always great. They have a good time. Someone's always gonna be getting up and dancing," Sewell added.
Sewell said the band plays classic rock, 90s alternative and other genres like blues.
However, that too has been halted by the virus.
One thing Sewell said she has been able to continue with is voice instruction, which she has been doing since 2012.
"I lost a lot of students, but I had enough to stick around with virtual lessons to keep going with that and savings," Sewell said.
Sewell said she "probably lost two-thirds" of her students in the last year, but things are slowly going back to normal.
"I started in-person instruction again last month," Sewell said adding that she is still feeling the blow.
"I've always loved teaching. I've always just had a passion for it alongside performing," Sewell said. "It's so rewarding to me when a student says, 'I didn't know it was that easy!'"
Sewell said she has been passionate about performance ever since singing in a talent show when she was in second grade.
"That first time being on stage in front of people, I just loved it, and I knew I wanted to pursue it in some capacity," Sewell said.
Sewell said school choir piqued her fascination with classical styles of singing.
"I was also in a children's choir at Spivey Hall. It was really those things that sparked my interest," Sewell said.
Sewell went on to get a music degree from Mercer University. Some shows on her resume include "Die Zauberflöte," "Falstaff" and "Hansel and Gretel."
Sewell said she is not sure when performers' careers will go back to normal.
"I don't think they'll go back to what they were before, but I think slowly we'll find a new normal," she said.
Sewell said skills like navigating virtual lessons and performances could change her industry for good.
She said right now, community members can support local musicians by tuning in to virtual concerts, donating to music organizations or trying online lessons for an instrument.
"I can say from my dealings with people in Newnan, and the world in general, music has a power to bring people together and to bring healing to people, too," Sewell said.