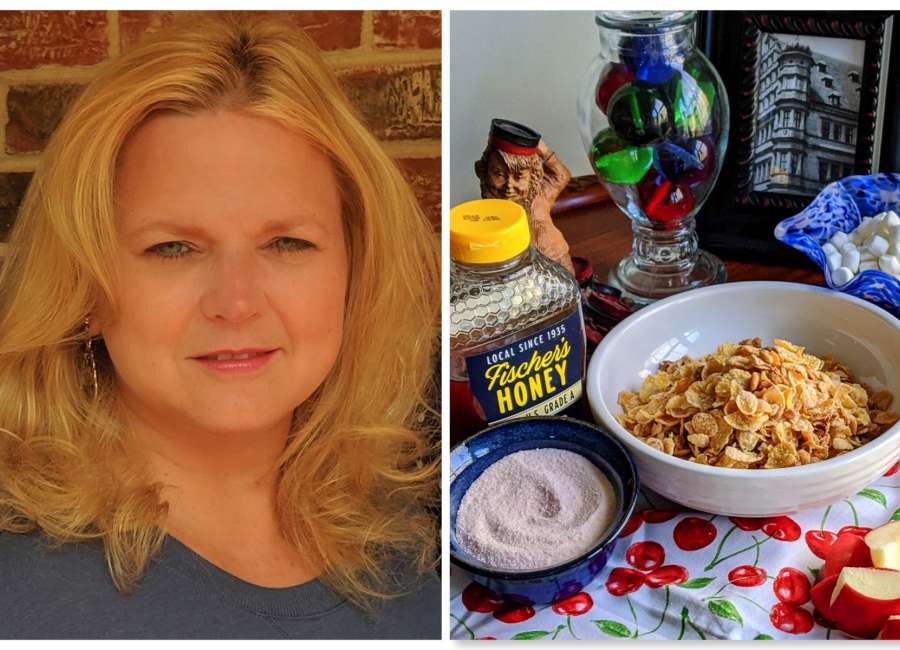 We can't fix the world's problems.

It is beyond our power to make the pandemic disappear from the face of the earth. We don't have the strength. We don't know how to reset the nation, remedy the mounting economic woes or heal the hurts and injustices we see around us.
What we can do, though, is put 2020 behind us and celebrate a new calendar year ahead. Let's welcome 2021 with a renewed sense of spirit and enjoy our friends and family like never before. Savor the delicious and try the unexpected.
Cooking is a great way to relieve stress, spend time with family members and create food gifts to drop off to others. Make some crunchy granola bars for breakfast or for a snack, stir up some fresh salads for a quick meal or prepare some sides to go along with chicken or barbecue you can pick up from a favorite restaurant.
So, break out those kitchen tools and cooking gadgets and explore a new flavor or experiment with new recipes. For me, it will be learning how to use the new air fryer I received on Christmas morning. Just remember, if things don't turn out like you expect them to in the kitchen (or in life), move forward and don't let a bad meal (or life's problems) slow you down from pressing on to the next goal, lesson or blessing.
Rocky Road Bars
Don't let the rocky road of life get you down! Smoother days are ahead!
2 tabelspoons butter
1/3 cup honey
4 cups miniature marshmallows
6 cups Honey Bunches of Oats Honey Roasted cereal
1 cup cocktail peanuts, chopped
¾ cup semi-sweet chocolate chunks, softened slightly in the microwave about 30 seconds and chopped, or semi-sweet chocolate morsels
In a large bowl, microwave the butter and honey for 1 minute; stir until blended. Add marshmallows and toss to coat. Microwave for 1 minute or until marshmallows are melted and puffy. Stir until well blended. Add the remaining ingredients and mix well. Press the mixture into a greased foil-lined 9x13 pan. Cool completely. Cut into 24 bars.
Sunny Side Fruit Salad
Take a stroll on the sunny side of the street.
2 large Red Delicious apples, chopped
2 ripe bananas, sliced
1 (20 ounces) can pineapple tidbits
2 heaping tablespoons powdered Tang drink mix
1 (3.4 ounces) vanilla instant pudding mix
Drain the pineapple and reserve the juice. Mix the Tang, pudding mix, and pineapple juice in a bowl; stir until well combined. Pour the mixture over the fruit and toss.
Better Days Ahead Salad with Dressing
Turn a new leaf in 2021.
4 cups iceberg lettuce, torn
3 cups romaine lettuce, torn
2 stalks celery, sliced
2 green onions, sliced
1 small cucumber, sliced
1 (10 ounces) package frozen green peas, thawed
¼ cup vegetable oil
3 tablespoons red wine vinegar
3 tablespoons fresh parsley, minced
1 ½ tablespoons sugar
½ teaspoon salt
½ teaspoon garlic salt
¼ teaspoon oregano
Freshly ground black pepper to taste
Combine lettuces and other vegetables in a large bowl with a lid. Refrigerate for 2 hours. Combine the dressing ingredients in a jar with a lid; cover and shake until well combined. Chill. Add chilled dressing to the salad just before serving and toss.
It's a New Day Potatoes and Broccoli
You can start afresh in 2021.
3 tablespoons olive oil
3 cloves garlic, minced
1 tablespoon Italian seasoning
¼ teaspoon onion powder
18 ounce fresh broccoli florets
1 pound baby (new) potatoes, quartered
1/4 cup freshly grated Parmesan
Kosher salt and freshly ground black pepper, to taste
2 tablespoons fresh parsley, minced
In a small bowl, whisk together olive oil, garlic, Italian seasoning and onion powder; season with salt and pepper, to taste. Line a rimmed baking sheet with parchment or foil and spray with olive oil, then place the broccoli and potatoes in a single layer. Spoon the garlic mixture over the broccoli and potatoes. Cover with foil and bake at 400 F for 15 minutes; remove foil and flip the vegetables with a spatula, then return to oven and bake uncovered an additional 13-18 minutes or until potatoes are tender. To serve, sprinkle with Parmesan cheese and parsley.
Amy Fischer, a librarian by trade, lives in Fort Payne, Alabama, and is a Southern food enthusiast who loves to spend time in the kitchen creating tasty recipes. You can contact her at facebook.com/MySouthernTable .