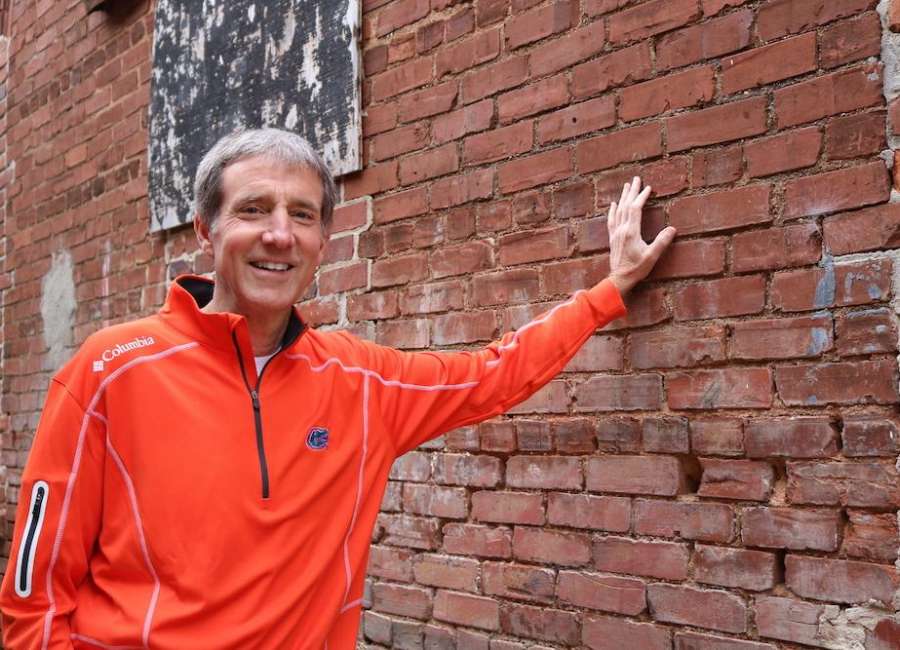 There was a time in my life that all I wanted to do was play golf.
It lasted for almost a decade, before I started running because I thought it was better for me; better, as in less expensive. Also, in running there are no two-stroke penalties or 30-pound bags to lug around on my shoulder. And nothing is 'out of bounds.'
I was a pretty fair golfer. I won my first tournament at the age of 12. I was named to Jacksonville's All-City high school golf team my sophomore and junior years. (What happened my senior year is another story for another day.) At 16, I finished as the *runner up at the prestigious Arthur Jeffords Memorial golf tournament in Savannah.
Supposedly, that performance would enhance my resume if I wanted to play golf for the University of Florida. (A few years later, I proved that to be false; another story for another day.)
* I swear to this day that John Stacy only won the tournament because
(a) it was played on his home course and that gave him an unfair advantage,
(b) he came from a golfing family – his sister Hollis won the U.S. Women's Open
three times, and (c) he was a much, much better golfer than me.
I've been asked many times if I ever had the opportunity to meet any really famous golfers in person. Sorry to disappoint, but the short answer is this: close, but no cigar. Or, putting it into golfing terminology, I was just off the green. Now for the long answer.
I played a lot of golf at the Mayport (Florida) Naval Station golf course. For several years, the course hosted a tournament offering a rather small purse of prize money. Since I was still in high school, the head pro wouldn't let me play, but he said I could caddie because I knew my way around the golf course pretty well. I caddied for two years: the first for George Shortridge, the second for Jim Delich. (I'll wait while you Google their names.)
I'll be honest: I Googled their names as well. Apparently, both golfers added to their resumes after I showed them around Mayport. In some small way, I'd like to think I had something to do with their success, as insignificant as it may have been. The only thing I remember about the experience – and I remember it vividly - is that on the third hole, Delich took a few angry swings at the ground after hitting a bad shot and eventually ripped a large divot from the ground, The divot flew through the air and landed on playing partner Dewitt Weaver's head.
Golf fans will recognize the name Dewitt Weaver. He played on the PGA tour for many years. Coincidentally, I wrote a column about Weaver's three talented grandchildren a couple years ago. I asked their father to ask his dad (Dewitt) if he remembered the divot toupee. Unfortunately, he didn't even remember playing in the Mayport Open, which I think is because of the rather small purse of prize money I mentioned earlier.
One summer, that same head pro invited me to join him in an exhibition match with Steve Melynk, the 1969 U.S. Amateur champion. I can still hear what Melynk said to me as I was holding the flag for him as he was getting ready to putt, as clearly if it was only yesterday: 'Would you mind standing on the other side of the pin – I can't see the cup because of your shadow.'
Forty years later, I saw Melnyk prior to the SEC Championship game in Atlanta (he, like me, is a Florida Gator). I pointed him out to my wife (also a Gator), and she encouraged me to approach him to see if he remembered me. I said there wasn't a chance, seeing as how he probably played golf with thousands of people since then. The thought had me silently hoping that at least one of them had casted their shadow on the cup while he was putting. Otherwise, there was a good chance he would have remembered me, and things could have gotten ugly.
As a teenager, I played golf regularly with two men who were famous in a 'six degrees of Kevin Bacon' kind of way. Wayne Sifford was the nephew of Charlie Sifford, the first African American to play on the PGA tour. Billy Strange told me he was related to two-time U.S. Open champion Curtis Strange, but he never explained how.
My high school golf team volunteered at the Greater Jacksonville Open a couple of years. We performed our duties before the golfers arrived, and again after they left. In the time between, we were free to roam the course and watch the golf. The only autograph I ever asked for in my life was Ben Crenshaw's. He was young, had long hair, wore corduroy pants, had a picturesque swing, and was extremely good looking. We were exactly alike, except for the picturesque swing. That, and I looked more like Raymond Floyd. I have no idea whatever became of that golf ball Gentle Ben, as he was called, autographed for me, which is a shame because now it's worth $40 on eBay.
A vendor I worked with invited me to the Masters in 2007. We were in Augusta for a couple of days, and we slept in the vendor's RV in a parking lot close to the golf course. One evening, after the day's round was over, I was standing in the middle of the dirt road running through the lot when a car drove up and came to a stop. The driver's door opened and out stepped Stewart Cink, who was playing in the tournament. We made a connection almost instantly. Cink: 'Would you mind getting out of the way?' Me (after a five-second deer-in-headlights pause): 'ok.' We've been pals ever since.
Once, I volunteered to work at the East Lake Golf Club for the FedEx Cup. (It cost me $85 and four days of my life I'll never get back.) One afternoon while I was on duty, Frank Nobilo, a former player working at the event for the Golf Channel, drove up to me in a golf cart. He stopped, looked at me as if we had known each other all of our lives, and said 'hey, mate; how about getting that gate for me?' As I did with Stewart Cink, we formed an instant friendship. The Nobilo family is on my Christmas card list. The Cink's, too. So are the Crenshaw's.
There is no need to ask me ever again if I've met any really famous golfers in person. That question has been answered, and is now out of bounds.
Scott Ludwig lives, runs and writes in Senoia. His latest book, "Southern Charm" is a collection of his first 101 columns for The Newnan Times-Herald. He can be reached at magicludwig1@gmail.com .