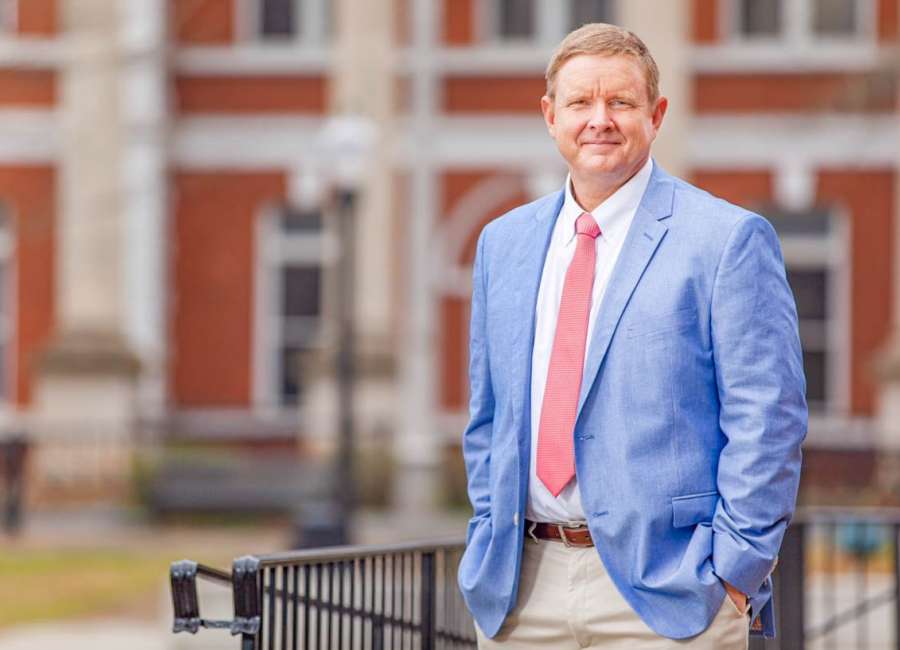 New Georgia State Rep. David Jenkins will begin his term under the gold dome Monday – but it will be a different kind of first day of the session.
Normally, newly elected representatives and senators bring along a large group of family and friends for the mostly ceremonial first day, for photos of the swearing in and photos with legislative leaders. But because of COVID-19, Jenkins will only be allowed to take one person with him, his wife, Cat.
Jenkins, a Republican, was elected in November to the Georgia House District 132 seat, defeating incumbent Democrat Bob Trammell. District 132 includes portions of Coweta, Meriwether and Troup counties.
Jenkins lives near Luthersville in Meriwether County, though his mailing address is Grantville. He's completed his new legislator training and is excited to get started.
"it's an honor to serve, and I am so humbled to have this opportunity," he said.
Probably the biggest unknown of the session will be just how things will run with COVID-19.
"It's not going to be business as usual," Jenkins said. "It's just a completely different experience than anyone has ever had before."
Legislators will be tested multiple times a week for COVID-19, and Georgia Tech will have a rapid testing site set up, Jenkins said. Legislators will probably have to be spaced out – much like they were when the legislature reconvened in June. But it will be difficult to have an entire session like that.
"Hopefully the vaccine will start to change things, and we can find something that looks a little more like normal there. But we'll get through it," Jenkins said.
The biggest priority for Jenkins right now is the rollout of the COVID-19 vaccine. Jenkins is an air ambulance pilot, stationed at the Newnan Coweta County Airport and said as a health care worker, he will be receiving the vaccine.
He said he's been keeping in contact with the county officials in the three counties he represents to keep up with the vaccination process and see how he can help. Jenkins said he's looking to identify any structural issues he can help with.
"I think it's the most important thing happening right now, honestly," Jenkins said of the vaccine rollout.
The other big priority for the session will be a hard look at Georgia's election laws.
"Number one, we have to restore public confidence in our elections," he said.
What may have formerly been an acceptable margin of error in our election system is too big for the razor thin election margins that we're dealing with now, Jenkins said. During the hand recount of the presidential race, a few counties found that they had missed counting hundreds to thousands of ballots during the digital upload of results.
Those changes trimmed Joe Biden's lead over Donald Trump by over 1,200 votes.
"We need to look at whatever we can do to make elections more secure and make the public more confident in them so that we can move forward with them," Jenkins said. "As elections get tighter, things that didn't matter begin to matter," Jenkins said. "Every vote counts – and it should."
When asked about specific changes, Jenkins said he'd like to tighten up the absentee ballot rules, including doing away with the "no excuse" absentee voting system that has been in place since 2005.
Before that change, voters could only vote by absentee ballot for a reason – that they would be out of their precinct on the day of the election, were living overseas or were disabled, for instance.
With the current availability of in-person early voting, Jenkins thinks it would be OK to go back to requiring a reason to vote absentee.
He'd also like to see post-election procedures regarding monitoring and public access be more specific. There are procedures that allow for monitors from political parties to observe processes. But "if a county chooses not to cooperate, there really is no recourse," Jenkins said.
The elections Jenkins is most familiar with are those in Coweta, Troup and Meriwether. In those, "everything goes just like it is supposed to," he said, but he hears of issues in other counties where monitors were having trouble getting access.
Secretary of State Brad Raffensperger has asked for some authority to increase state oversight of local election boards, including the ability for the state to come in and make changes to county elections offices that are consistently failing.
"I'm not quite sure what that is going to look like," Jenkins said. "It's certainly an authority we need to look at giving the state if we consistently have problems with an election board."
"I know there is a lot of research being done now, and I'm ready to learn more about the problem," Jenkins said. "I want every vote to count, and at the end of the day, I want everyone to feel confident in the process."
New legislators are assigned to committees in the first few days of the session. Jenkins said he has asked for the Health and Human Services, Transportation and Public Safety committees. As an air ambulance pilot and former law enforcement officer, Jenkins said he thinks those three committees are where he can be the most useful.
In his first year as a representative, "I'm going to get up there and build relationships and kind of see how it goes," he said. There are 180 House members. "You've got to get a lot of people on board to do anything, so that is very important to my strategy to really serve the district and be effective," he said.
Work will also begin on reapportionment and redistricting based on the 2020 Census count. Jenkins expects that some major changes may be made to District 132 for the 2022 elections, as well as to other districts. Districts 70 and 71, currently represented by Lynn Smith and Philip Singleton, will likely have to shrink in size because of increases in population. District 132's population is about right, but he expects it to change shape.