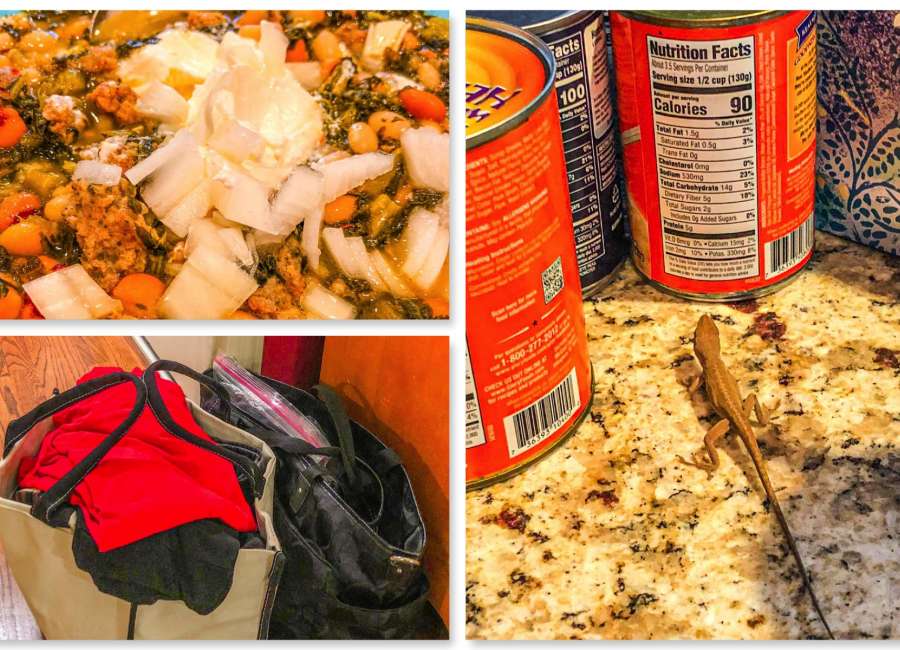 And I do mean anew.
Time to start anew after a sucky 2020 (gone but not ever forgotten). 2021 is where it's at now. But let's just review for a brief moment, shall we?
What last year spelled out for us:
Life is full of dichotomies: life and death, the haves and the have nots, the sick and the well, good and evil, real and imaginary, helpful and not helpful, civilized and savage, Democrats and Republicans. Life and death are not necessarily easy nor are they predictable. And if you ever thought they were, 2020 thoroughly disabused us all of that silly notion. We are not promised tomorrow.
So Carpe damn Diem, children.
That's why on New Year's Day 2021, Rick and I begin anew by fixing our traditional southern New Year's good luck meal, "Rick's Really Good Turnip Green Soup." We watch the Georgia Bulldogs win in the Peach Bowl against Cincinnati, and oh yes, what's that stuff sitting on the floor by our basement door? Oh, that's just my "go bag" and purse, packed just in case we have to run to the basement because there are tornado warnings all around us today.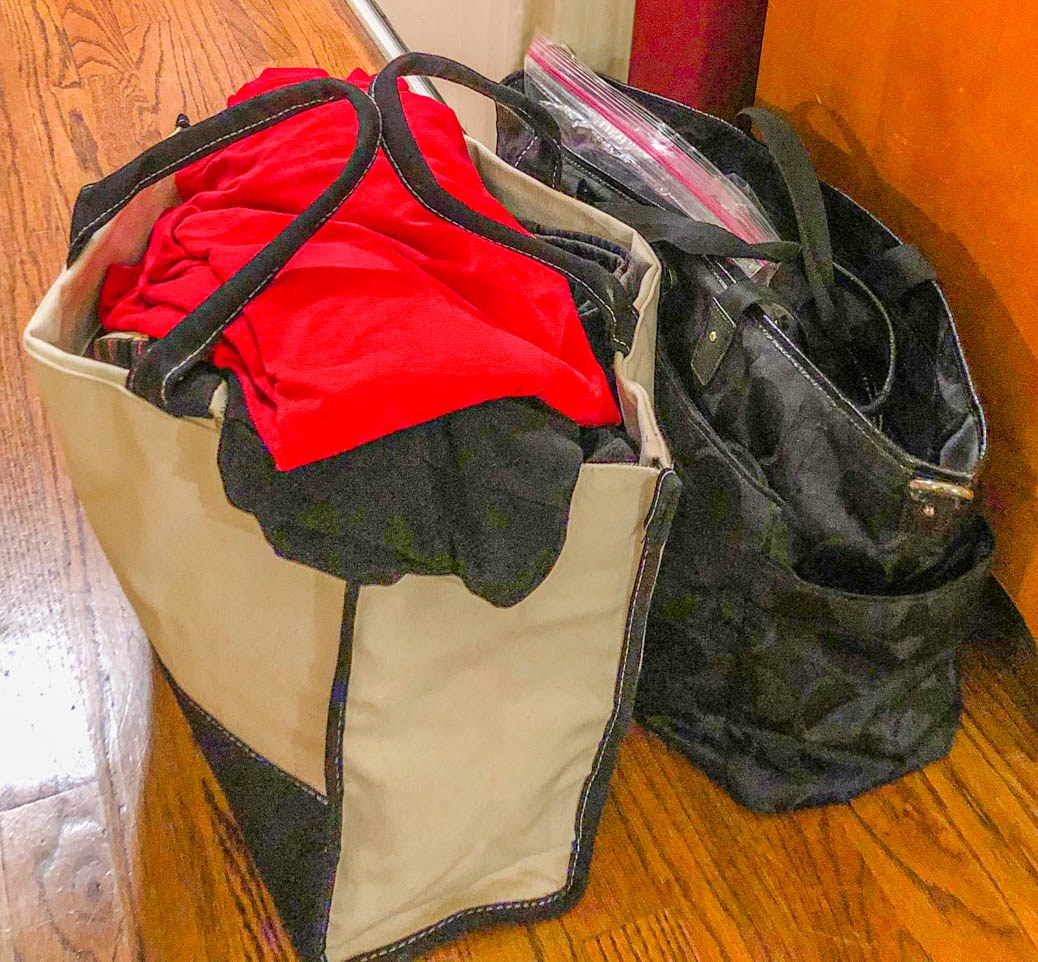 Perhaps this might be a good time to talk about the little chameleon who snuck into my kitchen while the door was open yesterday. Why was the door open? Because I was coming inside and tripped up the steps, quite ungracefully, landing likewise, and the door stayed open until I could get up. That took way longer than it should have. He must've scooted in and has been hiding out because we didn't discover him until this morning, on our kitchen island among the ingredients for soup! We covered him gently with a box, slid a stiff paper underneath, and Rick took him outside to release him.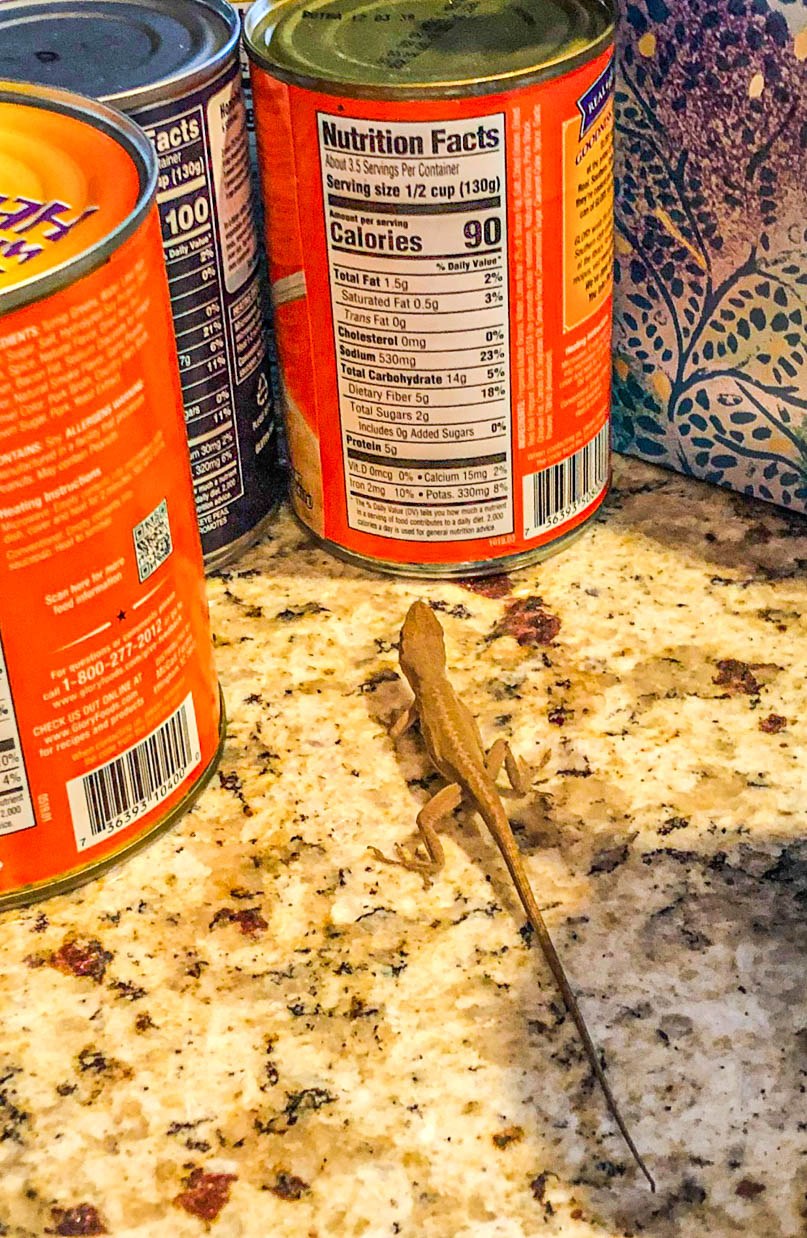 I still haven't, however, shaken the horrifying idea of a lizard, cute notwithstanding, falling into my soup pot somehow. This is what lids are for. Covered pots are for repelling surprise lizard guests and protecting pristine soup. See? Nothing is straightforward or congruent or predictable in this life.
Meanwhile, we pack away Christmas. I didn't decorate as much this year, and that meant fewer trips up and down the stairs from the basement where every last Christmas thing is stored, which may just be a trend I want to embrace for the future. At this age, it's quality, not quantity. It's about 10 trips on the staircase this year vs. 100 or more (it seems) in years past. This has been the holiday of masks and horrors, especially if you've suffered, or are currently suffering, from COVID, had to care for those who suffered, had to quarantine, were forced to be apart from loved ones or had to say goodbye to them forever in absentia via a discomfiting Zoom or Facetime session. But vaccines are beginning to appear, and 2021 looks to be a lot less hopeless than 2020. Now another dichotomy appears: vaccine takers and vaccine not-takers. See what I mean? Dichotomies R Us.
So we learn that life is not a straight line, and we shouldn't expect it to be. That doesn't mean we can't live in hope and help ourselves and others in selfless ways. So we do: contribute what we can to the world with our donations, our votes, our kindness, inclusion and selfless compassion. Or we don't. Ding, dichotomy again. Rick and I choose the "do." At least we try to. #notperfect. #onlyhuman.
We eat our Southern good luck meal on New Year's Day, with greens for the color of money, pork for progress because pigs root forward, goes the story. Don't eat chicken or turkey on New Year's Day because they scratch backward, and for the love of Elvis don't eat beef because cows stand still, and no one wants any of that. We eat black-eyed peas, too, for good measure. I don't know why, exactly, but I'm pretty sure it has to do with beans swelling, therefore symbolizing growth and prosperity. I've even heard of some folks throwing a dime in the pot with the black-eyed peas for an extra dose of good luck for the person who gets the dime in their serving.
Not so sure that's prosperity or even a semi-great idea since a dime is smaller than a plastic baby hidden in a Marti Gras King Cake, and it's not very lucky, is it, if you swallow a heavy metal and end up in the ER during a pandemic, or any time for that matter? If you're lucky, you can opt for waiting vigilantly. If you survive. Is there such a thing as dime poisoning? Well, I flat out don't like the idea of dimes – or lizards for that matter – flavoring my soup or my black-eyed peas.
Also, this year we opted out of making golden, buttered cornbread or sweet mini cornbread muffins, an obvious symbol of prosperity, riches and gold. Duh. We are officially jumping on the diet wagon. Carbs and their evil twin, sugar, aren't coming along. Eating better will most certainly not be an easy, straight path, either, but it's a start. That joke about gaining the COVID-19 like the Freshman-15 is real. Maybe even a pound or two more, or multiples thereof, if some of us were to be honest.
I hope 2021 brings all of us a very different year than the last one. All we can do, when there is a choice, is choose our dichotomies carefully. When there is no choice, like dying, for example, when we or a loved one would really rather not, I wish us all love, comfort,strength and forward motion through the impossibly difficult.
And a big, hearty bowl of possibilities for those who remain and are able: Rick's Really Good Turnip Green New Year's Day soup.
Rick's Really Good Turnip Green New Year's Day Soup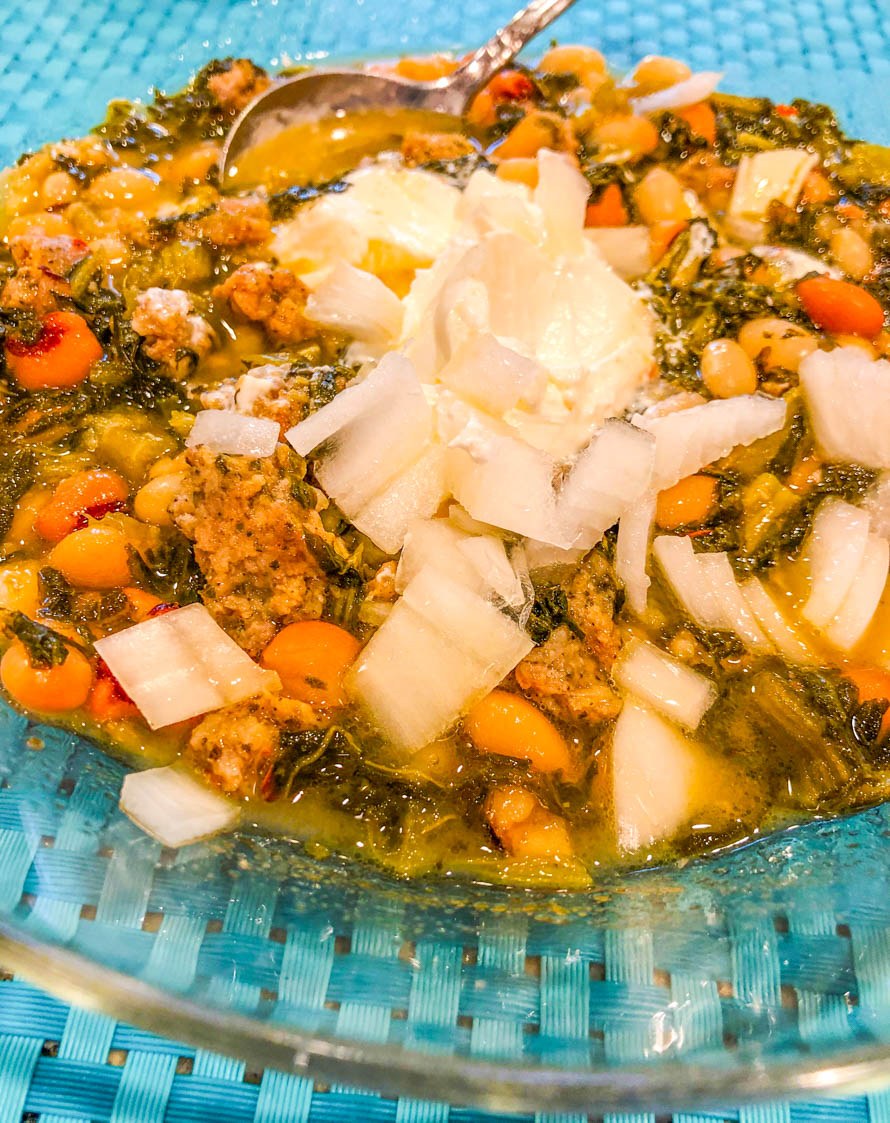 After Rick's 2006 pheasant hunting trip to Iowa, he couldn't wait to try this recipe for soup given to him by Mr. Ellis Camp. It's absolutely delicious, and very hearty. It's our southern New Year's Day Soup every year.
1 pound sausage (Jimmy Dean), cooked
1 16-ounce can black-eyed peas
1 16-ounce can navy beans
1 16-ounce can northern beans
1 16-ounce can or box of chicken broth
1 27-ounce can turnip greens
Cook and drain sausage. Mix all together in a large pot and cook until heated through. I like to simmer it for an hour, so flavors are really blended. Serve with chopped onion and sour cream for toppings, and a side of golden cornbread or sweet corn muffins.
Susie Berta has many creative pursuits, including music, art, writing, cooking, gardening, entertaining and decorating. She has lived in Newnan with her husband, Rick, since 1977. They have raised two boys and have two grandchildren. She is retired from a long career as a vocalist/performer, having sung for many years in the Atlanta Symphony Orchestra Chorus and Chamber Chorus, as a staff singer at St. Mark UMC in Atlanta, and in many other venues, in addition to her one-woman show, "All Grown Up," at the Rialto Theater in Atlanta. As an empty nester, she returned to school in 2003 and earned a BFA in art at Atlanta College of Art and SCAD Atlanta. She is now pursuing her passion for writing and is currently working on her memoir, The Veterinarian's Wife.