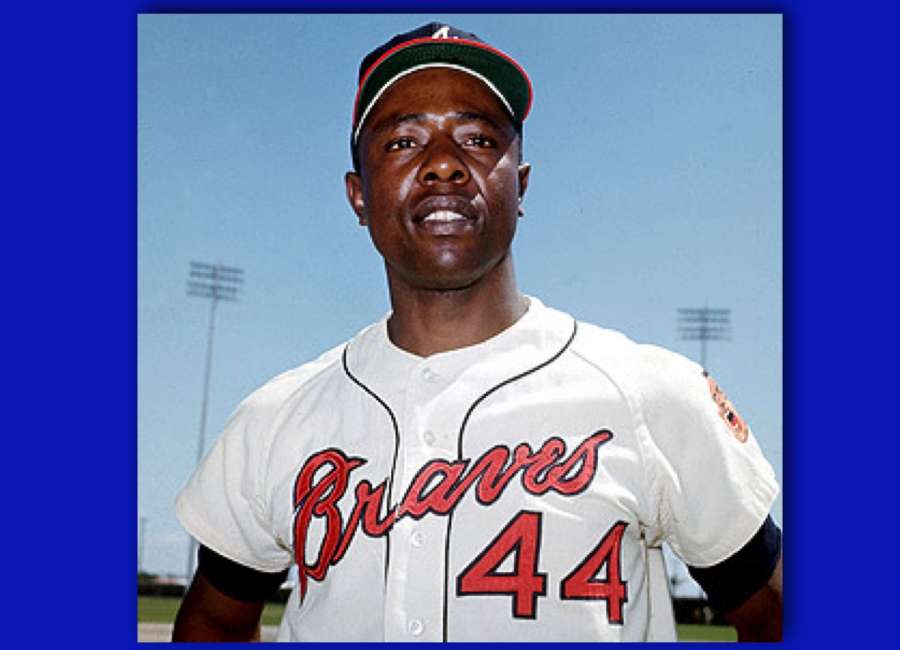 Henry Aaron, the legendary Atlanta Braves slugger who broke Babe Ruth's career record for home runs and battled racism, died on Friday, Major League Baseball confirmed. He was 86.

Nicknamed "Hammerin' Hank," Aaron knocked 755 home runs over the span of a 23-year playing career in the major leagues, a record-setting milestone that he held for more than three decades. He was among the greatest baseball players to ever take the field.
Born in 1934 in Mobile, Ala., Aaron swept into the Negro American League as a hugely talented outfielder before signing with the Milwaukee Braves in 1952. He shot into the big leagues two years later and won most-valuable player honors in 1957 as he led Milwaukee to a World Series victory.
Aaron continued to rack up hits, homers and All-Star honors after the Braves moved to Atlanta in 1966. He belted his 715th home run in 1974, marking an achievement the pursuit of which drew death threats and racist attacks as Aaron neared the record Ruth held for almost 40 years.
Aaron, who was Black, was unfazed by the racist threats and hate mail aimed at deterring him from breaking the white New York Yankee legend's record. His determination won worldwide praise from political leaders, celebrities, sports figures and fans.
"What a marvelous moment for baseball," said sportscaster Vin Scully as he called Aaron's historic home run on April 8, 1974. "What a marvelous moment for Atlanta and the state of Georgia. What a marvelous moment for the country and the world."
"A Black man is getting a standing ovation in the Deep South for breaking a record of an all-time baseball idol. And it is a great moment for all of us, and particularly for Henry Aaron."
Aaron finished his career two years later with the Milwaukee Brewers and was inducted into the Baseball Hall of Fame in 1982. He joined the Atlanta Braves' front office as senior vice president and received many awards including the Presidential Medal of Freedom. He lived in Atlanta.
In 2007, Aaron congratulated former San Francisco Giants slugger Barry Bonds for breaking his career home-run record, saying he would "move over now" as another great player took the title of all-time home run king.
"My hope today, as it was on that April evening in 1974, is that the achievement of this record will aspire others to chase their own dream," Aaron said in a video message.
Athletes, sports writers and political leaders commemorated Aaron with resounding words of praise on Thursday. Other Braves legends including former sluggers Dale Murphy and Larry "Chipper" Jones highlighted Aaron's legacy on and off the field.
"There was a certain spirit, even a reverence, when in Hank Aaron's presence that you could feel," Murphy said. "Grace, strength, integrity. We were blessed to have known him."
"He spread his grace on everything and everyone he came in contact with," Jones said. "Epitome of class and integrity."
"One of the greatest baseball players of all time, he has been a personal hero to us," said former President Jimmy Carter. "A breaker of records and racial barriers, his remarkable legacy will continue to inspire countless athletes and admirers for generations to come."
"Hank Aaron was a trailblazer and a hero who had to stare down hatred," said former CBS News anchor Dan Rather. "He was also one of the best ballplayers to ever play the game. He was a joy to watch and a marvel to behold."
"Watching him break Babe Ruth's record for most home runs on television was a monumental moment," said musician Lenny Kravitz. "As a young Black child, he inspired me to push for excellence."
"Hank Aaron was an American icon and one of Georgia's greatest legends," said Gov. Brian Kemp. "His life and career made history, and his influence was felt not only in the world of sports, but far beyond – through his important work to advance civil rights and create a more equal, just society."