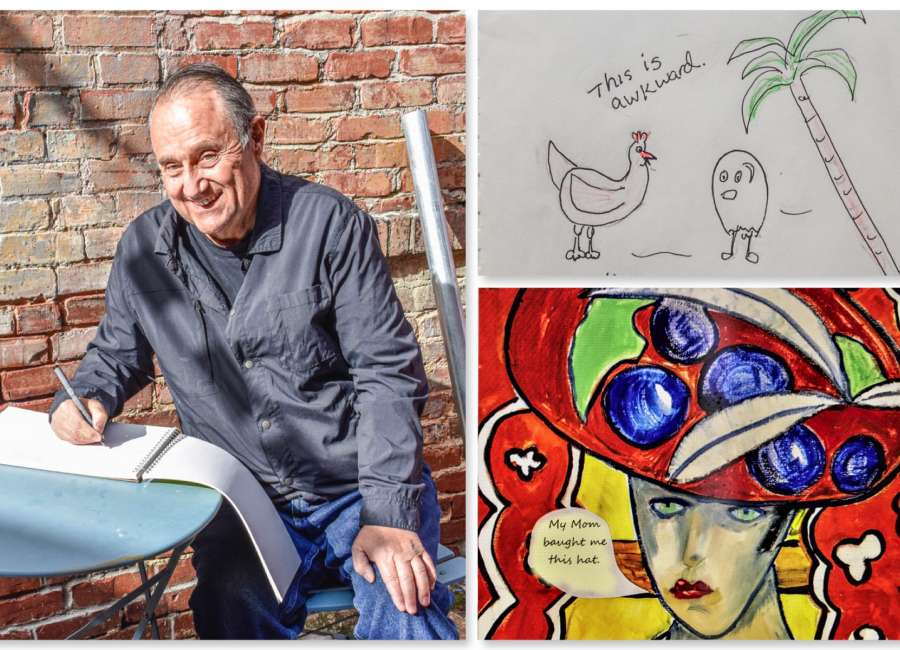 It's been a rough year, and local artist Robert Hamman is ready to laugh again.

Last spring, the longtime artist began his venture into the world of drawing cartoons. He's been drawing since he was a kid. He's utilized pastels, watercolors and acrylics. However, he never focused exclusively on one particular style.
"I can do portraits, landscapes or whatever I could see," he said. "Whatever I could get a picture of — cityscapes, forests or abstracts — I would paint."
For Hamman, his art has been a means to relax and was never meant to provide any kind of income. While he admires the work of local artists like Martin Pate and David Boyd Jr., he considers them in a different realm.
"They're doing portraits and plein air painting, and that's their thing," he said. "That's how they make their living.
"I don't live on my paintings — not that I could anyway," he joked.
During his time as a medic in the Air Force, Hamman took an advertising art class along with his nursing classes in San Antonio. He wound up with an associate's degree in advertising art and spent a brief stint working for an ad agency.
"I wound up doing a billboard and menu for Margarita's Restaurant," he said. "But the nursing degree has been my bread and butter for all these years."
Hamman found his way to Newnan in 1991 after marrying his wife, Tarita, who grew up in Coweta. Her parents, Bob and June Brewer, were active in the community and eventually settled down in Grantville.
During that time, Hamman paid the bills as a nurse, eventually ending up working in the home health field before renal failure forced him to go on disability five years ago. He's still waiting for a kidney transplant.
His recent interest in cartoons began earlier this year, which originated with his "serious" paintings.
"People like cows, so I painted these cows, but it looked like they were talking," he said. "So I put a caption on it."
It made Hamman laugh, so he went with it.
"I figured since no one else is really looking at these paintings, if I put some captions on them, maybe they'll look at the work. Soon, the ideas started flowing."
Inspired by the SNL "Deep Thoughts" sketches of the early '90s, Hamman entitled his modified works as "Mellow Thoughts." Soon, he began filling up one sketchbook with cartoons, and then another.
"My son thinks they're funny, Parks (Avery) thinks they're funny, and the folks at the dialysis clinic think they're funny," Hamman said. "My wife doesn't."
Once he gets to 500 cartoons, Hamman plans to get a book published with his work.
"I've always been a smart ass, and it's often hard to express myself," he said. "What better way than through cartoons?"