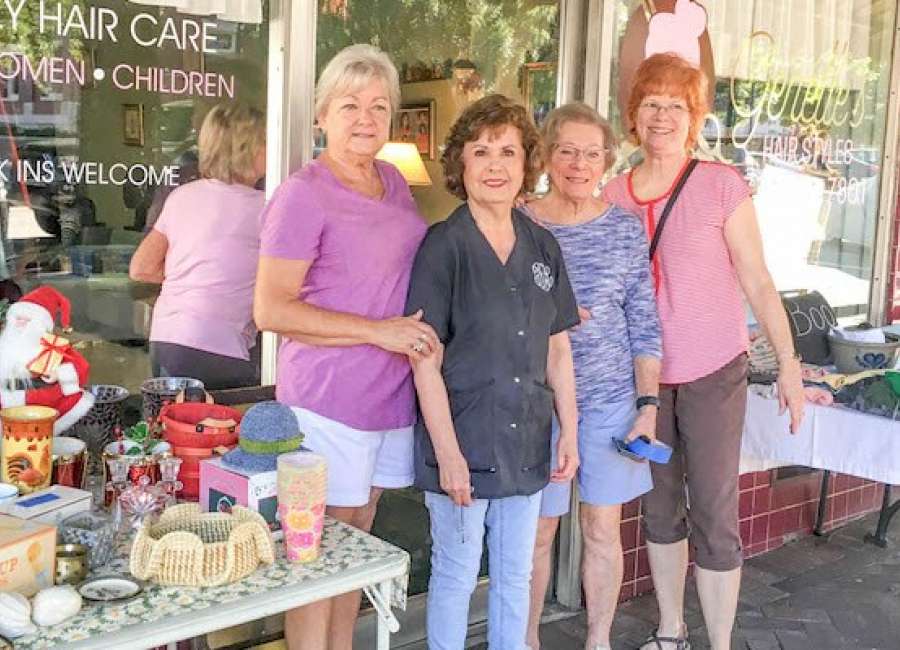 After 38 years of cutting hair on the square, Genelle Davenport closed her salon, Genelle's Hair Styles, at the end of 2020.

Davenport said she decided to close the salon because of her age, and her husband, Jimmy, needed her at home. They will celebrate their 60th wedding anniversary in May.
She also decided to close because of the COVID-19 pandemic.
"I didn't know what the first of the year would bring," Davenport said.
The salon was shut down for six weeks in the spring because of the pandemic, which was the longest Davenport had gone without working. After the salon reopened, Davenport cut back on hours, also because of the pandemic.
The last day the salon was open was Dec. 30, and Davenport cleaned it out on Dec. 31. She gave away most of the equipment from the salon, and her friends Willie, Connie and Lisa helped her move out.
"It was a big job cleaning it out," Davenport said. "I was excited and a little sad and apprehensive."
Davenport grew up in the Welcome community with her parents and siblings. She began cutting hair when she was in the 11th grade.
Since she was young, she knew being a hairdresser was what she wanted to do, and she stuck with it. Davenport learned on the job, through experience and good leadership.
"A lot of it comes natural if you have some talent," Davenport said.
Davenport worked at salons around Newnan, before she bought Ciel Dunaway's salon in 1982.
"She was ready to sell, and I was ready to buy," Davenport said.
She said she didn't want to have to move salons again, and she liked being in town so her clients would know where she was at.
Davenport cut women's, men's and kid's hair, and Nancy Larose worked with her at Genelle's for about 35 years.
Some of her favorite memories from the salon are meeting new people and clients, whom she became friends with.
Davenport said she'd been working with some of her clients for 40 or 50 years, and they already miss her. She said she's gotten lots of sweet messages and cards since closing the salon.
Over the years, Davenport said the salon didn't change much. She kept a lot of the old equipment and hardly replaced anything.
"I worked with what I had," Davenport said.
Davenport cut Newt Gingrich's hair in her shop while he was working in Carrollton. She said that's the most famous person whose hair she'd ever cut.
Genelle's Hair Styles has been in about eight movies, Davenport said. She remembers actress Judith Light coming into the salon once, and meeting Jack Black while he was in town for a movie.
Davenport is a member of the Philanthropic Educational Organization, a women's organization focused on providing educational opportunities for female students.
Davenport's friend, Connie Psathas, wrote about her in a newsletter to their chapter, "Her favorite thing in life is meeting people and getting close to them."
"She cherishes all the friendships she has made – most everyone is like family," Psathas added.
For now, Davenport said she's enjoying staying at home. She said once the COVID-19 pandemic is over, she hopes to travel to Tennessee and Texas to visit her three grandchildren and four great-grandchildren.
"My husband's a stay-at-home person, so I'm really happy to be home with him," she said.
Davenport loves cooking, needlework and quilting, and is hoping to do more of that.
She went to a salon to get her hair cut and colored this week, and said it was very relaxing.
"I surely enjoyed it," Davenport said.
Let Them Eat Toffee plans on expanding its shop into the Genelle's location, said owner Phyllis Graham. She said they are hoping to be open in that space by Easter, depending on how things move along.