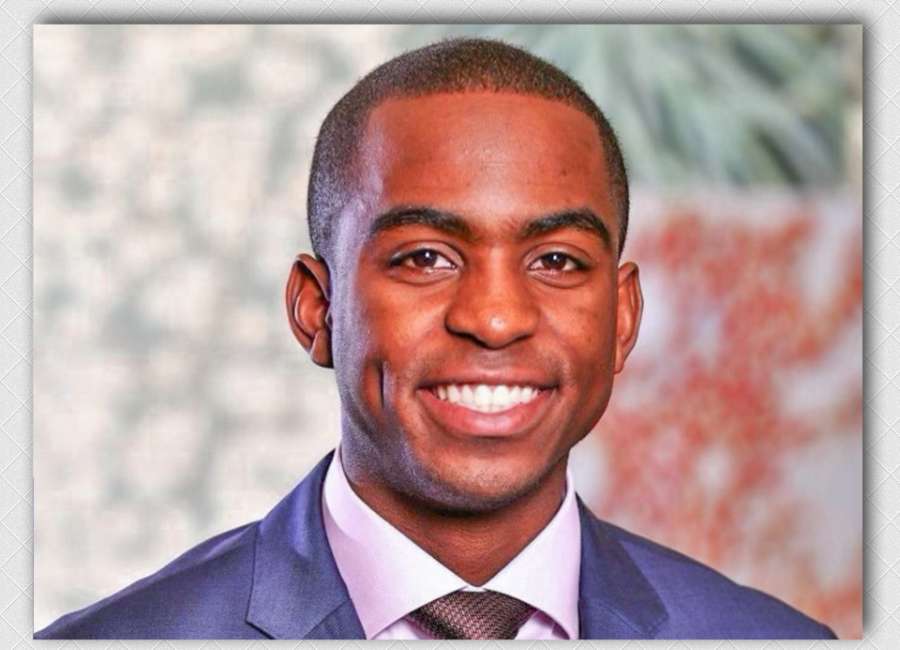 Coweta native Pierre Whatley believes good education and good government go hand in hand.
Born and raised in Newnan, he attended public school at Ruth Hill, Jefferson Parkway and Smokey Road before graduating from Newnan High School in 2007.
At NHS, Whatley discovered his love of public service and his tenure as SGA president sparked a love for public policy and politics, which further developed as a Howard University student.
"I knew that if I wanted to be in the mix up here in D.C., there was no better place for my education," he said.
Whatley was still in college during the financial crisis of 2018, which helped shape his perspective of what policymaking would look like if there were more people at the table that looked like him.
"That was my driving factor to get involved," he said. "When I got the opportunity to join Capitol Hill in the private sector, I wanted to see what impact I could have during this pandemic. I've always enjoyed helping and have the heart to help and serve others, which transcends race and ethnicity."
A different kind of rally
While living in D.C., Whatley has spent time attending rallies for nearly every cause under the sun.
"There's always a rally about something, and it seems like they're almost every weekend," he joked. "But it boils down to wanting to hear and see things for myself, instead of through the lens of the media, regardless of their political slant."
Before Jan. 6, Whatley had attended several Trump rallies but said there was something different this time.
That morning, he was returning to D.C. after voting in Newnan the day before. During his 10-minute walk from his apartment to his office on Capitol Hill, he took in the action.
"The energy was different," he said. "Walking to the office, you could feel the rumblings of the people and sense they were there to cause chaos."
He recalled people yelling, marching and holding signs like a normal protest, but said he was unnerved by strangers asking other strangers who they voted for and the usage of the N-word.
He said the mood felt strikingly darker than previous rallies, also noting a large presence of weapons being carried by those in attendance.
"These last few in D.C. have been different, and I believe there's not a peaceful intent, but one to incite," he said.
Soon after arriving at his office in the complex, things were locked down and he watched the events unfold on the television. When it was safe to leave, he watched the crowd dispersing as he made his way home that evening.
"Things were still tense, frightening and angry," he recalled.
Like billions of other people around the world, Whatley watched the news in disbelief over the next few days. The more information that came in, the clearer the picture became.
One striking image is the discrepancy of security forces between last summer's Black Lives Matter rallies and Trump's rally from Jan. 6.
"It's one of those things where the whole world is watching and seeing the gravity of the situation," Whatley said. "They see how America treated two different segments of the population, engaging in similar protests and how we responded."
The following day, President-elect Joe Biden confirmed these perceptions seen by Whatley and millions of others.
"No one can tell me that if it had been a group of Black Lives Matter protesters yesterday that they wouldn't have been treated very differently than the mob that stormed the Capitol," Biden said. "We all know that's true – and it's unacceptable."
For Whatley, it's just another example of a "difficult conversation" that many Americans aren't quite ready, or willing, to have.
Conversations at home
In the wake of the civil unrest across the country last summer, Newnan and Coweta County were also forced to have some difficult conversations.
The formation of the Citizens for Positive Reform was formed to help accelerate these dialogues, including a call for police reform policies and the removal of Confederate monuments from the court square.
Whatley said he's proud to be from Newnan, but said his hometown is often too comfortable with the status quo and seeks to avoid ruffling feathers.
"It's a great place to live and raise a family, but it's always had an underlying sense of racism," he said. "We've been lucky to escape those crazy acts of violence, hate crimes, and I attribute that to our great local law enforcement. But you see the same need for justice reform here that is occurring across our nation. It's been good at shielding the real ugly stuff, but it's there."
Groups like CPR, he said, are important. While Coweta is a predominantly conservative community, he said all sides need a seat at the table.
"It's important the other 20 or 30 percent are being heard, too," he said. "You just can't ignore these perspectives. You don't have to like or agree, but you need to hear from other people's perspectives."
A higher standard?
Another Coweta resident in Washington, D.C., the day of the Capitol riot was School Board Member Linda Menk, who recalled a much different version than the one reported by Whatley and mainstream media.
In her words, Menk said the mood of the event was "Peaceful, patience, kindness/generosity, respectful, prayerful, friendly, cooperative and positive."
Whatley said Menk's perception of the event speaks a need for another conversation about diversity, inclusivity and the inability to empathize.
"If she genuinely thinks she was never in danger and attending a peaceful rally, that's fine," he said. "Maybe she felt that way because she was surrounded by people who look and think like her."
Posts from Menk's Facebook account show her tagged with several other people at the terrace of the Capitol, stating she was a witness to the insurrection and cited Antifa as responsible for the violence.
However, in her comments to the NTH, Menk said she didn't attend the "Save America" rally on Jan. 6, but was attending one in front of the Washington monument instead.
"It contradicts her Facebook post, and it's not accurate, but even if we give her the benefit of the doubt, all those organizations had the same maliciousness and ended up at the Capitol," he said. "Look at the timeline. Once Trump tweets out that Pence was going to certify the election, he directed them to go fight at the Capitol. All those groups followed."
When Whatley saw her Facebook posts from the event, he was shocked. As an elected official of a nonpolitical governing body, he said Menk should be held to a higher standard.
"Because she's an elected official, she's responsible for the entirety of perspectives from those she represents," he said. "The irony of this is seeing people waving Jesus signs and acting in the most ungodly way possible contradicts everything. It speaks to a lot of serious conversations we as a county need to have."
In his opinion, Menk's Facebook posts regarding Antifa and other conspiracy theories go against everything an educator stands for.
"If a student wrote a report using her criteria, they would get a failing grade," he said. "It undermines the character and integrity of the school board, and it's a slap in the face to educators."
Whatley was in town Tuesday, visiting his newborn nephew, and said he decided to speak his mind during the school board meeting. In his opinion, he said, the Coweta County School System is one of the best in the country, and he said he finds it disturbing to witness the attempted politicization on Menk's behalf.
"Her closing remarks were political, and education is not a political instrument where you support your political views," he said. "They don't go hand in hand."
He's disappointed in Menk's involvement in a movement that is embracing misinformation.
"We have people living in two Americas," he said. "Seventy million voted for Trump and his movement, and just because Georgia went blue, you can't ignore them. We have to engage his people and supporters and get a better understanding of their perspectives, and figure out what's fact or fiction."
"But we must hold elected officials accountable for spreading conspiracy theories that lend credence to their goals," he said "It's a dangerous slope and hope people on both sides recognize we can't do that. I pray this was the apex and signaling it's gone too far."