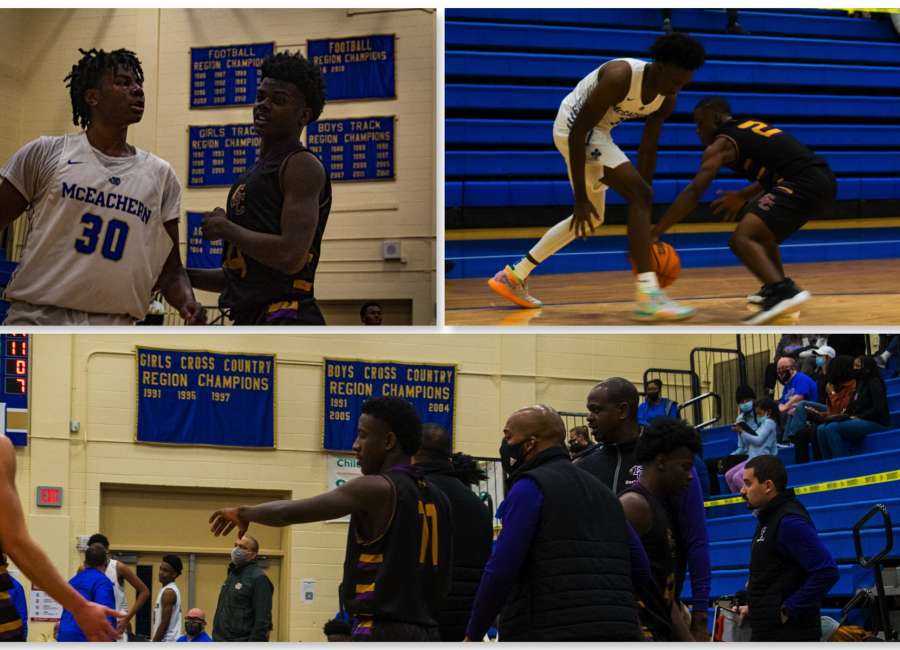 By Arvon Bacon
(Powder Springs, GA) Coming off a three-game winning streak, the Indians found themselves entering into their first region game against last year's Region 7A- Final Four team, the McEachern Indians.
Much like most of the season, the Indians decided to run with their small-ball line-up, due to Coach Maxwell giving Michael An the night off due to body fatigue.
All things seemed to be going well for the Indians despite the height disadvantage, but the Indians ran into their first wave of adversity when Samuel Moss got in foul trouble early and had to sit most of the first half.
However, Joshua (JK) Cameron came off the bench bringing instant offense, knocking down some tough jumpers and a tre ball to breathe life back into the Indian offense.
"We put Cameron on the bench to come in as an assassin, so that his job now," Maxwell said.
Cameron's 11-point first half surge propelled him to be the leading scorer at halftime, and kept the Indians in striking distance, going into halftime down 9, 48-39.
After halftime, the momentum swung in McEachern's favor as most of everything they tossed up went in. McEachern capped off their night with four players scoring fifteen or more points; the 6'5" Arkansas commit Chance Moore led the home Indians with 22 points in their 99-76 win over the East Coweta Indians.
Despite the lopsided loss, the visiting Indians played with heart down the stretch, which was spearhead by senior guard Christian Cook.
Cook, a dual-sport athlete fresh off a football visit to the University of Cumberland, started and played the role of the pesky defender all night, racking up four steals to go along with his 12 points on the night.
Moss was also able to rebound, leading the team in scoring with 15 points, after being plagued by foul trouble in the first half.
Maxwell was very pleased with his senior point guard that was able to disrupt the offensive flow of the University of Georgia commit, Camaron McDowell; as well as be the third leading scorer on the team.
"We put Christian on the court and gave him a job and he did it; that was a really bright spot on the night," Maxwell said.
After the game Coach Maxwell spoke on some bright spots they can take with them throughout the rest of the season.
"We were able to finish the game on a high note, we ran our man to man press and were able to force four steals out of that. Coming to a school like McEachern, with the history they have, and to have it close at half time, I think the kids got a chance to see that we believe".
The Indians will look to get back to their winning ways at home on senior night, when they take on the (4-7) Washington Bulldogs at 7:30 p.m.