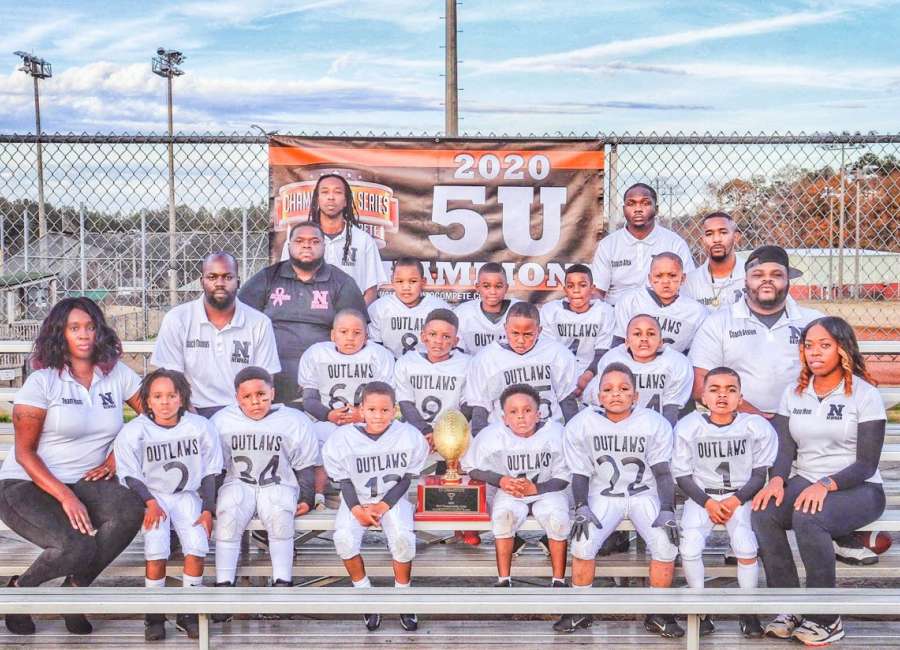 BY ARVON BACON
In the first year of learning the sport of football, the Newnan Outlaws five-years and under team shocked not only its community but the organization they played in.
They finished their regular season with only two losses and avenged their losses by defeating their regular-season rivals in the semi's and championship games; bringing the championship trophy back to Coweta County.
The Outlaws were coached by Newnanites Head Coach John Hadley, Defensive Assistant Gerald Boston, Defensive Assistant Alex Godfrey, Defensive Assistant Marcus Barfield, Offensive Assistant Xavier Philips, Offensive Assistant Thomas Elder, Team Mom Tenae Portress and Team Mom Heather Hanson.
Reflecting back on all the hard work and the feat of winning the championship, Coach John Hadley said it was "an experience that you can't really put into words."
"We grinded all year for those special moments," Hadley said. "Coach Boston and I have been doing this a long time; it's just a great feeling."
"Winning the State Championship is something these kids will never forget," Coach Gerald Boston added.
To the victor goes the spoils. The Outlaws have been invited to attend the B2C State Gala on Feb. 3 in downtown Atlanta, where they will be awarded their championship rings.
A big factor in the team's success was the combination of offensive lineman and running back in Joshua Fletcher, who was one of the league leaders in touchdowns.
Just like most successful NFL athletes, the seed of their dreams started to sprout as they began their gridiron journey playing for their city's recreation team, learning the fundamentals of the game.
The Newnan Outlaws have produced a lot of great collegiate talent from this area: Alex Hardnett (East Tennessee State University), Chris Franklin (Alabama A&M), Damian Hart (Alabama State), Kenyatta Ward (Mercer University) and Darius Gates (West Georgia University).
Northgate's sophomore sensation, James Paige, and Newnan and Calloway High School football players, Johnathan Clark and Sam Williams, have also been through the Newnan Outlaws program.
The Newnan Outlaws youth football organization has been the genesis of some of the most successful athletes to come out of Newnan since 2006, and it will continue to not only instill football techniques but life lessons and memories that little boys will carry with them as they grow up to one day be men.
"I can go anywhere to give back, but if I'm going to give back, I'm going to give back to my community, so hopefully we can bring back more state championships to Coweta County, Exit 47," Boston said.