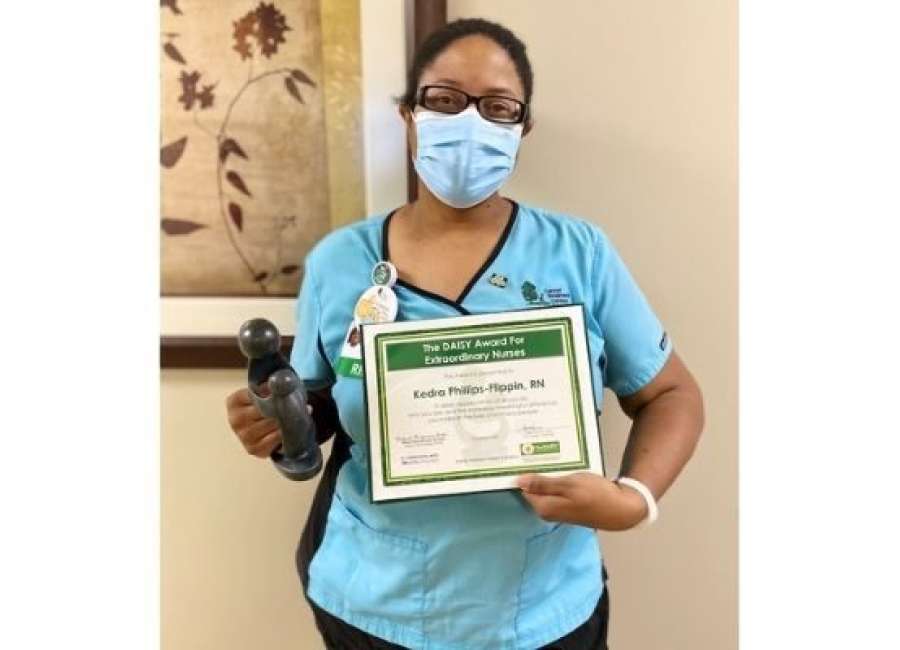 Kedra Phillips-Flippin, RN, BSN recently received The DAISY Award for Extraordinary Nurses, one of the highest honors in the nursing profession, for going above and beyond to care for her patients at Cancer Treatment Centers of America in Newnan.
She was nominated by not one, but two of her patients who appreciated the kindness they received while receiving treatment at the hospital, according to a release from CTCA.
Phillips-Flippin first thought about becoming a nurse when she observed her aunt, hospitalized with a sickness, being cared for by a nurse. The experience inspired her to pursue a future in helping others.
Having already won the DAISY Award in 2016, Phillips-Flippin was shocked and humbled when she received the prestigious award again in 2020.
"Sometimes we see people at their worst," said Phillips-Flippin in the release. "Helping them get back to a pre-treatment baseline for daily living has been such an honor. The two patients who nominated me for this most recent award have been in my care for a while now, so for them to submit nominations means everything to me."
When she isn't working with patients, she can be found collecting buttons, spending time with family or singing in her church choir.
The DAISY Foundation, a nonprofit based in Glen Allen, California, was established in memory of J. Patrick Barnes, a Hodgkin's Disease survivor who passed away at the age of 33 after being admitted to the hospital with a rare auto-immune disease. Patrick's family, who was impressed with the caliber of the nursing staff, started the DAISY Foundation to recognize amazing nurses.
CTCA Atlanta, based in Newnan, is one of five fully accredited cancer hospitals in the CTCA network. CTCA provides comprehensive, fully integrated and individualized cancer treatment with a commitment to patient-centered care.
For more information on the DAISY Award, visit www.daisyfoundation.org/daisy-award .