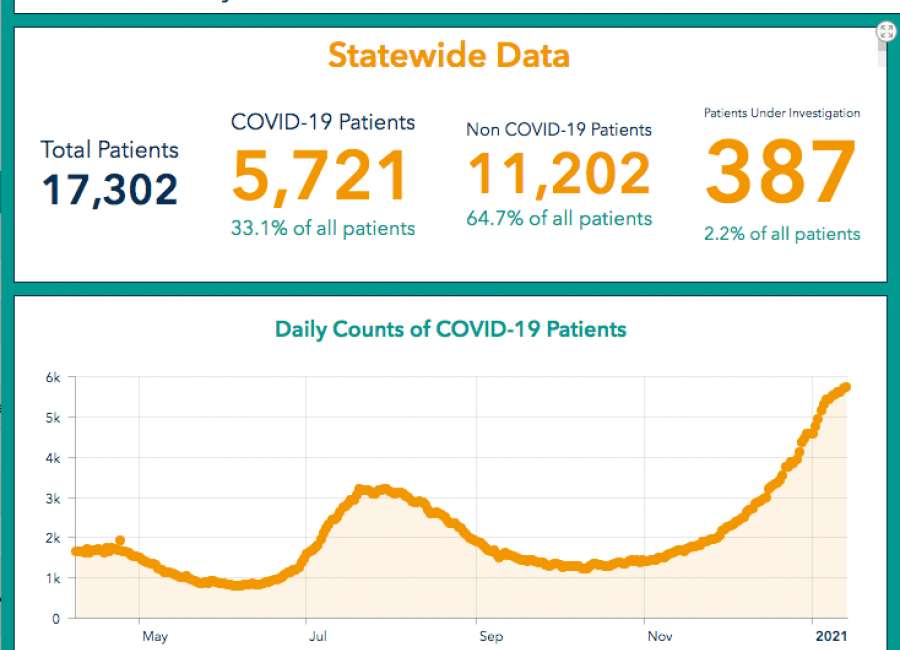 With COVID-19 cases soaring and hospitalization rates 75 percent higher than over the summer, Piedmont Healthcare has begun temporarily postponing some surgeries that require overnight stays or an ICU bed at some hospitals.
Surgeries of an emergency nature continue, regardless or inpatient or outpatient status, said Nicole Dillon, spokeswoman for Piedmont Newnan.
As of this week, more than 5,700 patients are hospitalized with COVID-19 across Georgia; approximately 7 percent of Georgia COVID-19 cases require hospitalization.
"As cases increase, Piedmont's numbers reflect that reality as our percentage of COVID-19 patients continues to remain fairly consistent with the state's number of hospitalized patients," Dillon said.
"Some health care facilities experience 'peaks' at different times, due to a variety of factors. This is the current reality for Piedmont Newnan, especially given its well-earned reputation for the high quality of care that attracts patients from well beyond the borders of Coweta County," she said.
According to the Georgia Medical Facility Patient Census, there were 17,302 patients in Georgia hospitals, and 33.1 percent – 5,721 – had COVID-19. An additional 2.2 percent were under investigation for COVID-19. That's a dramatic increase in patients since Nov. 1, when there were just 1,400 COVID-19 patients in Georgia hospitals.
On Christmas Day, there were 3,800 COVID-19 patients in Georgia hospitals.
Coweta's case rate over the last two weeks was 664 cases per 100,000 population – not including those who tested positive with rapid antigen tests. The test positivity rate over the past two weeks, again not including antigen tests, is 19.2 percent.
Piedmont Newnan, and other hospitals in the region, have been periodically on "diversion" and not accepting new patients over the past few weeks.
On Wednesday, Newnan was not on diversion, though the emergency department was listed as severely overcrowded by the Georgia Coordinating Center. Piedmont Fayette Hospital was on total diversion with severe overcrowding in the emergency department.
On Wednesday, only two hospitals in Georgia EMS Region 4 were on diversion, Piedmont Fayette and Wellstar Spalding Regional. Four hospitals – in Troup, Butts, Carroll and Meriwether counties, were listed as having normal emergency departments; the other six hospitals in the region have severe overcrowding.
"Across the entire health system, we continue to adapt to the ever-changing landscape of COVID-19, especially as the country experiences this third surge," Dillon said. "Each of our hospitals reviews available resources daily related to current COVID volume, and where possible, we continue to shift resources as needed to maintain appropriate capacity — as we have since the pandemic began in March.
"Our staff, though stretched and tested in previously unimaginable ways, is committed and resilient. We are encouraged by the arrival of vaccines and continue to vaccinate our workforce at all 11 hospitals as quickly as we can," Dillon said.
Statewide, 92.7 percent of all intensive care unit beds were in use as of 12 a.m. Wednesday. Data on hospital bed and ventilator usage, broken down by region, is available on the state's COVID-19 data hub at https://covid-hub.gio.georgia.gov/ .
Things are better when it comes to total inpatient beds; 87.6 percent were in use Wednesday.
Last week, COVID-19 patient counts were significantly higher in Coweta than in the region. For the week of Jan. 1-7, fully 50 percent of all hospitalized patients in Coweta were COVID-19 patients, according to the University of Minnesota COVID-19 Hospitalization Tracking Project.
COVID-19 patients occupied 77 percent of ICU beds. The project updates numbers weekly.
In Hospital Region C, which includes Coweta but is different from EMS Region 4, 96.99 percent of general inpatient beds are in use, and 149 out of 154 ICU beds are in use. In Region C, 35.7 percent of patients are classified as COVID-19 patients.
In Region I, which includes counties south of Coweta, 98 of 102 ICU beds were in use and 88.65 percent of general inpatient beds were in use. In the region, 28.9 percent of those hospitalized are COVID-19 patients.
Atlanta's Region D is only at 87.8 percent ICU usage, with 1,087 of 1,238 beds being used, and at 90.52 percent general inpatient usage, with more than 400 beds available. In that region, 28.4 percent of patients are COVID-19 patients.
Ventilator capacity remains strong, with 44.8 percent of ventilators in use statewide.
On Tuesday, Georgia hit its single day record for COVID-19 deaths, with 145 deaths reported. The previous record was 129 deaths, in August, according to Georgia Public broadcasting.
Though vaccination has begun, and some Cowetans are now eligible for their second dose of vaccine, COVID-19 remains a serious threat.
"Until COVID vaccines are widely available to the public, which remains several months away, it remains critical that we continue to mask up, wash our hands, maintain social distancing practices and stay diligent in our fight against COVID," Dillon said.